Atwood Magazine is excited to share our Editor's Picks column, written and curated by Editor-in-Chief Mitch Mosk. Every week, Mitch will share a collection of songs, albums, and artists who have caught his ears, eyes, and heart. There is so much incredible music out there just waiting to be heard, and all it takes from us is an open mind and a willingness to listen. Through our Editor's Picks, we hope to shine a light on our own music discoveries and showcase a diverse array of new and recent releases.
This week's Editor's Picks features Holly Humberstone, Del Water Gap, Francis of Delirium, DURRY, Ashaine White, and Lovetta!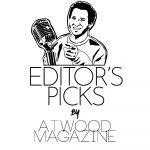 ---
"Antichrist"
by Holly Humberstone
It's finally happening! British singer/songwriter (and longtime Atwood Magazine artist-to-watch!) Holly Humberstone has finally announced her long-awaited, heavily-anticipated debut album Paint My Bedroom Black, the culmination of three whirlwind years that saw the Grantham native rise out of obscurity to clinch the coveted Brit Award for Rising Star – the same recognition that helped kick off the careers of Adele, Florence and the Machine, Emeli Sandé, Ellie Goulding, Sam Smith, James Bay, and countless others. Set for release this October, Paint My Bedroom Black promises to exude the same vulnerability and haunting intimacy that graced Humberstone's first two EPs, 2020's  Falling Asleep at the Wheel and 2021's The Walls are Way Too Thin – and of course, we know this because the album's first two songs already exemplify those qualities that have helped her stand out from her peers all along.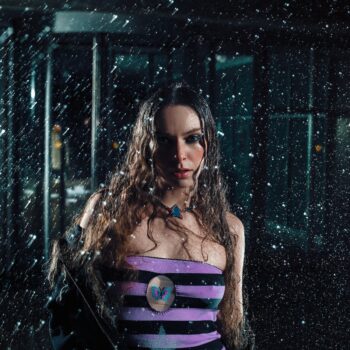 Am I the Antichrist?
How do I sleep at night?
Just need to escape my mind
I guess it figures
Released June 28, 2023 via Polydor / Darkroom / Geffen Records, "Antichrist" and "Room Service" feel like two halves of a whole: One moody and electric, the other tender and acoustic, both undeniably Humberstonian thanks to their raw, candid, and cathartic deliveries.
The single's A-Side is a visceral, soul-stirring upheaval: Slow, brooding, and altogether gut-wrenching, "Antichrist" aches with yearning and regret as Humberstone bears a breakup's heavy weight, her emotions spilling out in a breathtakingly beautiful performance that captures the fragility of a bruised, broken heart – even if it's not necessarily our own. Humberstone sings verses full of pain and nostalgia, her soul swelling with words unsaid and feelings that need releasing:
I wanna fix you, honey
I wanna keep you closer
But with all of my toxicity
You get a little too much exposure
I'll be the first to admit
I kind of fucked this darling
Didn't I?
Did I use your body?
Did I leave you broken?
You know it didn't take much to break your trust
The dice was loaded
So, come on, give me hell
'Cause heaven knows I deserve it
It chills my bones to know you're suffering
"'Antichrist' is about a breakup I went through a couple of years ago," Humberstone tells Atwood Magazine. "I genuinely cared about this person and wanted so badly to make it work, but I knew something wasn't right and my heart wasn't in it. I knew that I was inevitably going to have to hurt the person who I wanted so much to love. At the time I wrote the song, I remember feeling like I was constantly letting those around me down. Like I was falling short of being there for anyone I cared about. I basically felt like the worst person in the world; like the Antichrist. I really felt that I was toxic to be around, and the guilt and self-loathing that came with that manifested itself in this song."
Humberstone's chorus is a particularly visceral climax. She erupts in a cinematic fury as she lays it all on the table, accepting responsibility for her actions while burning up inside – hating herself for something she knew, deep down, she had to do.
Am I the Antichrist?
How do I sleep at night?
Just need to escape my mind
I guess it figures
'Cause I gave you bad love only
Gave you bad love only
I made a real mess of this, honey
So you should run for your life
I gave you bad love, bad love, bad love
We're used to others asking, "How do you sleep at night?" but do we ever despise ourselves (or our actions) so much that we turn the question back around? "How do I sleep at night," Humberstone sings in a pool of heartache. There's acceptance and surrender in her tones as she recognizes what she's done: "I gave you bad love only."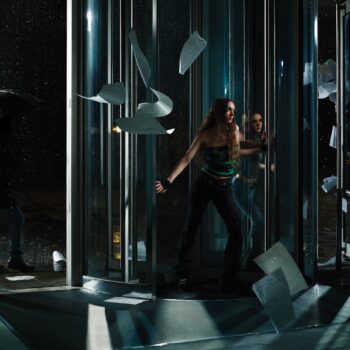 And while there's no redeeming light at the end of this particular tunnel, "Antichrist" succeeds at capturing an all-too familiar self-loathing that stems not from who we are deep down inside, but rather, from the actions we take for ourselves that inevitably hurt the ones we love along the way.
So you say we should talk in the morning
Tape up the cracks in the porcelain
When we met, you were delicate
Should have handled with care, you were rare, my darling
So let me make this clear
I'm the only problem here
I'm the problem
"Antichrist" and "Room Service" promise great things to come from Holly Humberstone. And while we'll inevitably be anxiously awaiting Paint My Bedroom Black's arrival, its first two songs highlight the depths of her songwriting, the sheer power of her vocal chords, and the limitlessness of her keenly empathic and unapologetically unfiltered artistry.
Am I the Antichrist?
How do I sleep at night?
Just need to escape my mind
I guess it figures
'Cause I gave you bad love only
Gave you bad love only
I made a real mess of this, honey
So you should run for your life
I gave you bad love, bad love, bad love…
"All We Ever Do Is Talk"
by Del Water Gap
Brooklyn's S. Holden Jaffe has taken his solo project Del Water Gap to soaring heights over these past few years, becoming a rising star in the indie world thanks to his candid songwriting and his seductive, spirited alternative sound. 2021's self-titled Del Water Gap remains one of indie rock's finest debut albums of the past five years, and how better to follow that up with yet another instant hit?
I know you're my person
And I won't find no one like you
You know I'm your guy
Your best friend and your lover too
What did we lose?
All we ever do is talk
Man I'm so exhausted
Circles till we're nauseous
And what happened?
Released June 29 via Mom + Pop Records, "All We Ever Do Is Talk" is a heartfelt reckoning with a relationship's highs and lows, ebbs and flows: Sung from one of said lows, Del Water Gap's first song in 20 months' time sees him reflecting on where his love has been, and what's it become. He openly wonders what happened to the spontaneity of their romance; it's as if the fire in their veins has run cold, and he's not sure the embers will ever again ignite – that they'll ever get back to where they once were. Does that mean their love is doomed?
What happened to meeting you at the hotel, 3 AM
Pull the belt from your robe, pushing me on the bed
It was good, it was good, didn't know what it meant
But will we ever get that feeling again?
With your back on the wall, pulling off my suit
You could hear us from the hallway, flipping the room
It was good, it was good, didn't want it to end
But will we ever get that feeling again?
"'All We Ever Do Is Talk' is an ode to the decadence of the early days of a relationship," Jaffe explains. "It is a love letter to the melancholy and nostalgia nested within the realization that the feeling of the beginning won't last forever."
The question remains, are we okay with that bright flame glowing dimmer than it once did? Do we want a bonfire – everything and then nothing? – or do we want a steady, slow burn: The kind that can last us years, provided we keep working at it over time? "All We Ever Do Is Talk" is a signal of maturity: Of reaching that place, post-"honeymoon phase," where you either accept or reject the natural laws of longterm love and the transition from that all-consuming eros, to the more enduring pragma.
It's also a fervent, anxious anthem: With an unrelenting pulse and soaring vocals, "All We Ever Do Is Talk" is the catchy, cathartic outpouring we didn't know we needed to hear.
"Real Love"
by Francis of Delirium
Francis of Delirium's new single aches with an intimate, raw intensity: "Real love isn't real love when it's not us," the Luxembourg-based artist (née Jana Bahrich) sings in an emotive pool of passion and naked vulnerability. It hurts when the fate you thought you knew meets a wall you didn't see coming; when life moves against you, and suddenly your plans are shattered, dreams broken, hopes crushed; and a hole forms deep down inside, the feeling of absence where another person used to coexist with you.
But imagine, for a moment, that the opposite happened – and the person you've always longed for suddenly becomes your paramour, and two friends become one beautiful, lasting love. Released July 20, 2023 via Dalliance Records, "Real Love" aches in the very best of ways.
We started the summer off as friends
And you pulled me in when I didn't expect it
I was only half way home and you were telling me to let go
Wishing I could just feel indifference
When it's someone else I wish that we were different
I was only halfway home
Missing you when I wasn't alone
"'Real Love' at its heart is a simple song about being in love with your best friend," 21-year-old Bahrich tells Atwood Magazine. "For years, timing got in the way. I got in my own way, and then finally, it worked out."
"Coming out of a two-month-long tour in the US and heading into summer back at home, it felt like my world was opening up. I wanted to write a song that reflected the feeling of leaning into vulnerability, a song that embraces telling the people you love what they mean to you and truly meaning it. Spending every night watching The Districts on tour really impacted me. There was this hopefulness I heard in their music that I really connected to. After writing our last EP The Funhouse, which was all about darkness and the feeling of being engulfed by the chaos of the world, I just couldn't write anything super dark and heavy at the time, it just wouldn't come out. My body and brain were just guiding me to writing lighter, more open music."
We were just kids when we met
And now we're half drunk on a twin sized bed
I would tenderly undress
Taken by the weight of your kiss
I say all the words I should've said
Im leaning my head into your chest
I fall back… I fall into…
Celebratory though it may be, "Real Love" still feels bittersweet at heart. Francis of Delirium's music always has a tinge of nostalgia, of brooding; of the general melancholy some of us feel throughout our lives, that we can't quite control. But rather dwell in worries and woes, Bahrich allows herself to bask in the glow of a relationship's cozy warmth and wonder. It feels good to be in love, and "Real Love" doesn't wrestle with that fact; rather, it embraces it and hold on for dear life.
Real love isn't real love when it's not us
Real love isn't real love when it's not us
"Who's Laughing Now"
by DURRY
Minnesota sibling duo DURRY have worn their hearts unapologetically on their sleeves these past two years as they cried and shouted their feelings from the rafters, often accompanied by a flurry of furious guitars and throttling drums. But if we thought they were angsty before, their latest proves they are just getting started. The new version of their 2021 viral hit "Who's Laughing Now" is loud, raucous, and blatantly in-your-face: A bold-faced explosion of vigorous, emphatic pop/rock teetering on the brink.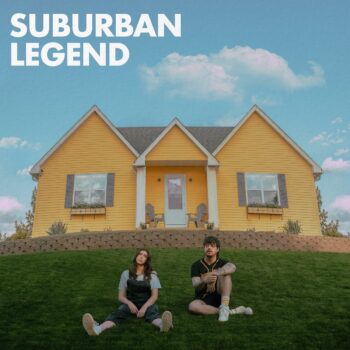 My mama always said
I would regret it if I ever got a tattoo
She said I'd never get a job
like I ever wanted one with that attitude
My dad said I had to learn to drive a stick shift
but every van I ever had was an automatic
My friends said that someday
I would make it big,
but I'm still living in the basement
(Re)released May 10 via Big Pip Records / Thirty Tigers, "Who's Laughing Now" is a larger-than-life uproar giving a classy middle finger to everyone who ever doubted, naysayed, or generally held you back from achieving your dreams and life goals. More polished and quite a bit more refined than its groovier predecessor, version 2 hits hard for a swift three and a half minute run – shaving about half a minute off to form a tight, turbulent upheaval that resonates with defiance and a healthy does of attitude:
I'm just as broke as the day I was born.
But I still make it work
just like everybody else does.
It's all just a cruel joke
and everybody knows there's no way out.
Well who's laughing now?
"This song may be one of the most unique results of the modern music scene," Austin Durry – who leads the band with his sister, Taryn – explains. "'Who's Laughing Now' went viral before it was even finished being written. What started as a cynical outlook on life was flipped on its head overnight, as it rocketed to popularity through social media. The next morning I left for the studio to try and capture this once in a lifetime viral moment."
"I realized the song I had written was wrong, and there was still hope left in the world. On the drive to the studio I rewrote it, inspired by the excitement of the public. This song is literally written about the success of its own demo. 'The Preacher told me this was only just a pipe dream, and I've been burning both ends 7 days a week. But baby I just paid the rent making music with my friends, it ain't much but it could be the start of something big.'"
"Who's Laughing Now" is now the lead single off DURRY's forthcoming debut album, Suburban Legend, out September 8. Hearty, dynamic, and happily dramatic, this track ensures we keep close tabs on the Durry siblings over the coming months as they inspire us to follow through on our dreams and not let anything or anyone get in our way.
The tv said that I would never get a girlfriend
unless I had a six pack and smoked cigarettes
Well I've got a couple extra pounds
and hottest girl in town and she don't mind
having a little more of me to go around
I'm just as broke as the day I was born
But I still make it work just like everybody else does
It's all just a cruel joke
and everybody knows there's no way out
Well who's laughing now?
North London's Ashaine White describes her music as "grunge soul," and the shoe fits perfect: Gritty and raw, vivid and visceral, the Ivor Novello Rising Star Award winner's music is uncompromising and unfiltered: A dreamy, jazzy fog of feeling that aches and quakes through a lush field of emotional volatility and sultry sonic seduction. Her sophomore EP exemplifies these talents, hence it's no surprise it bears her name: Released June 30, 2023, Ash is a warm, lush, and lilting five-track set whose soul-stirring poetry is only bested by its sheer musicality: From the breathtaking beauty of White and Sam Dotia's vocal harmonies that rise and fall in perfect lockstep throughout "Always Welcome," to sheer sonic turbulence of "Lock & Key" and the smoldering, seductive grit of "Right Here," Ash resonates and radiates in all the right ways.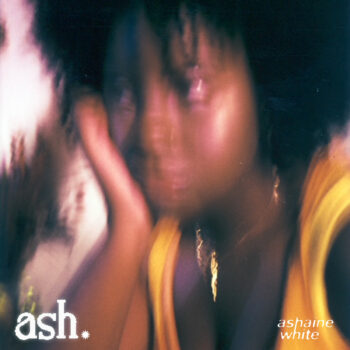 you can't even say my name
say it loud, say it proud
you cant even look away
or look at me
a soft new untouched feeling
too sacred to fight what it is
and admit defeat
so i'll stay right here
and i'll hold whats dear
right here
– "Right Here," Ashlaine White
Per White, Ash explores love and friendship in its many forms. "Ash is truly a picture of me at my most authentic, music and sounds that flow from me and lyrics with words you would hear if we were to have a conversation," she explains. "The five tracks take you on a journey of undeniable love, heartbreak and platonic relationships, on a backdrop of romantically moody, brash and unapologetic soundscapes. Written with producer Gilberto Bettini and co-written with Saeed Gadir ('Favourite Thing' / 'Lock and Key') and Sam Dotia ('Always Welcome'), these tracks blur the lines of genre, as if it was never a construct, and instead focus on a feeling, a mood and an image that the listener can dive right into."
Consider me fully intoxicated. Ashaine White's grunge soul is both a sound and a feeling, and both hit hard. Tender and turbulent, this sonically and emotionally charged EP is not only an evergreen companion to life's peaks and valleys, but it's also a sign of great things to come from this remarkable, (hopefully fast) rising voice.
what's your favourite thing about me?
eyes are tired my hair is messy
am i funny? am i lovely?
what's your favorite thing about me?
make it good, it best be so sweet
am i funny? am i lovely? do you love me?
can we lay here a while?
can we lay here a while?
wrapped up each other arms
taking our, taking my time
taking your time, taking our time
– "Favourite Thing," Ashaine White
I've been a fan of Taylor Dupuis' band Roanoke pretty much from the get-go, so it's no surprise that I would be a fan of her solo work as well. Active since 2020, Lovetta is a refreshing burst of sweet n' soaring indie pop to contrast Roanoke's radiant rock sound. The two are of similar, but different worlds: Lovetta is still raw, still honest and unfiltered, still tender and aching; still as catchy and cathartic as ever. Ironically (considering its title), Lovetta's latest single is her freest effort yet: A rousing, high-flying pop/rock anthem, "Gravity" lights a fresh fire as Dupuis pours her feelings out all at once: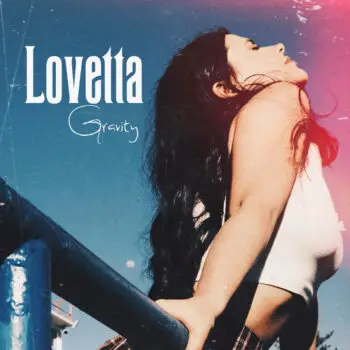 Come on let's go bring it on back to me
It's been too long now you're with somebody
You walked away but I forgot to say
You walked away but I forgot to say
Your gravity is pulling me in
You pull me closer and closer over and over
This feels just like a dream
"I wrote "Gravity" in a bedroom of my mom's house in Michigan last summer," Dupuis tells Atwood Magazine. "I just ended a nine year relationship and went home to recenter. In the midst of recovering from this breakup, I also found myself struggling with longing for another who I couldn't have — because the timing just wasn't right. It felt as if it was cinematic, and so I envisioned "Gravity" to be reminiscent of the soundtrack of a '90s coming of age movie."
"I was just beginning to explore a new sound, and "Gravity" was sort of the launching pad to where I am now. I began writing it, and it immediately reminded me of the music I listened to growing up like Alanis Morissete, and Sheryl Crow, which is sort of funny being that I was in my moms house, in my hometown, which is where I spent my formative years listening to the music that shaped me. When I got into the studio I was listening to a lot of Maggie Rogers. I think she did a fantastic job on her record Surrender capturing a nostalgic, yet modern sound. I was inspired by a lot of her production, and thought some of those tones would fit well with "Gravity."
Someone somewhere is loving you better than me
She's so pretty she knows just what to do with her body
You walked away but I forgot to say
You walked away but I forgot to say
Your gravity is pulling me in
I don't know where to begin
You pull me closer and closer over and over
This feels just like a dream
Your gravity
"As an actor, screenwriter, and filmmaker, I write very visually," she explains. "When writing I am always picturing the story in my head. The songs I'm writing seem very nostalgic to me. It feels like a moment in time that's very present, but also captures a lot of the feelings I felt growing up. Maybe it goes back to rediscovery. At this time in my life, so much is changing, so this feels like I get to rediscover a lot of myself, which takes me back to my adolescence, a time when I was also rediscovering myself. I was very much finding identity in the music I listened to, and the movies I watched in the '90s and early 2000s, being inspired by these characters and their stories, and also the soundtracks. I remember 10 Things I Hate About You introducing me to the band Letters to Cleo, and buying the CD, and finding identity in that as well. Writing "Gravity" brought me back to this rediscovery, coming of age moment."
These coming of age movies about love are epic love stories, but it's never healthy, conscious love. It's the sort of heartbreaking, chaotic, troubling love you can't look away from. Many of the themes oftentimes include wanting someone you can't have. It's a tale as old as time that's depicted in movies and still happening everyday. I can't tell you how many conversations I've had, and I am still having, with multiple friends about this very thing. Longing for someone you can't have hurts like hell, and writing this song felt like a cathartic way to express these painful emotions."
I fell in love with you all in my head
You stayed as long as you could in the end
I don't deserve this you're making me nervous
We just scraped the surface
Your gravity is pulling me down
You wonder why I don't come around
You pull me closer and closer over and over
Oh closer and closer over and over
Oh closer and closer over and over
Your gravity
"Gravity" really does feel like journey back in time to the sort of songs us '90s kids grew up with – that kind of unfiltered passion, born out of vocals and a guitar, that always had a catchy hook to reel us in and keep us coming back. Lovetta's new single is much the same way, not so much demanding our attention, but creating a moment of free-spirited revelry so intense that we can't help but come back to this song, eager to feel that bit of euphoria in the chorus. This feels like a dream.
— — — —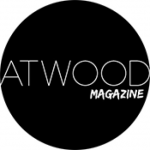 Editor's Picks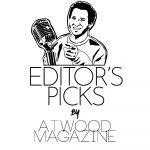 ---