Atwood Magazine is excited to share our Editor's Picks column, written and curated by Editor-in-Chief Mitch Mosk. Every week, Mitch will share a collection of songs, albums, and artists who have caught his ears, eyes, and heart. There is so much incredible music out there just waiting to be heard, and all it takes from us is an open mind and a willingness to listen. Through our Editor's Picks, we hope to shine a light on our own music discoveries and showcase a diverse array of new and recent releases.
This week's Editor's Picks features Kramies, Maude Latour, The 1975, Jessie Reid, The Backseat Lovers, & milk.!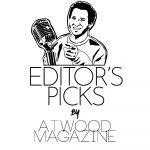 ---
"Ohio I'll Be Fine"
Kramies
I had the honor of premiering Kramies' debut album last week – after covering his music on and off for the past six years – and truth be told, I'm not done talking about it. The phrase "hauntingly beautiful" comes to mind when describing the self-titled Kramies, a stunning record that blends fantasy and reality into a lush, raw, and ethereal dream-folk triumph. Listeners are sure to find their own favorite moments of catchy music and deep meaning, and for me the indisputable highlight is Kramies' fourth track, "Ohio I'll Be Fine," a heartfelt acoustic ballad featuring Jerry Becker and Jim Bogios.
You can have the money, you can give blame
you can take the land from me
and I'll just leave in pain
but I'm fine, Ohio I am fine
Waking from the headaches then flushing all the drugs
staring down at cornfields, now passed out on your rug
I was fine, Ohio I was fine
The closest thing the folk singer/songwriter has come to "emo" music in all the time that I've known him, "Ohio I'll Be Fine" is an achingly bittersweet, happy/sad reckoning with Kramies' past and present home state of Ohio. "I grew up in Ohio, I got sober and left, my life changed and grew into what it is now," he explains. "What's so ironic is I just moved back after almost two decades away. I don't know how long it will last, but I'm here in it and I'm really happy for now. Without giving to much away, I'll say this is more of a positive so-long song than sad: It's my 'goodbye/hello again' song to Ohio memories."
He continues, "I've had a love/hate affair with this place. I was a drug addict here and I lost a lot in Ohio, as well as gained wisdom. It's the woods and nature here that taught me how to write – I owe that to Ohio… There's nothing like early morning or dusk in the woods of Ohio. It's where fairytales and folklore are created. When the dusty sunbeams come breaking through the trees and you're in its silence, it will change you. I never even thought of being a songwriter; I always wanted to write books, but this place kind of carved my path for me…. I definitely owe it to Ohio."
I never felt too good, but I never felt too bad
and just like my pharmacist, I took all you had
and I was fine
I settled on a goldmine that was looking down at ghosts
I'm a hundred grand richer, still living off of toast
I'll be fine; Ohio I'll be fine…
Kramies' poignant, deeply moving lyrics and his breathtaking, up-close and personal performance help make "Ohio I'll Be Fine" the singular experience that it is today. I cried big ugly tears when I first heard it, and truth be told I loved every minute of it; this is truly one of the best songs I've heard all year, and I sincerely hope it gets the recognition it deserves.
Maude Latour's radiant new single hits hard from the minute it touches down, churning and reeling, rushing to life like a – well, like a "Cyclone." The latest release off the rising alt-pop star's forthcoming EP 001 (out September 30 via Warner Records) is a cathartic and compelling fervor; a fever dream driven by a pulsating '00s pop beat and hushed, up-close and personal vocals full of pent-up emotion.
It was kinda like a knife, overnight
didn't I build my life around you
Who I'm without you
I cry until water filled my room
Looking at the facts I react little fast
So much I regret babe
Hoping you'll forget babe
Apologise until my lips are blue
Growing pains push away
Leave space the more you feel ashamed
I know you feel ashamed
It's as if Pure Heroine-era Lorde wrote an uptempo anthem: Produced by Mike Adubato, "Cyclone" is at once subtle and understated, buoyant and bold. The juxtaposition between, and marriage of, intimacy and intensity has never been more clear: And while Latour is no stranger to the team here at Atwood Magazine (we've been covering her music since her 2019 debut), "Cyclone" feels invariably fresh. It demands listeners' full, undivided attention, refusing to remain in the background.
Wherever this song plays, it is sure to turn heads.
For Latour, "Cyclone" is drenched in layers of emotional depth and personal significance. "'Cyclone' is about a period of fighting with my best friend, and the realization that I needed to get her back," she tells Atwood Magazine. "This is a song about asking for forgiveness and forgiving. It's about someone who I've lived my life with, a break up that hurt more than any romance, and it's about admitting that I need people. I need love, I need friendship. I need people, and I need my best friend. 'Cyclone' is about someone knowing you really really well. And to be truly known well, is rare and fleeting and sacred and precious."
But it's a heat wave summer I don't wanna feel cold
Miss you like a hurricane spinning cyclone
We would stay up all night talking 'till it's all right
Whispered 'till you stopped crying
No, I'm not afraid I've learned how to be alone
Miss you like a hurricane, spinning cyclone
Tell your life is so wrong
Even if I'm dead wrong
Love you 'till I'm all gone
With (metaphorical) gale force winds on its side, "Cyclone" has surged into our lives for the better.
Speaking of bold music, The 1975 have been on a winning streak with the rollout for their fifth album, Being Funny In A Foreign Language, out this October. As a longtime fan (they were one of my first interviews when I joined Atwood Magazine in 2014), I am admittedly biased about their songs, and have been doing my best to withhold judgment – but I'd be lying to say I didn't play "Happiness" on repeat about 10 to 20 times when it was first released. With its deep, dynamic groove, glistening guitars, soaring horns, and of course, Matty Healy's heartfelt, glowing vocals, this song is joy manifest: A passionate, enthusiastic love song that spreads its message far and wide.
She showed me what love is
I'm actin' like I know myself
Oh, in case you didn't notice
Oh, oh, I would go blind just to see you
I'd go too far just to have you near
In my soul, I've got this feeling, I
Didn't know until I seen ya
My, my, my, she's insatiable, is what she is
Her body's like a modern art
Take it out in front of me
I'm gonna stop messin' it up because I'm
Feelin' like I'm messin' it up because I'm
Callin' out your name and God help me 'cause
Oh, I'm never gonna love again, hey
I'm never gonna love again, hey, oh
The 1975 have never been shy of basking in their own grooves and letting their music speak for itself, and "Happiness" is one of those prime examples where they know they've made a great backing track, and they lean into it with all their might. Healy's vocals may carry parts of this song, but so do George Daniel's drums, Ross MaDonald's bass, and Adam Hann's guitar; and so does John Waugh's saxophone, which wails and cries in the very best of ways at the most opportune moments.
In no small way do I say that "Happiness" truly shines bright as a beacon uplifting energy in The 1975's bustling catalog. Being Funny In A Foreign Language's other singles are also noteworthy; lead single "Part of the Band" is a unique, dazzling shift into baroque pop unlike anything they've made before, and their latest single, "I'm in Love With You," is a dreamy and sweetly sun-kissed, love-soaked pop song. These tracks are great, but I'm still spinning "Happiness" on repeat, and it's keeping true to its name.
Show me your love, why don't you?
Grow up and see…
Show me your love, why don't you?
Grow up and see…
"Hearts on Fire"
Jessie Reid
Shropshire-based singer/songwriter Jessie Reid has already earned her place as one of Atwood Magazine's artists to watch, and this past spring's debut mini-album Other Hand showcases her natural ability to create visceral songs that cut deep into the core of our shared human condition. That talent roars to life once again Reid's new single "Hearts on Fire," a smoldering indie folk song full of unbridled musical and emotional heat.
Released September 9, "Hearts of Fire" is at once gentle and intense: An outpouring that finds Reid independent (she was previously signed with Tom Sarig's New York-based AntiFragile Music) and energized.
"The gradual build up of the song and the development of the strings throughout really give the track almost a Celtic and 'wild' feeling which I particularly enjoy," Reid tells Atwood Magazine. "The song itself is about feeling disconnected from someone you love and wanting them to show you that they care or 'show you' their 'heart is on fire'. I think the build up throughout the song actually mirrors the frustration of this feeling. There are also subtle, softer moments that signify the sadness of this feeling and the loneliness that can come with this. I feel that songwriting is a cathartic process and it is often not until after that I realise what the song is truly about. This is definitely one of those songs!"
Whether you're looking to let yourself loose and bow to the winds that blow around you, or you're a bit cold and hoping to warm up, "Hearts on Fire" is sure to indulge, immerse, and enthuse.
"Close Your Eyes"
The Backseat Lovers
"Time keeps telling me to change, but I'm fragile and afraid." Chills run down the spine as The Backseat Lovers' second single of the year rises from a feverish whisper to an all-out roar. The Utah four-piece quickly became one of my favorite alt-rock bands back in 2019, when their song "Sinking Ship" made its way onto my 12th Editor's Picks. In fact, the band's DIY debut album When We Were Friends made them something of a global phenomenon: The record received international acclaim, has racked up 370+ million total worldwide streams, and led to The Backseat Lovers embarking on stadium tours with artists like The Killers and Jack White, and selling out their own headline tours of the UK and Ireland.
Needless to say, The Backseat Lovers' 2022 return feels both highly anticipated and long overdue, but our patience seems to be paying off in droves as the band tease their forthcoming sophomore LP, Waiting to Spill – a record that, quite literally, promises to be an outpouring of inner release; a wash, if you will, of charged sonic energy and emotion. It will also be the band's first release since signing with major label Capitol Records.
A quick listen to their two new songs instantly shows how much The Backseat Lovers have grown a lot over the past two years. Tremendous touring and time will do that to a band. "To us, growing has been about learning how to communicate with each other every day on a deeper and more impactful level," the band tell Atwood Magazine. "In the last couple years, we've focused on understanding that we're all individuals, but our combined voices can say something so much louder than we could ever do on our own. Whenever we work on a song together, the most important thing to us is that every moment comes from a genuine place within ourselves, and that all four of us feel fully emotionally grounded to the song."
Following the invigorating churn of their return single "Growing/Dying" back in August – a song they say was "very fun and emotional to work on" – "Close Your Eyes" is cinematic and soaring indie rock at its absolute finest. Released today, September 16, the band's second offering of the year is a stunningly intimate coming-of-age reckoning dwelling in the depths of existential dread and life's natural, but never welcome, growing pains:
Do you wanna be like your father?
The older you get, your head's gettin' hotter
Pick up the phone when he calls you
You know he's alone, he's preaching 'cause he loves you
Where have you been? Jack's been waiting
In your room every night
Why don't you stay home tonight?
Could you waste your life if you painted mine?
Now the day has died, but it's too late to close your eyes
The Backseat Lovers' principal singer/songwriter Joshua Harmon explains how this song came from experiences he turned out to be sharing with his writing partner and the band's guitarist, Jonas Swanson. "We were both singing about the same sort of feelings, our relationship with our parents, and our perspectives in that moment of seeing ourselves turning into adults. It was a bit of an affirmation from the universe, realizing that these two songs [we had independently written] could be the same song. That really sparked what ended up being the entire backbone of the record, which was Jonas and my songwriting partnership and companionship."
The clock it ticks
I have to get older
When I wake up
And the dream is over
Packed away
My life moving slower
Oh I'd hate to get any older
It's not the pastiche of "A Day in the Life," but "Close Your Eyes" is remarkably enchanting in the way it ostensibly blends two songs into one cohesive catapult of intense upheaval and release. I thought I would be done with "coming-of-age" catharsis by the time I hit 25, but needless to say I was very wrong.
As I slowly count down the days to my thirtieth birthday, I can't help but resonate with The Backseat Lovers' song in just about every way imaginable.
Do you wanna be
(The clock it ticks, I have to get older)
Like your father?
The older you get
(When I wake up and the dream is over)
Your head's gettin' hotter
Pick up the phone
(Packed away, my life moving slower)
When he calls you
Oh I'd hate to get any older
I always knew I'd let you go
Have to see you die to grow
Don't you let them tell you who you are
Hope that as you keep collecting scars
You never know my pain
I don't like playing soundalikes most of the time, but I'm going to admit something here: When I first heard "I Might Bore You.," I thought it was some sort of long-lost deep cut from The 1975. Imagine my pleasant surprise to learn that it was, in fact, the work of Dublin based band milk., who for three years now have been pouring out a steady stream of lush, immersive indie pop.
Released back in mid-August, "I Might Bore You." is milk.'s first song of the year as well as frontman Mark McKenna's first self-produced track. The follow-up to the band's 2021 sophomore EP (cheekily titled 2, the EP.) is a bustling, shuffling, and shimmering affair: Hushed, hypnotic vocals, lush synths, and ethereal guitars lay the groundwork for a captivating listening experience.
This is minimalist alt-pop and lush soundscaping at its finest.
No fun? night out. Big fight lights out.
Cry your eyes out. Too much he's out.
Drink for effect. Think for myself.
I might bore you. I might bore you.
No words point made. No hands point saved.
He's gone missing. He's gone kissing.
Not sure, takes it. Feels good, hates it.
I might bore you. I might bore you.
"'I Might Bore You.' is about the suddenness with which people can change," milk.'s Mark McKenna tells Atwood Magazine. "It's about the different speeds we burgeon at and fearing your own personal growth may be the catalyst for losing someone close. I never really felt like I had aged or grew progressively until I experienced the feeling of fearing I'd become obsolete to someone. It's like a tangible passing of time realising how different yourself and others have become."
To their credit, milk. may remind me of one of my favorite bands, but they are not, by any means, a 1975 copycat or cover band; through their two EPs and this latest single, the Dublin outfit clearly stand out on their own, and I'm happy to call myself a new (and eager!) fan. I love a band with a penchant for the cheeky (with a sardonic edge), and despite what they may they might say, milk. will never bore me.
Public perception. Got my attention.
Feels like dying. Feels like lying.
Come out join you. You know I'd love to.
But I might bore you. I might bore you.
— — — —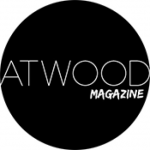 Editor's Picks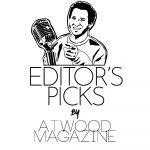 ---