New Hampshire psychedelic-folk duo Party of the Sun lean into nostalgia with their latest collection of songs 'Goldenwood' – a brief, but needed meditation in an increasingly chaotic world.
Listen: 'Goldenwood' EP – Party of the Sun
---
A song is something we give to the world, and that is the heart of the pursuit.
When reality spins like a relentless cyclone about us, there is power in being able to step back, to breathe and recuperate. Especially with the world of 2020 threatening to grind our sanity to powder with each passing day, a little clarity can be the best medicine.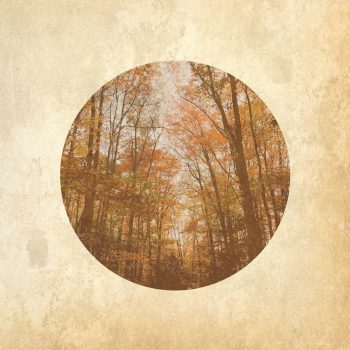 For Party of the Sun, that clarity exists in a "living past," memories that anchor them in comforting, familiar tableaus. Picture scenic moments of sun-filled farmland, moonlit rainfall, and country roads away from the chaos of 21st century entropy. An understated acoustic guitar and a pair of voices sweep away the bedlam like a long exhale. It isn't escape so much as a reminder that there are calms within the storm as long as we remember to return to them.
When the sun goes down real slow
And the water gets you high
And you remember what it means to be alive.
Atwood Magazine is proud to be premiering Goldenwood, the latest EP by New Hampshire folk duo Party of the Sun. A welcome addition to their established brand of charming and heartfelt Americana, it revels in meditative soundscapes that soothe in their sweet simplicity. Recalling the lived-in imagery of Neil Young and the paved-country-road modernity of Dawes, they anchor the listener in the familiar while creating a sound that feels tailor-made for this moment.
Songwriter Ethan McBrien and producer/multi-instrumentalist Rory Hurley have recorded and performed together since 2006, and their storied chemistry shows. It wasn't until 2015 though that the two converged around McBrien's interest in folk music and the Americana tradition. They collaborated in creative sessions at McBrien's home – a small sheep from in Marlborough, New Hampshire – and emerged with the impetus that would become Party of the Sun.
Since then, the pair have released both their debut EP Lay Low in 2017 and a full-length album Trekker only last year. The tracks that comprise Goldenwood arose between those two releases, but it is far more than a collection of B-sides. Weaving between the hook-friendly trappings of indie-folk, tastes of psychedelia, and the roots of traditional Americana, Goldenwood is a fully-realized statement. McBrien's wistful croon and the warmth of Hurley's instrumentation invoke an atmosphere of serenity, a beam of sun that breaks up the fog.
While touring Lay Low, McBrien spent some time reading Masanobu Fukuoka's One Straw Revolution, described as both an introduction to natural farming as well as a spiritual memoir of how cultivating the earth can reflect a balance and harmony with the natural world. "When we revisited the songs this winter, I was thinking about how absorbing knowledge like ["One Straw Revolution] takes a lifetime" says McBrien. The scope of the journey can tower over us, but it happens one step at a time. Themes of rest, balance, and the power of memory lace Goldenwood and remind us to take those moments to breathe.
Stumblin' through the year tangled up in time
Wishes born in fear at my side
If I could I'd leave them right here where I stand
See if I could trade them for another place to land
Maybe I could find that story I once knew
Maybe I could find a song for you.
Especially with a world in turmoil, that's how we get ourselves back up to a 100%. Experience the full record via our exclusive stream, and peek inside Party of the Sun's Goldenwood EP with Atwood Magazine as the band take us track-by-track through the music and lyrics of their new EP!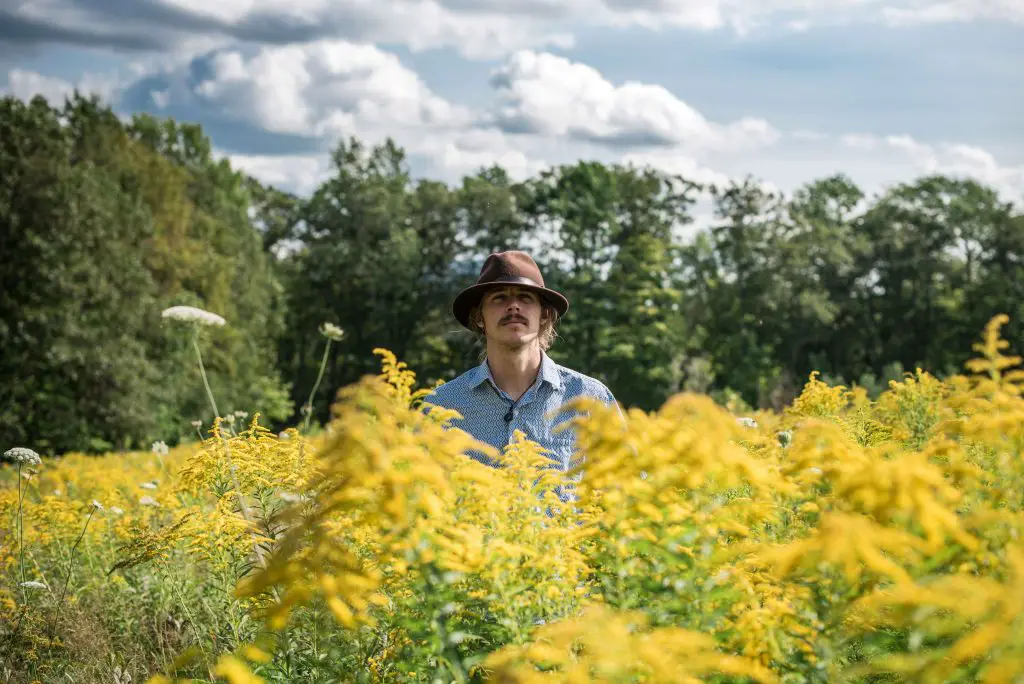 :: Inside Goldenwood EP ::
"Song for You"
"I suppose this is yet another attempt at articulating primordial memory. This one however, is more of a love song. It's also a reminder (for myself mostly) that a song is something we give to the world and that that is the heart of the pursuit." – McBrien
"79"
"This one explores that to which we are drawn. It wasn't written the way most POTS songs are. The initial version had a different form and different lyrics. When revisiting it this past winter, we realized Rory's guitar part was the core of the tune and I needed to find a way to elevate it. I went home that night with it stuck in my head. When I woke the next morning it was still ringing in there, I grabbed the guitar and wrote the words. They came pretty quick but I was still late for work.
The instrumentation came at a time when the POTS-verse consisted mostly of mid-tempo songs. After going out and touring "Lay Low" I wanted to add material to the repertoire that would give the live show more dynamic. On that 2017 tour, I was reading "One Straw Revolution" by Masanobu Fukuoka, a text of deep wisdom and hope. When we revisited the song this winter, I was thinking about how absorbing knowledge like that takes a lifetime. 
To tell it plain, this one is about how much I love mid-tempo songs and how I've been drawn to writing so many." – McBrien
"Goldenwood"
"This one also explores memory, but of a different sort. These are fragments from my life and the life of my friends. I wrote it thinking about heads out burn-cruising dusty back roads." – McBrien
"Remember What It Means"
"This one is about the return of deep joy, primordial memory and the surge of purpose we feel when things line up. This recording has special vibes because Rachel (my wife) tracked the back-up vocal while pregnant with our first child." – McBrien
"Ball of Time"
"This is another narrative about my life and how our past changes with the context of where we are and where we are going." – McBrien
— —
Listen: 'Goldenwood' EP – Party of the Sun
— — — —
? © Ben Conant
:: Party of the Sun ::
---