A tantalizing rush of intense, intimate feeling, GRAE's seductive 2020 return "Slow Down" brings us up-close and personal with the Toronto artist in a sultry indie pop experience.
Stream: "Slow Down" – GRAE
---
You kiss my neck, I pull your hair, getting to know you…
It's been only six months to the day since GRAE released her debut EP, but she just couldn't stay – which is exactly the theme of her breathtakingly intimate new single, "Slow Down." A tantalizing rush of intense feeling, "Slow Down" brings us up-close and personal as GRAE lays her cards down for all to see, hear, and feel.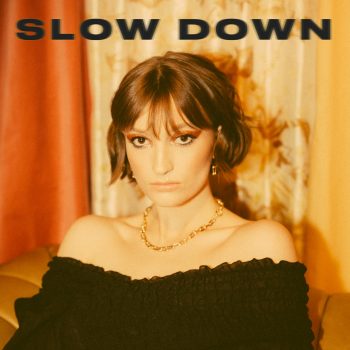 Locking eyes
Across the silence
I think you feel it too
Bite my tongue
Turn my head
Don't wanna run to you
Lost in emotion
Out in the open
Trying to keep my cool
That's what I'm used to
That's what I'm used to

Independently released April 9, "Slow Down" is a hot and sultry return for Toronto indie pop singer/songwriter GRAE. The track and its accompanying music video arrive as the lead single off her upcoming sophomore EP Bang Bang, set for a late 2020 release. Previously featured as an Atwood Editor's Pick for her song "Your Hands" – described as "a dazzling, softly intense and emotive soundscape" – GRAE remains a relative newcomer, yet she already feels like a staple of today's indie music scene. She has an absolutely enthralling, cool and smooth rhythmic alt-pop style about her – all of which can be felt in force on the artist's debut EP New Girl, released last October. Speaking to Atwood Magazine about her music and her resounding anthem "Woman's World," GRAE opened up about her own experience of sexual harassment and the inspirations behind her art."It's a song of empowerment and one that I really hope brings us closer and opens more doors to these types of conversations… I want it to be a reason women unite and start speaking up about their own experiences."
Her first offering since last year's EP, "Slow Down" finds GRAE doubling down on everything that made last year such a stellar success. Emotional, evocative, and altogether seductive, the song is an intense display of desire that highlights the smokier aspects of GRAE's dynamic voice.
"'Slow Down' was fun to write because I had never explored this kind of topic before," GRAE explains. "I find, as a woman, sometimes it's hard to express your wants and desires, in fear of being judged or shamed. So I wanted to touch on this subject to get more in tune with that side of myself."
She continues, ""I wrote 'Slow Down' with my producer Derek Hoffman after realizing the relationship I was exploring didn't have any depth and was only based off of sexual attraction. I was really trying my hardest to get to know this person, but temptation took over and exploring anything serious went down the drain. Rather than feel ashamed, I decided to embrace that sexualness."
Once again, GRAE opens herself up to the world through lyrics that come from her deepest depths:
And if you want me
I say just have me
I know it's crazy
I gotta to tell myself
I gotta I gotta slow down
I want you I want you so bad now
I don't wanna stop need you to control it
cuz I'm losing grip in the heat of the moment
I gotta slow down
It's getting heavy
Hope we're ready
What have we got into
Y' kiss my neck
I pull your hair
Getting to know you
But everytime
I draw a line
I cross it way too soon
I don't mind
Do you?
---
Directed by Priya Howlader, the "Slow Down" music video is as sultry and nuanced as the song itself – placing the artist front and center in a jazz café. Temptation and connection rush to the forefront of the visual experience as we watch a palpable bond form between GRAE and an onlooker: "The video stems from a vision I had of me singing in an old jazz cafe in front of a classic red curtain," GRAE tells Atwood Magazine. "Priya, the director, really made it come alive with her treatment and ideas. The concept is minimal but so beautifully executed.
She adds, "Shooting the video was an absolute blast. I had the most amazing director ever, Priya! (#GirlPower) and everyone involved was so lovely. I've always liked wearing dramatic eye makeup (definitely stems from my love of Robert Smith and his iconic messy black eye look), and I really loved the styling we had going on. The whole vibe is very different then anything I've done before, but it's soooo me!"
I can't escape this
But I just wanna taste it
and save some for later
But then again
If you really want me
I say just have me
You make me feel crazy
I just can't help myself
Damn,
I gotta slow down
I want you I want you so bad now
I don't wanna stop need you to control it
cuz I'm losing grip in the heat of the moment
I gotta slow down
There's no denying GRAE's gravitational pull on this song. The Toronto artist has made her 2020 return incredibly memorable with a track that pulls us close and never lets us go. "Slow Down" with GRAE, and let her rush of intimate feeling wash over you.
— —
Stream: "Slow Down" – GRAE
— — — —
? © Miss World
:: Stream GRAE ::
---