Beautifully sweet and breathtakingly intimate, Hotel Fiction's debut album 'Soft Focus' is a record built out of love and connection, passion and raw vulnerability, reflection and revelry.
for fans of Lorde, The Beatles, Mt. Joy, Queen, Fleetwood Mac
Stream: "Astronaut Kids" – Hotel Fiction
---
I think it shows how fearless we are as artists. We weren't afraid to be experimental with the album or the songwriting… It feels like we broke a lot of rules right off the bat with our first project and it just makes us excited to see what is going to come next!
Beautifully sweet and breathtakingly intimate, Hotel Fiction's debut album is a record built out of love and connection, passion and raw vulnerability, reflection and revelry. A classic pop collection full of catchy hooks and honest lyrics, Soft Focus is as much a celebration as it is a reckoning: It's a balancing act of life's highs and its lows, the bliss and the sorrow and all the in-betweens that define our days. Whether you're a seasoned professional or just coming of age, Hotel Fiction's album is a vessel through which we can reconnect with ourselves, indulge in nostalgia, and embrace the present.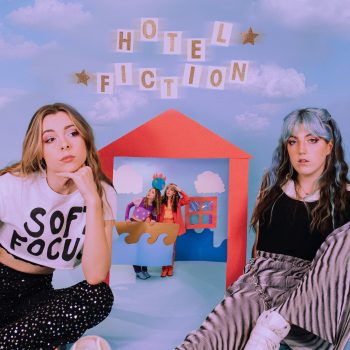 I wanna be a star
I wanna sing and play guitar
Fall in love with a man
Who loves me for who I am
When I grow up
When I grow up
I wanna go to the moon
I wanna fly on a broom
Take off into the sky
I won't even say goodbye
When I grow up
Is it too much to wanna be an astronaut who sails the seas?
Is it too much to ask to be a kid forever?
And I know I'm too old to dream
And I should try to be something real
When I grow up
– "Astronaut Kids," Hotel Fiction
Independently released August 27, 2021, Hotel Fiction's Soft Focus is a soundtrack for dreaming and waking moments alike. Produced by Tommy Trautwein (Well Kept and We Bought a Zoo Records), the duo's debut album arrives on the heels of a whirlwind two years that's seen the Athens, Georgia-based band – consisting of best friends Jade Long and Jessica Thompson – seemingly rising higher and higher with every song they released. In premiering their track "Think Twice" last October, Atwood Magazine writer Lowndes Commander praised the band's ability to deliver a dynamic example of both their talent and creativity: "'Think Twice'… feels like a grand reentrance for the duo, effortlessly capturing their chemistry, and the fun they had bringing this song to life… "Think Twice" solidifies its status as a true bop on the chorus, belted by the duo with feeling, inviting anyone who might hear to sing along."
Hotel Fiction's debut single "Astronaut Kids" just turned two years old, and recently became their first track to surpass 1 millions streams on Spotify. Soft Focus arrives with this song at its helm, followed by eight more irresistibly catchy tunes that showcase Long and Thompson's pop-forward songwriting, their flare for the dramatic, willingness to explore their own personal depths, and their incredibly talented vocal, guitar, and piano work.
"This record was born out of our friendship," Hotel Fiction tell Atwood Magazine. "We both love that the writing, performing, recording, and now releasing of Soft Focus has spanned the length of our friendship (over two years). The songs on Soft Focus cover feelings of nostalgia, love, and self reflection. To say our vision has changed completely over the course of recording this would be an understatement. We started this album by recording 'Astronaut Kids,' and we weren't even sure if we would record any more after that. Once we released our first song, we just had to go back and keep recording with our producer Tommy Trautwein. One by one, we brought different songs to the studio when we could afford them, until finally we realized we might be making an album. The meanings of the songs have also changed to both of us over the two years that we've been working on this, which has been really cool to experience."
As an introduction to all things Hotel Fiction, Soft Focus is an uncompromising open book.
The album hosts a range of piano and guitar based songs, some dynamic and driving, others soft and sweet, all of which feature the pair's dulcet, expressive vocals, compelling poetry and vivid lyrical imagery. Some tracks take the form of straight verse-chorus pop tunes, while others have special quirks that take them in new directions down unexpected roads. Soft Focus is full of little twists and turns – be it an explosive finale section, a rollicking guitar solo, tasteful added harmonies, or some kind of unforeseen melodic shift – that keeps it feeling fresh throughout back-to-back listens.
"I think it shows how fearless we are as artists," Jade Long says. "We weren't afraid to be experimental with the album or the songwriting, having long outros to songs, intense solos, theatrical elements. It feels like we broke a lot of rules right off the bat with our first project and it just makes us excited to see what is going to come next. It conveys our range as well with songs we worked really hard to get perfect in production versus songs that we took a more acoustic stance and kept it simple. We also have songs that to us are rock, some that are pop, some that are folk, and some that are alternative. Really it feels like there is something for everybody in the album and it feels true to us as artists because we genuinely do like a little bit of everything. You go through so much change in your late teens and early twenties and this album is just us telling the story about our experience through it all."
Pausing, Long explains the story behind their album's title. "One day we both were at one of our favorite coffee shops, Buvez," she recalls. "Jess was talking about how the eye doctor had said her eyes were in 'soft focus,' and we started talking about how our eyes often blur out. I mentioned how my eyes do that while creating artwork to see the big picture instead of focusing on little details. We related it back to life and how sometimes you run on autopilot and lose focus and are kind of stuck in a daydream. It feels like it really encompasses the album as a whole, because each song is a different thought or feeling that we were lost in at a certain time of our lives, and the album is the larger picture that you see when you take a step back."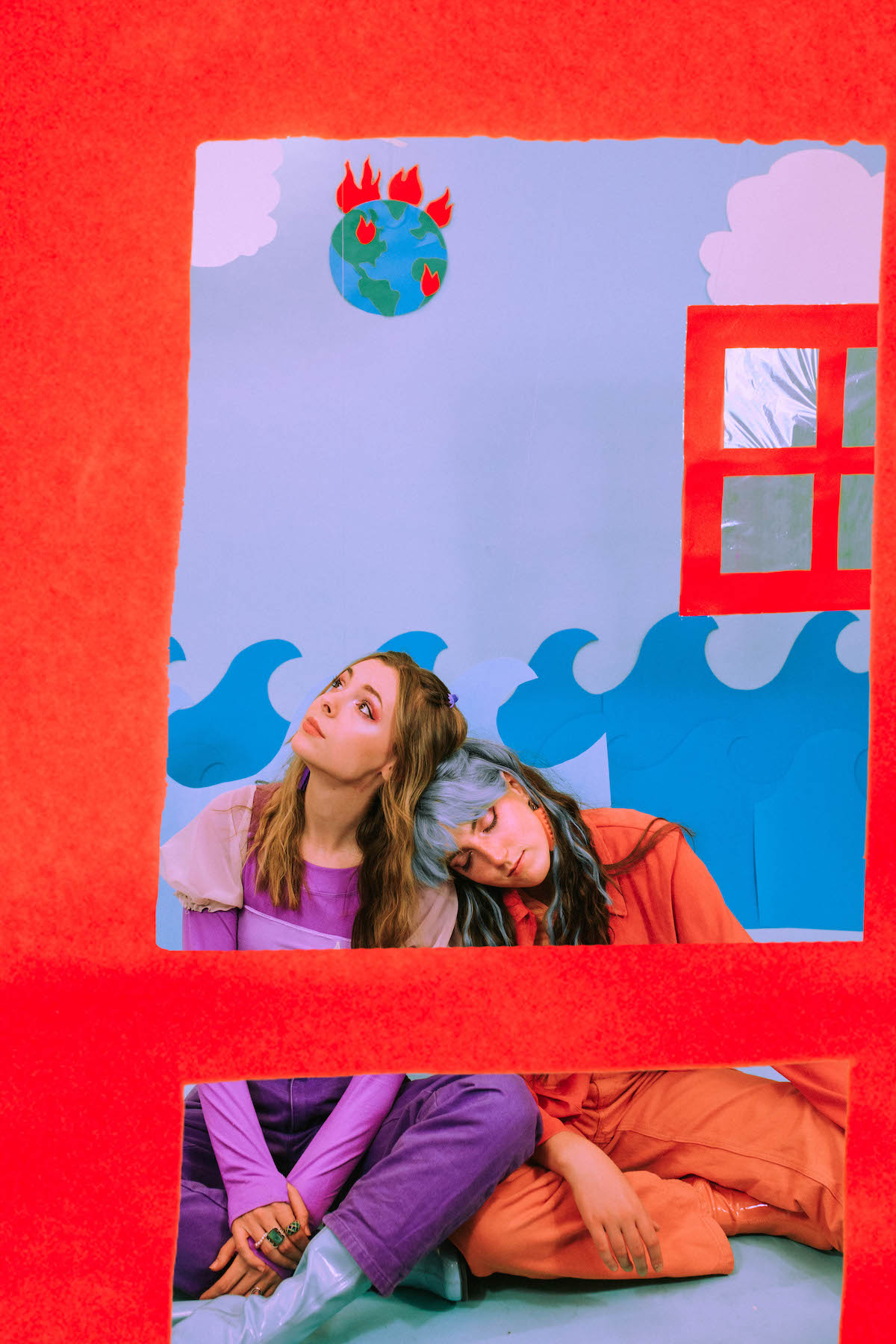 It feels like it really encompasses the album as a whole, because each song is a different thought or feeling that we were lost in at a certain time of our lives, and the album is the larger picture that you see when you take a step back.
Whether you hear it as an effervescent blur or for the individual radiant sparks that light the way forward, from start to finish Soft Focus is an uplifting, buoyant delight. Opener "Astronaut Kids" and "Think Twice" set a cinematic tone with their mix of relaxing vibes and impassioned beats, yet the band do well to shine an equally strong spotlight on their gentler side through the sun-kissed sounds of "Daydrifter" and the stirringly warm, harmony-rich ballads "Ghost Train" and "Steady." As the album nears its close, the psychedelic sun-soaked daydream "Golden Days" highlights the pair's experimental side with curious, compelling vocal work and special use of the major 7th, while "Soft Focus" and "17" offer some of the record's highest highs, followed by a stunning close.
---
"They all really do have unique places in our hearts," Hotel Fiction note. "Some of our current favorites are 'Golden Days', 'Soft Focus', 'Think Twice', and '17.' One of our favorites is 'Golden Days' because, while it's the shortest song on the record, it seems the most creative and unique. It really takes you on a journey with mysterious intro and lullaby ending. Building and coming up with all the different harmonies in production was one of the most fun things to do in recording and felt like creating chords with our voices. Another personal favorite part of ours is the end of the song 'Soft Focus.' We brought back melodies from almost every song on the album in the outro. It brought the whole album together as a whole and made it feel cohesive. It felt like watching our friendship and college life flash before our eyes hearing all of the songs in one and still gives us that feeling when we hear it."
"Overall the lyrics in 'Golden Days' are really interesting, especially the line, 'Wake up now that your older, you've gotta run, run from all the emotion, you're late again." We wrote that part of the song in the perspective of an evil voice inside your head that represents anxiety or society telling you what to do. A lot of our songs are from the perspective of ourselves talking to ourselves."
---
As lyricists, Long and Thompson each cite their own favorite lyrics on the album in addition to purely musical moments.
"I really like the lyric in 'Ghost Train,'" Long says. "'Wonder why so many people call this place home, wonder if i'll make it out before I turn to stone.' I wrote that song before I met Jess in a time where I didn't call Athens home and wanted to leave. Every time we sing it live or I listen to it that line sticks out to me because Athens truly feels like home to me now. I also like the line, 'I miss shows, dancing in our favorite clothes to a band I'd never heard, but you knew every word,' because we wanted to add in a part about how we missed playing shows together and live music throughout the pandemic. I remember playing that song for my mother in our living room and as soon as I sang that line I started crying and couldn't make it through the rest of the song. Now when we play that song live, we realize how lucky we are to be back up on stage doing what we love again."
Meanwhile, Jess Thompson offers two answers to the lyrics question: "One of my favorite messages on the album is in the song 'Steady'. The line. 'No one wants to be alone, no one wants to fly without somebody calling them home' really hits for me, as do many lyrics on the whole song, because it unites us all in the common need to be loved. I had a very hard time during quarantine, and even the last few years, understanding how some people could be so callous and unloving to their community with their actions and words. However, listening to this song I remember that deep down everyone just wants to be loved and have a community that loves them. Everyone thinks they are doing what's best for those around them, even if it might not translate as such. I hope that we can all work towards being a united community for each other."
We like to think we're different
But we're just fish in the sеa
Swimmin' around in circles
And trying not swim too deep
And all that we need is some company
Somеone to keep this boat steady
'Cause we're all the same
Just playing the game
Hoping at the end we're still sane
No one wants to be alone
No one wants to fight
without somebody calling them home
No one wants to be alone
No one wants to die
without someone to leave flowers on their headstone
No one wants to be alone
"Another lyric that's pretty funny but just has a special place in my heart is the line "leave your denim at the door" in 'Think Twice.' Our roommates Sarah and Sara Grace came up with that line as a joke, and we somehow managed to slip it in the song… I don't even know what it means entirely, but we all laugh about it. One more favorite line I have is in 'Soft Focus': 'Your roommate drank your milk, and the world's on fire.' It's a funny line we wrote about perspective. Sometimes the world feels like it's falling apart because you don't have milk for your oatmeal and sometimes the weight of urgent worldly problems is all you can think about. Both can evoke the same feelings of frustration depending on the day, but it really puts the small things in perspective."
---
Soft Focus is sure to bring a smile to all who listen.
From Hotel Fiction's sincere, heart-on-sleeve candor, to their Beatles-esque pop work and their charming, utterly intoxicating singing, this album serves as an intimate, intense, and enviable introduction to a band that begs us to see the world through a greater lens than our own: To think, live, and breathe outside the box; to recognize that life is so much more than meets the eye, if only we can expand our minds and grow our hearts.
"The album really became a world of its own, and we hope to take people on a journey and to maybe be an escape they can get lost in," Hotel Fiction share. "We hope to show people they aren't alone in their thoughts and we want to inspire hope. Music is something so personal and vulnerable and putting ourselves out there has only made us realize how many people relate and how it's really cool to make something that can be there for someone when others maybe aren't. We also want to show people that they shouldn't be afraid to put themselves out there and do what they've always wanted to do even if it's scary because it has been so incredibly rewarding."
Experience the full record via our below stream, and peek inside Hotel Fiction's Soft Focus with Atwood Magazine as the band goes track-by-track through the music and lyrics of their debut album!
— —
Stream: 'Soft Focus' – Hotel Fiction
:: Inside Soft Focus ::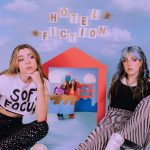 — —
Astronaut Kids
This was the first song we ever recorded and marks the beginning of our start as Hotel Fiction. It relates to both of our feelings in college about not wanting to grow up. The funny thing is after releasing the song, we were able to continue playing music together, and in a way the song itself has helped us follow both of our childhood dreams and not have to "grow up" yet. Recording this song felt like it was fulfilling our dreams too, because neither of us had ever recorded a full song or released a song. Studio time was so new to us and we enjoyed every minute of it. Jess: My brother Justin drummed on this song as well as on most of the record, and I've been playing with him in bands ever since I was 11 and he was 9. He's one of the best drummers I know. This record feels so nostalgic to me because my brother is playing on it too. Jade: I started singing the words to the song out loud while walking home from a concert in Athens. I've always fantasized about going to outer space and it feels almost easier to envision that than making any real changes in your everyday life or accepting the mundane.
Think Twice
Jess: This song took the longest for us to write. We actually started writing it with the ending instrumental. A few of our friends were over and both of us were jamming and started looping some chords and completely got lost in them. We got so lost that we forgot other people were over until they were like "you guys have been playing the same thing over and over for 45 minutes please do something else" haha.  Next came the beginning half of the song, which started in a completely different time signature. It was really fun to explore Think Twice in the studio with our producer Tommy because we started exploring some crazy synth sounds and taking more creative liberties in the production. We've loved watching this song take shape and it's one of our favorites to play live.
Daydrifter
Jade: I started writing this song while studying abroad in Italy on a guitar there that was missing a string. Jess came to visit me even though we weren't allowed to have visitors. It was the first time we had sung together in months and felt so magical. We were working on writing the lyrics outside at night when one of the RA's heard us. We hid in the grass and stayed quite while staring up at the stars finishing the words.
Ghost Train
Jade: I used to wake up at night to a train noise outside my apartment and had never seen it in real life so I called it the Ghost Train. I hadnt found my place in Athens / college yet the song came one night when I heard the train and envisioned it as an escape. Shortly after I met Jess and played this song the first time we ever hung out. It feels like all my fears kind of dissolved since then and with Jess I don't feel alone anymore because we get each other like no other. The song is plural and most of the song says we ("Side by side, we will ride on that ghost train") but I never really had someone to sing it to, now I think of it as me and her.
Jess: When we got into the studio to record Ghost Train, we expected it to be pretty simple, like how we play it live. It's really special in those intimate and raw moments, but we started writing  new parts and taking it in a more elaborate direction, which I loved. My favorite part of recording  this song was stacking vocal harmonies on top of each other at the end. Early covid cases had just started when we finished tracking. I drove home to the first mix we made and cried to the song…the song felt so comforting to me in moments of fear or grief during quarantine.
Out of My Head
Jade: I wrote the first half of this song after coming home from Nashville with two of our best friends about how you can get stuck on people, things you say, or moments that have happened and you replay them over and over again in your head. The second half of the song I wrote after I lost my voice "I'm so impatient, the day I get you back I drive you away again" It was pretty dramatic at the time but made me realize how much I cared about music and what it would feel like to lose part of that.  Me and Jess decided to put the two songs together with our friend Melanie and made it into this theatrical larger than life song.
Jess: During shows Out of My Head is my favorite song to start with.  It's easy to get in my head on stage, worried about the wrong things and not living in the moment. The song, although it has a different meaning, is a reminder to get out of my head and enjoy the moments during our shows.
Steady
Jess: Jade wrote Steady in high school, so it's the oldest song on the album. It has a really special meaning to both of us and was the second song we recorded.
Jade: After going to college years later and revisiting the song I understand what he was talking about now and see how scary those isolating feelings can be. I'm very thankful for people like Jess and our best friends that make us feel less alone.
Golden Days
Jess: This song was so fun to write and record together. It's one of the more unique in production because we started most of the production at our friend John's house just messing around in his bedroom. We were using a tiny little cheap portable amp and it was picking up some pretty serious radio hum (we could literally hear full radio songs playing through it at times). At first it was annoying, because usually it's best to minimize extra sounds like AC and amp noise when recording, but we decided it was a sign from the universe to put it in the song. The song begins with a kind of fuzzy sound (which continues throughout) and this came from just recording the background noise of the amp.
Soft Focus
Man this song was a trip! It started when Jade called me to come to the music school piano and played me parts of the song. Soft Focus moves from a mysterious and ethereal beginning to a  complete turnaround in the middle. We had so much fun coming up words for the middle part…the story about hitting a dog is NOT true but our roommates drinking our milk is definitely  true. We ran around the house asking our roommates what small things made them feel like the world was ending and came up with the milk line. My absolute favorite part of the whole album is the ending of Soft Focus. You might not notice at first, but we bring back riffs and melodies from almost every song on the album at the end. Melodies from Ghost Train, Astronaut Kids, Think Twice, Steady, and Out of My Head are all in the ending. We also had so many friends play different parts on Soft Focus, which makes it very special to me.
17
This song was the most recent addition to the album. Jade finished writing it during quarantine as a reflection of the past two years. It is the most simple song in production with just piano and vocals and feels like final words on the album about how we missed all of what we had created in our time in college and couldn't have during quarantine.
— —
— — — —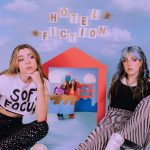 ? © Sydonné Blake
styling by KB Bass
:: Stream Hotel Fiction ::
---