To celebrate "the most wonderful time of the year," Atwood Magazine's Mistletones column features fresh holiday/wintertime tracks and exciting covers of beloved classics. December has a knack for bringing out some of the most poignant, tender, and celebratory music, and we want to highlight that excitement by showcasing new and alternative holiday greats! Spice up your holiday season with songs you can listen to now and cherish in the years to come.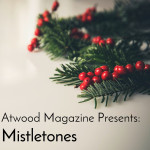 For 2018's finale, we asked our featured artists about the holidays and their holiday songs. Dive into our Mistletones interviews with The Staves, Nina Nesbitt, and many more!
:: MISTLETONES ::
Atwood Magazine: What inspired you to record your own holiday song, and how did you go about making it your own? How does it capture the holiday spirit or season, for you?
The Staves ("Home Alone, Too"): The song was written last Christmas upon returning home to grey, drizzly London after a perfectly snowy, festive trip to New York. This time of year always makes you evaluate how you've spent it and think about the year to come. John Lennon said it best in War Is Over: 'So this is Christmas and what have you done?' The best Christmas songs have a good dose of melancholy to them! Everyone sheds a tear to Silent Night. Home Alone, Too takes on a slightly tongue-in-cheek 'bah-humbug' tone about the festive time. How it's always poised to be magical but can sometimes be disappointing or mundane. This time of year is always laced with nostalgia. It forces us to reflect on where we are in our lives and think about Christmases past and future. It's sad because you think of those you miss and past times But it's also nostalgic in a lovely way, the way you can shed a tear from happiness. The two are so closely related.
I think everyone spends a considerable amount of time in front of the TV over the festive period, escaping reality, watching classic films (and, if you are me, eating lots of chocolates). The tracks sets that scene, but with the singer of the song gazing out of the window, seeing the Christmas lights in all the neighbours' windows, and wondering if that special someone is doing exactly the same thing…
Nina Nesbitt ("Oh Holy Night"): I was already going to record a singles session at metropolis studios for Spotify back in the summer and they asked me if I wanted to record a Christmas cover for their holidays collection so I said yes! I'd never sung the song before and I had to pick one that hadn't been done too recently, so it felt like a good choice. I also really wanted to sing with a choir and it felt like the perfect song to do that on. I'd heard a lot of gospel versions and diva vocal versions. I wanted to make a gentle folky version to suit my own style. It was nice doing it so stripped back and chilled. It's a proper candlelight cover.
Calum Scott ("White Christmas"): I recorded this song at Abbey Road Studios in the famous 'Beatle's Room' along with other live versions of songs on my album as part of the '1Mic1Take' series for Capitol Records. Literally, we had 5 minutes left in the studio left.. 'White Christmas' was the last song we had to record and it had to be done in one take. No pressure.. The vibes in that room though, it happened so naturally and that was that, straight on the album! I think that room definitely helped it along..
Josie Dunne ("Cold In December"): I was writing with this amazing producer and writer, Jeremy Larson, and as soon as I walked into his studio, he started playing that opening piano riff. I instantly fell in love with that. It sounded so nostalgic and wintry, so we wrote a holiday song. It's about something I've been through. I went to a holiday party and realized this guy I liked didn't totally feel the same, which was a real bummer. I think being heartbroken is amplified when it's cold outside, so that's kind of what "Cold In December" is about. To me, "Cold In December" captures the holiday feeling from that piano sound. Like I said, when I first heard it, I could immediately picture snow falling and a fireplace. Ha! It made me want to bake some cookies.
Pomplamoose (Winter Wishes album): It's always a fun challenge to write Christmas songs in October! But I really wanted this EP to be mostly original songs so that's what had to be done. Holiday songs are my favorite type of song to write, oddly enough. And I knew that we would have strings and horns recording with our usual (and amazing) core band, so this felt like a really unique opportunity. All that to say that while everyone else was carving pumpkins, I was plunking jazzy chord progressions out on the piano, really digging for that Christmas Spirit. For the last year, I've been handling the songwriting for Pomplamoose, and my bandmate/husband Jack Conte has been in charge of production and instrumentation. In 2018, we released one song every single week! We go down to L.A. and record four songs in a day – usually half originals and half covers. While we're recording, we film the whole process and then release a video every week. So when we were planning this Christmas EP we knew that it would follow a similar live format. We knew that we'd be working with our favorite core group of musicians (plus strings and horns), and that we had two days to record seven songs together!
I gave myself a week to write five songs (which is admittedly crazy). And there was a clear goal in mind – to write classic Cole-Porter-esque Christmas songs. I wanted it to be nostalgic and sentimental and fun and a celebration of all the good things you feel around this time of year. Now that I'm in my thirties, it takes more work to really feel the magic of Christmas. That joy is something that belongs (or should belong) to children – the wide-eyed fascination and hope. Those are the feelings I was really digging for while writing these songs. For example, "Winter Wishes" was inspired by a friend of mine who was going through the process of adopting a baby boy. I kept thinking about all of the Christmases and birthdays they would share, about the original Christmas story and a mother's love for her child, about how generous and good people can be. Those were the feelings I wanted to dwell on. Of course, the season is also about loss and loneliness, and those feelings surface too. But I really strived to make it a hopeful album.
Boy Bjorn ("All I Want for Christmas Is You"): Who doesn't get a little thrill down their spine when they hear those first chords of this classic? I understand the thrill quickly turns into panic as the thought hits you "I won't stop hearing this song for two more months". To the control freaks, the obsessive types, I offer you this alternative to this now ubiquitous kernel of holiday truth. Be merry and kind to your brothers and sisters this season.
The first thing I did was look up some of the chord patterns and just started messing around with them in Ableton. Once I found the synths I wanted to use, and the arrangement laid out, the rest fell into place pretty easily. Just began cutting up my vocals, and started to bring it into my world.
Gabriella Rose ("It's Christmas Tonight"): Well, a lot of people around me were asking if I could record some Christmas music. I thought it would be really cool to write an original holiday song, and when I played it for my family, they ended up loving it! I was inspired by the song "Baby It's Cold Outside": I just love classic holiday love songs.
To me, the holidays are all about spending time with those you love, whether they're family or friends. I imagine drinking hot cocoa, singing Christmas carols, eating peppermint stuff, and just having a good time. In "It's Christmas Tonight," I tried to capture that feeling, the nostalgia and sentimentality.
The Sweetheart Deal ("Jingle Bells"): I think we felt the need to do something happy and feel good. "Jingle Bells" is obviously a holiday standard and we knew that we'd have fun making it. We had never met our producer (Mitch Dane) until the afternoon that we recorded it, so we figured "Jingle Bells" would be a good first intro and a fun session all at the same time. Also, I (Paul) just became an uncle last year and I thought "Jingle Bells" might be a good one to play for my nephew over the holidays!
We The Kings (Season's Greetings From The Sandbar album): I actually just did a version of Jingle Bells for fun and my daughters LOVED it, so I decided to do more. After three weeks I had the entire album finished! Regarding "There Is A Light," I was asked to write a Christmas song awhile back but never got around to finishing it. I figured this was probably the best time to finally do it… The song's lyrics obviously have the Christmas feel with Santa coming to visit and portraying a kid looking out the window at the light coming from the clouds that perhaps could have been from Rudolph the red-nosed reindeer. The album captures what the holiday looks like in Florida.  It's usually still relatively hot where we are at around the end of December, so making a Christmas album with an island feel was exactly what we wanted to do.  Plus, it's a nice separation from all of the typical Holiday music.
Yes You Are ("O Holy Night"): "O Holy Night" has always been our favorite holiday song, it always sounded to me like it could be a Beatles melody. We wanted to make a dreamy version that was almost like a lullaby. We are so happy that it came out just how we wanted, I find it very soothing. I think this song, above all other holiday songs, captures a certain reverence that I think is an important part of life. Regardless of what your beliefs are, I think everyone could use a season of reverence.
Mountains in the Sea ("Well, This Is Christmas"): This song came together for us really quickly. Angela got the idea while playing around on ukulele and wrote out the lyrics in maybe half an hour. It was one of those songs that just kind of fell into place. We actually wrote, arranged, recorded, mixed, and mastered it in five days! Once we had the idea and the song was written, we wanted to get it done quickly so we could get it out for this holiday season. When we were recording it, Phil had the idea to add the "oohs", all the backing instruments, and also suggested Angela go up for that final soaring high note, all of which we think really took the song to another level.
The holidays are about being with your loved ones, and we wrote this song thinking about some friends of ours in the military or otherwise unable to spend Christmas with their family. That feeling of longing, waiting, just missing your love while everyone else is enjoying the holiday around you–that's what this song captures. We know that feeling too, as a couple, because we dated long distance for a while (cross country!)
Frankie Simone ("The Christmas Song"): I really wanted to thank my fans for all of their incredible support this year, so I decided to cover my favorite holiday classic, "The Christmas Song," but with my own twist, of course. In my version, Santa is a badass femme and she and her bitches, kweens and baddies came to slay. I tend to question why things are "the way they are" about pretty much everything in life, so why should my favorite holiday songs be any different?
I was lucky enough to work with my dear friend Graham Barton (Co-producer and engineer on LOVE//WARRIOR EP) on this song. We had been talking about recording a Holiday song for the past 2 years! He is also a major fan of the holidays, so we were so excited to finally get in the studio early fall and start creating. Graham and I had some ideas over the past couple years, but it was around September when he sent me a voice memo with this dark and broody instrumental clip – and as soon as I heard it I knew it was a MOOD. We were also thrilled to have Phillip Peterson on the track. He wrote a beautiful string arrangement that complimented the piece perfectly. And with that, I was really excited to showcase a side of my voice that I feel like a lot of folks haven't heard yet. I'm super proud of what we made and I'm all giddy for folks to hear it.
It feels like it's reflective of this season in that it's darkness is something we can't escape. But amidst the darkness, I wanted to weave in some light. Which I feel like is what the holiday season is all about – illuminating the darkness of this time of year with our internal light. We all need more life, love and light this time of year so this song is my way of cultivating that.
Pizzagirl ("Pizza for Christmas"): I've always loved the soppy sentimental and a bit sulky Christmas ballads! i was really keen to channel that self deprecation and loneliness in my take on a festive hit! I think it captures it pretty accurately for me, i'll most likely be eating a lot of pizza for christmas and avoiding the low temperatures! Maybe not so melancholic but you never know!
Camp Crush ("Winter's Dream"): It's been a dream of ours to write an original holiday song that we were proud of, something we wanted to add to the amazing canon of original holiday music. The holidays are all about hope and togetherness, even when the world seems bleak. And that was the message of this song, that you can find hope, love, connection even when the world outside is dark.
Whyte Horses ("Next Year Will Be Mine"): I always wanted to write a Christmas song that touched on the same songs being on the radio at that time of year. I do like songs about the passing of time and patterns of life. We all need a bit of hope going into the new year and Next Year Will Be Mine tries to paint that picture.
I heard members of the Womens Institute reviewing it on Roundtable and they made a point saying it sends a message that it's ok not to be ok at Christmas. They also noted that most Christmas songs are oppressively happy and joyus, where as Next Year Will Be Mine has that celebratory mood but in a different way because of the words. I think that sums it up pretty succinctly.
What is your relationship with the holidays and the holiday season?
The Staves: I have always loved the Christmas holidays. Even as an adult I still feel the excitement of Christmas like I did when I was a kid, although the great thing about being an adult is you can drink lots of mulled wine and go to Christmas parties. But to relax with the ones you love, some good food, drink and music, even if it's only for a day, is always such a joy and we are the lucky ones who get to do it.
Nina Nesbitt: The holiday season for me is all about doing absolutely nothing, binge eating and being with loved ones. It's really the only time when the music industry shuts down and I savour every day off I get ha! It's a good time to reflect on the year and set goals for the next.
Calum Scott: The holidays are my favourite time of the year! It gives me time to relax with my friends & family and eat & drink to my heart's content. Big fan of food and drink, that's why I am in the gym most of the time, working off Christmas… I also used to love presents and playing with everything I got, now I love buying my nephew his presents and playing with his! He is spoilt rotten this year, so I will be busy now until February…
Josie Dunne: I love the holidays so much! I come from a huge family in Chicago and we all have a big Christmas together. I have about 25 cousins that I'm incredibly close with and we all put on a big talent show on Christmas Eve. It's a blast!
Pomplamoose's Nataly Dawn: Well, growing up as a pastor's daughter Christmas was a pretty big deal. My mom was the musical director at church (and not just because she was the pastor's wife – she's a kickass pianist and singer). She would direct the choir and any musical productions. I was usually a sheep or an angel (or Sherlock one year but that was…another story?). I really do picture my childhood holidays through rose-colored glasses. I remember that each December morning before going to school, we would read about the Christmas story and then sing a hymn (in three-part harmony – yay for musical families!) We would get new Christmas ornaments every year and I would run home because I couldn't wait to see the tree through our window. So yeah…I have a lot of positive feelings to channel when it comes to this time of year. Even though I know that things weren't easier or simpler back then, it feels like they were.
Boy Bjorn: In Wisconsin, the holidays are a very welcome distraction from what's actually happening (snow and cold until April). Without Thanksgiving, Christmas, New Year's, I'm not sure we wouldn't all give up by February.
Gabriella Rose: Honestly, I go through phases. Last year I was basically Buddy the Elf, and shoved Christmas spirit down everyone's throats. Seriously, I dressed up as different versions of "santa woman" at school and passed out candy canes. Before that I was the Grinch and professed my hatred for the holidays and everything to do with Christmas. This year, I've mellowed out quite a bit, and have let go of my overly dramatized expectations of Christmas.
The Sweetheart Deal: I love the holidays. I'm usually setting up Christmas decorations the day after thanksgiving. This year we'll be spending the holidays in Alabama with my parents and grandparents. It's always my favorite time of the year getting to catch up with everyone. This year we have a new addition with my sister just having a baby, so we get to buy toys for my nephew which will make things even more fun!
We The Kings: Christmas time might actually be my favorite holiday because as a band We The Kings is always on tour and away from our families. Around the end of the year, a lot of the music industry takes a break so it's nice to be able to spend at least a week or two at home with everyone that we've missed!
Yes You Are: (Jared) We have a pretty traditional relationship with the holidays.. its a special time to be with family, friends, and loved ones. (Kianna) Yep, the normal family stuff, but I do try to do as much of it as possible in my Elf On the Shelf pajamas.
Mountains in the Sea: For us, the holiday season is really about slowing down, simplifying, and reconnecting with family and loved ones. Here in Spokane, WA, we do often get white Christmases, and it's really beautiful. We always look forward to this time of year.
Frankie Simone: Although I'm a pretty non-traditional person, I am also that guy that starts listening to Holiday music right after Halloween. And as much as I love it, I'm really tired of hearing the same handful of incredibly heteronormative and non-diverse songs on repeat. There are no songs that I know of in the Holiday genre that even remotely reflect me, my community of misfits, or female empowerment for that matter – and I think it's about time we had one that did.
Pizzagirl: I am a big lover of Christmas, it's warm and fuzzy to see people come together and jingle their bells, get extra merry and eat lots of food! it's the perfect season for this girl!
Camp Crush: Growing up, the holidays are a magical time. It feels like anything is possible. When you become an adult, you start to see all the work that goes into creating that magic. For us, as musicians and parents, it's important for us to maintain a level of excitement, magic and giving in the way we celebrate. So for us, our relationship to the holiday season is really about family and teaching our kids to not just receive, but to give (give money, make music, spend time, be generous).
Whyte Horses: I love the idea of Christmas but I end up getting bored of doing nothing quite quickly so I'll be sat about trying to perfect a song in my head or something like that.
What are some of your favorite holidays songs?
The Staves: "Have Yourself a Merry Little Christmas" has a beautiful, dreamy sentiment, but also that poignant melancholy to it. The Judy Garland version (the best one) seems to be the only one that has my favourite lyric 'until then we'll have to muddle through somehow'… All the others have 'hang a shining star upon the highest bough.' Not as poignant! For me, Fairytale of New York by The Pogues and Kirsty McColl is the absolute best Christmas song. I don't believe that it's as popular in the US as it is here – so go listen! It's a rousing, drunken and beautiful song.
Nina Nesbitt: My absolute favourite is "All I Want for Christmas" by Mariah, and I got to see her Christmas show live in London last year! It was incredible. She's an icon.
Calum Scott: My favourite holiday songs are the traditional ones.. the ones where you just get those Christmas feels as soon as you get them.. The Pogues – Fairytales of New York, everybody loves Mariah Carey – All I Want For Christmas, Jackson 5 – Santa Clause is Coming To Town, a bit of Shakin Stevens – Merry Christmas Everyone and recently discovered Rod Stewart's version of Have Yourself a Merry Little Christmas!
Josie Dunne: Oh, it's so hard to choose, but I've always loved "Feliz Navidad". I think it's the most fun holiday song. I also love Elvis' "Blue Christmas". As you can probably tell from "Cold In December", I have a soft spot for sad christmas songs!
Pomplamoose: "The Christmas Song" by Nat King Cole, Judy Garland's "Have Yourself a Merry Little Christmas," anything from the musical "White Christmas"… The three albums I grew up with and still play every year are: Amy Grant's Home For Christmas, Harry Connick Jr.'s When My Heart Finds Christmas, and Mariah Carrey's Merry Christmas!
Boy Bjorn: I randomly came across Sufjan's new Christmas (?) song, "Lonely Man of Winter," mixed by Doveman. Two very, very, very special people there – and they did not disappoint. Actually, if you're still reading this, just save my tune for later and head straight to that one.
Gabriella Rose: The She and Him Christmas albums are perfection. I also love Santa Baby by Eartha Kitt, The Christmas Waltz, Silver Bells, Someday at Christmas, Happy Xmas (War is Over), Baby it's Cold Outside, White Christmas, and I'll Be Home for Christmas. I have a lot of favorites, and there's so much more! But I shortened it down to my top ones.
The Sweetheart Deal: So many! We can't name all of them but I'd say top albums…Mariah Carey's Christmas album. It's the best. Maybe a little Tom Petty – Christmas All Over Again, John Lennon – Happy Xmas (War Is Over), and the Hanson Christmas album is pretty slamming! I always throw in some classics with Bing Crosby & Frank Sinatra as well. I love that stuff.
We The Kings: Jimmy Eat World's "Last Christmas," John Lennon's "Happy Xmas (War Is Over)," and Coldplay's "Christmas Lights"!
Yes You Are: Our favorites are Bob Dylan's Must Be Santa, Phil Spector's album A Christmas Gift for You and The Beach Boys Christmas album as well. So good!
Mountains in the Sea: Some of our favorites are "Please Come Home For Christmas" by Eagles (we've always loved the blues, I guess!), "Oh Holy Night", and "White Christmas" of course–Bing Crosby is from Spokane too!
Frankie Simone: Some of my other favorite holiday songs are… Zooey Deschanel's "What Are You Doing New Years Eve," "Christmas (Baby Please Come Home)" by Darlene Love, "I'll be Home For Christmas" by Frank Sinatra, Ariana Grande's "Wit it Dis Christmas" (I'm singing a cover of it in my Holigay Spectacular show where I change the pronouns to She) – and of course, Mariah Carey's "All I Want for a Christmas is You"!
Pizzagirl: Some songs I have on repeat around this time of year are Pipes of Peace by my local Paul McCartney, Only You by Yazoo and In Dulci Jubio by my man Mike Oldfield !!
Camp Crush: Chris loves the Christmas Waltz and while it's hard to choose on my end, I'd have to say Bing Crosby's I'll Be Home for Christmas always gives me chills.
Whyte Horses: Having tried to write a Christmas number, I have even more respect for the classics like Slade, Wizzard, Lennon and the like. It's no mean feat to write a song that millions of people fall in love with and want to play every year. In terms of albums I'd say Spector's Christmas album has to be the best all round festive record.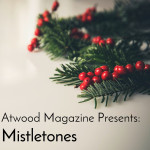 ? © Annie Spratt [CC]
art © Markus Spiske [CC]
---