Michigander's Jason Singer takes us track-by-track through his fourth EP 'It Will Never Be the Same,' an inspiring, spirited collection of intimate indie rock anthems and upheavals brimming with raw passion, soaring energy, and feverish emotion.
Stream: "Superglue" – Michigander
---
This EP is about honoring your past while still trying to move forward by being the best version of yourself.
Cathartic, rousing anthems have long been one of Michigander's specialties, and on his new EP, the Nashville artist gives his audience six new reasons to smile.
It's been a long and winding road getting to It Will Never Be The Same: Originally scheduled for release in October 2022, Jason Singer's fourth EP as Michigander was pushed back when the Nashville-based singer/songwriter broke his leg while filming a music video in the mountains just outside of Los Angeles. The footage he and his team shot that day still ended up making for quite the compelling (if not unanticipated) video, but the result of the accident was a nearly six-month delay of his record and its accompanying headline tour.
Thankfully, these songs were well worth the wait: Michigander's best work yet, It Will Never Be The Same is an inspiring, spirited collection of intimate indie rock eruptions and upheavals brimming with raw passion, soaring energy, and feverish emotion. Charming and charismatic, it's music made for seizing the day, being our best selves, and leaning into change.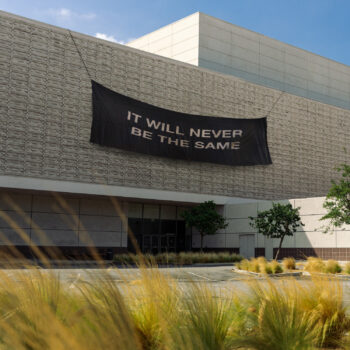 Am I wasting my emotion on you baby?
Am I wasting all my time waitin' on you?
Should I give up on this thing that I've been chasing?
Cause honestly I don't know what to do
No I don't know what to do
I just need someone to tell me when,
everything is gonna end
To my face you tell me that we're friends
But I know it's just pretend
I wanna hear you talk in your sleep
You take your time when you're staring at me
Finding excuses to loosen your grip
But that's not reality
– "Superglue," Michigander
Out March 31, 2023 via C3 Records, It Will Never Be The Same is a sublime and cinematic EP. The follow-up to 2021's Everything Will Be Ok Eventually sees Michigan native (hence the name) Jason Singer finding his voice anew within six radiant, stunning songs that thrive in the chasm between tension and release. Retaining his trademark optimism, Michigander dives into his own depths as he reckons with the trials (and tribulations) of young adulthood, finding glimmers of light in every shadow and accepting the unwanted, but often necessary leaps of faith we need to make in order to move forward, onward and upward in our lives.
"It Will Never Be The Same is a collection of songs that's about being ok with change and striving to become a better human being," Singer tells Atwood Magazine. "These songs were all created out of a season of life that was some of the absolute best times and some of the absolute worst times. I think as human beings we don't tend to change until we are forced to. We need a wakeup call. These last few years have been that for me. And these last four EPs have been a diary of how I've gotten here, and while I don't think I've 'arrived,' I think I just stuck the landing."
"This EP is about honoring your past while still trying to move forward by being the best version of yourself," he adds. "It took the longest to make out of all my previous EPs. I started writing it in 2020 and am just now getting it out into the world in 2023, which seems like a lifetime. I'm so glad I spent the time dialing it in and making it what it is now. I think it's a perfect picture of where I've come from and where I am now. I think it sounds new and fresh, but at the same time feels like the same old me."
It feels like everybody's talking
But, nobody's ever listening
And it breaks my heart because I know I can't
Stay out of it, stay out of it
You know better bro, not to mess it up
Act your age but it still might not be enough
No more safety nets, they're all watching us
Only silence inside of an empty love
Well I don't know where we're going
But I don't care as long as I'm with you
– "Stay Out of It," Michigander
---
The title itself is a nod to our need to accept and embrace change as an inevitable, and ultimately beneficial fact of life.
"I think the world as we know it will not be the same," Singer says of the name. "I think we are at a point in our society where we have to choose to be better, or we are going to risk everything. I think if we look back pre-pandemic, we are socially, politically, and in so many other ways totally different. I think we need to come to terms with that and figure how to make the most of it."
The songs themselves certainly find Singer on the precipice of change, navigating the throes of life – whether he's on the right path; love – whether a relationship will last; purpose, place, and more. sounds more like The Killers and Sam Fender than ever on the EP's soaring and spirited opener "Superglue," a vibrant anthem that balances heart-on-sleeve vulnerability with an insatiable momentum and undeterred drive forward. "You caught me off guard, but you don't need a reason to feel the way you do," Singer sings, his voice a warm beacon of empathy, love, and light. "You break my heart, then you put it back together with some superglue."
Further highlights include the sonically and emotionally charged "Stay Out of It," whose chorus line, "It feels like everybody's talking, but nobody's ever listening" applies all-too well to modern life, as well as the pulsing, love-soaked "Indianapolis," the provocative, achingly visceral "In My Head" (a collaboration with Manchester Orchestra), and snappy, hopeful, and heartfelt "Cannonball," a bright and buoyant love song co-written with Chris Carrabba of Dashboard Confessional. Singer's favorite lyric comes from that final track: "The moment I found you, was the moment I lost track of time."
The moment i found you
Was the moment i lost track of time
I'd suffer the cut, I'd take every bruise
Oh as long as I've got you
Oh as long as I've got you
As I've got you
– "Cannonball," Michigander
---
"From a personal and career standpoint, I'm very proud of all the collaboration that happened on these songs," Singer says. "From writing with Manchester Orchestra and Chris Carrabba, to going to LA to record at Sunset Sound with Tony Hoffer, I'm overall wildly proud of this project."
Singer proudly considers this EP his finest hour (or his finest 22 minutes, if we're being sticklers), and in truth, there's no denying the magic embedded in these six special tracks. Though they come from moments of uncertainty and reckoning, It Will Never Be The Same is ultimately a unifier: An album meant to bring us together, to help us find our way through difficult times, and to be the spark that keeps us moving forward.
"I hope people hear these songs and know that it's ok to change, it's ok to try new things, and it's ok to grow," Singer shares.
And how. Experience the full record via our below stream, and peek inside Michigander's It Will Never Be The Same EP with Atwood Magazine as Jason Singer goes track-by-track through the music and lyrics of his latest release!
Michigander is currently on his headline It Will Never Be The Same cross-country North American tour (also featuring Atwood Magazine 2023 artist-to-watch Abby Holliday), which began on March 31st and is set to run straight through to the end of April, with additional tour dates in May and June. Find tickets and more information here, and don't miss experiencing this indie rock star-on-the-rise live, in person!
— —
Stream: 'It Will Never Be The Same' – Michigander
:: Inside It Will Never Be The Same ::
— —
"Superglue"
This is the first song I wrote for the EP. It started being a song that was about a relationship at the time, but now has morphed into a song that means a lot more. It's about always questioning if you're living your life the "right" way.
"Stay Out of It"
"Stay Out Of It" is a song I wrote with my pal Danen Reed Rector. It's about how I have a hard time keeping my mouth shut and how I always need to voice my opinion. Which I don't think is always a bad thing.
"The Other Way"
This was the second song I wrote for the EP. This one came together really fast. We actually recorded this song live in the room at Sunset Sound in LA. I really think you can feel the energy of a live band playing this one in the recording.
"Indianapolis"
This is a song I wrote about my wife. When we first started dating, we were long distance for a while. We often would meet in the middle, which happens to be in Indianapolis. I really love how this song turned out. It's going to be a really fun one to play live.
"In My Head"
I wrote this song with Manchester Orchestra in Atlanta. I spent two days with them and we wrote and recorded it. This is the only Michigander song where I actually played drums.
"Cannonball"
This is a song I was working on for a very long time. It was sitting in my voice memos for a year or two. It sounds so much different than I thought it would and I'm so stoked with how it turned out.
— —
— — — —
 © Hannah Hall
:: Stream Michigander ::
---