Californian duo slenderbodies return with 'simple shapes,' a soulful LP whose breezy soundscape belies a profound message.
Stream: 'simple shapes' – slenderbodies
---
How do you rebuild a world which has been turned upside down? How do you return to normal once you've experienced things you never thought were possible? Is it even legitimate, or acceptable, to keep on singing when you feel like nothing makes sense?
These are the (surprisingly existential) questions lying at the heart of slenderbodies' latest LP simple shapes, out today. Straight from sunlit California, the dream-pop duo composed of Benji Cormack and Max Vehuni first emerged in 2016 with sotto voce, a rhythmic and ethereal EP introducing the twosome's now-signature obsession with guitars and falsetto. In 2017, fabulist followed and earned the band some well-deserved spotlight, with the lead single "anemone" quickly gaining over 30 million streams on Spotify and other platforms. Their debut album komorebi continued the pattern of warm, mellow soundscapes supported by their unique blend of whispery vocals and hypnotising percussion.
Musically, simple shapes is not so dissimilar to its earlier counterparts: We find the same familiar intimacy residing in the breathy singing and melodic guitars. There is, however, something very different about this collection of songs: an entirely new sense of unease, of restlessness, appears, casting a shadow on the bright sonic universe.
The difference between this and the band's earlier stuff, then, is a philosophical one.
To date, slenderbodies' music could be best described as escapist: beautiful tracks that are, for the most part, separated from their contemporary context and devoid of any obvious social or cultural commentary. Look no further than the aforementioned hit title for proof: "anemone" sees them quite literally turn away from reality and find solace in the parallel universe of music ("Down below, sandy like the ocean floor / Quiet like I like it here, I'll never be alone").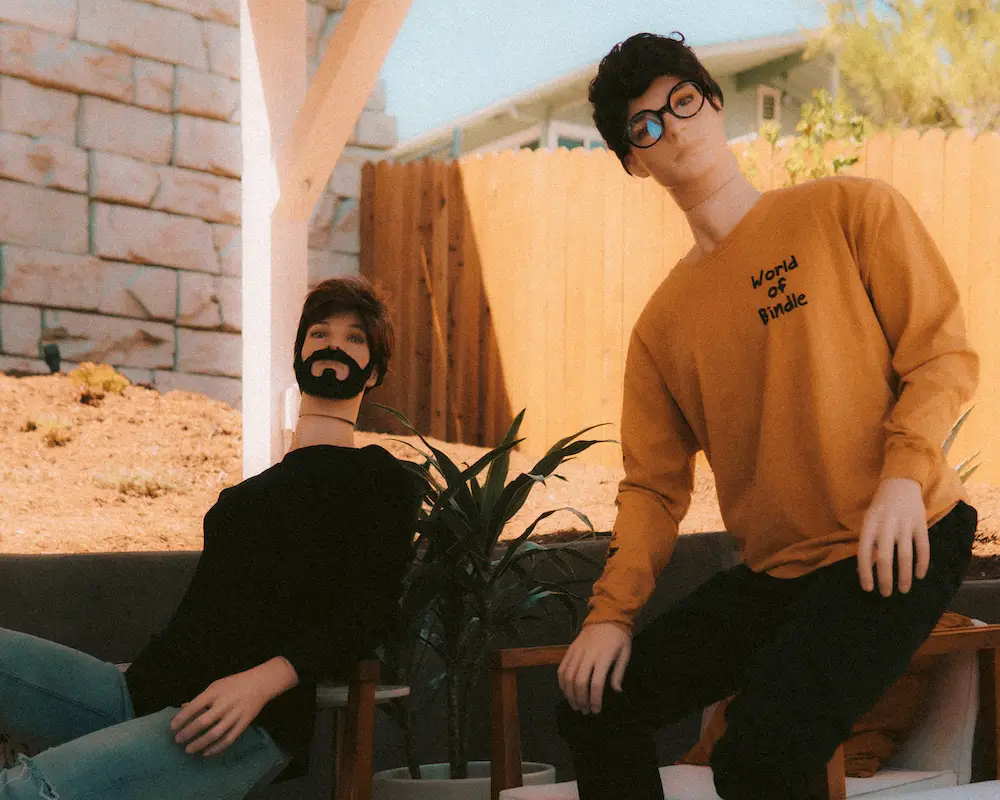 On simple shapes, this is no longer the case. While there are still few explicit remarks on modern life as such, there is a distinct shift in the lyrical tone. Instead of carefree daydreaming, escapism now seems futile, an illusion that cannot, and should not, be sustained for long, as it is nothing but a pointless attempt at fleeing real life.
Is it the bed I need?
Or is it consistency?
Either way
It's clear to me
That I can't see myself here for the rest of my life
(from "i can't make up my mind")
i'm running in circles
creating a space i crave
watch me make my great escape leaving a trail of simple shapes
– "simple shapes"
slenderbodies' music videos accompanying the new record take this one step further, visually illustrating the attitude change. Instead of the band members, the clips show Max and Benji's mannequin-doppelgangers, appearing rigid and lifeless against the harshly animated backdrop. "Mox" and "Bonji" don't really move so much as flail about, slipping from one (simple) shape to the next, in an eerie attempt to replicate human behaviour. In "chamomile," they're practically immobile, suspended in uncomfortable positions, with only their slowly descending eyelids betraying a sign of life, in alignment with the song's narrative of being trapped.
A little hard to keep it cool, this time of year
When I'm overly restless, my remedy's still
Sipping chamomile tea slowly in the back of my room
–  "chamomile"
---
Beyond making a farce out of escapism, speaking through these humanoid avatars has another function. This allows the band to shapeshift quite literally, and in so doing, tackle subjects which their "real" selves never would have. In an odd publicity interview, "Mox" and "Bonji" say that on this album, their real-life counterparts "explored simple pleasures, aiming to find the sonic equivalent of comfort foods so that their music would still be enjoyable to listen to even as they explored topics they consider dark." For slenderbodies, then, the soothing sounds and the almost-comedic visuals pave the way – paradoxically – towards a more authentic way of voicing their own personal concerns.
Fields keep rolling, lost in my mind
I think about the time that we used to lie here
Feels like remnants of the divine
Back from early '95, mmh
And I think my thoughts have had enough
Could we skip the dream and wake me up?
And I think I'm tired of plastic parts
Could we skip this dream and wake me up?
– "plastic parts"
---
The band doesn't linger in the contradiction forever, though. The game comes to a cathartic end in the title track's music video, one of the final songs on the album. Atwood Magazine is proud to be premiering the music video for "simple shapes" today. Here, Max and Benji – the real ones, this time – smash the mannequins into pieces, ending their collaboration in hugely dramatic fashion. While this could be interpreted as the band members triumphantly reclaiming their own selves, in the context of the album, it also seems extremely topical.
If using mannequins was an endeavour towards finding authenticity in a roundabout way, their destruction suggests the impossibility of doing so. This is a wake-up call not just for Max and Benji, but their entire audience, prompting us to sever the ties with the sleepwalking, half-alive existence we have been forced to live for the past two years, and experience real life in all of its vibrancy, from the deep sorrows to the everyday joys.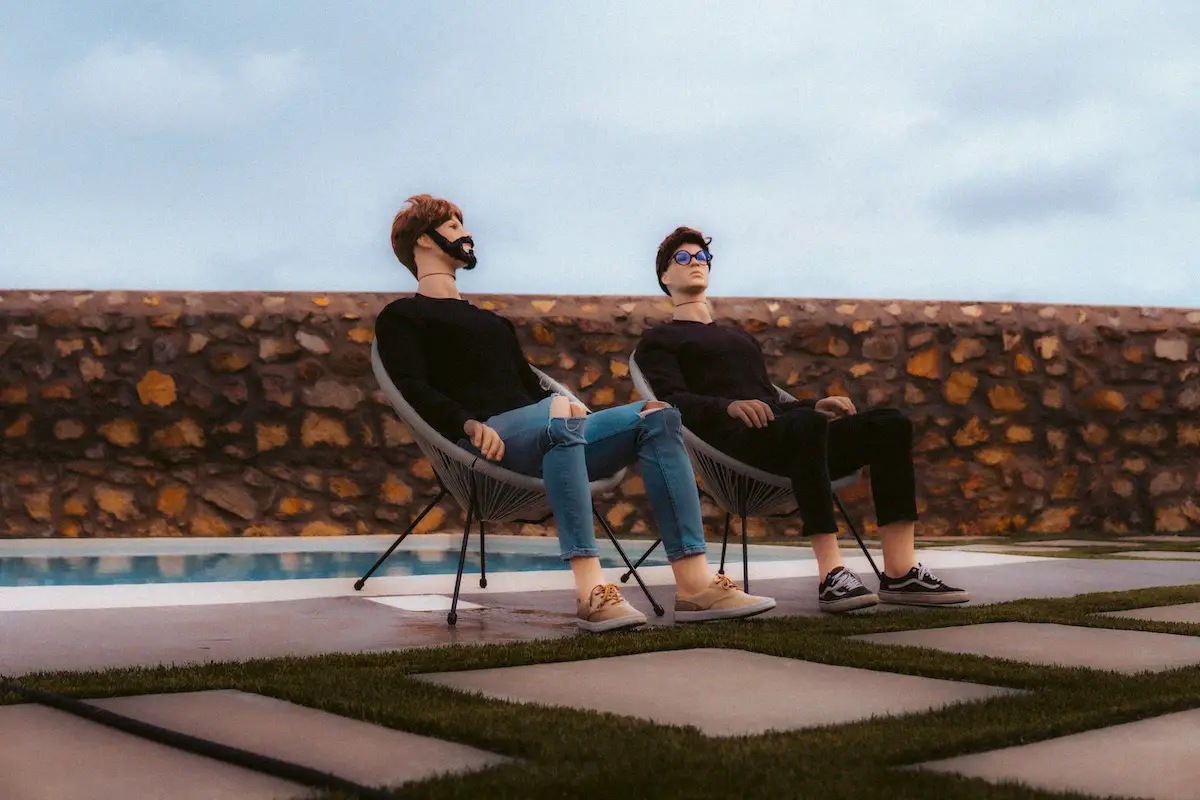 Each track on simple shapes is a great piece of music individually, but as a collection, and accompanied by the visuals, they become much more meaningful.
They immerse the listener in a story of recovery, illustrating the way we all put ourselves on standby when faced with the greatest trauma we had ever seen, and how many of us stayed there, paralysed and unable to move on. 2022 is the time to wake up and cast our old plastic parts aside, they say; if their album is the soundtrack, then we should all follow suit.
— —
— — — —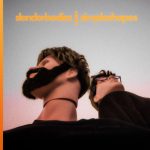 ? © 2022
:: Stream slenderbodies ::
---