Every Friday, Atwood Magazine's staff share what they've been listening to that week – a song, an album, an artist – whatever's been having an impact on them, in the moment.
This week's weekly roundup features music by Elanor Moss, Ben Zaidi, Hanne Mjøen, Dead Hendrix & Levi Zadoff, Emarosa, Snailmate, Mike Rogers, El-P, The Great Emu War Casualties, Kat Hamilton, Avril Lavigne, & Teddy and the Rough Riders!
•• •• •• ••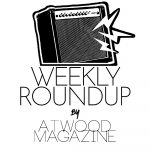 :: Citrus EP – Elanor Moss ::
I first discovered Elanor Moss at an open mic in York, U.K. Her quiet melodies and delicate acoustics were instantly magnetic – with a storytelling that held the unique ability to command the room in the most powerful, yet subtle way. Carrying every performance with the utmost grace and poise, her artistry is one I've always sincerely admired. She writes about her experience as a woman with an aching honesty, touching everyone around her. More than that, she champions women in music – using her platform to create a safe space encouraging collaboration and creativity from other artists.
Elanor Moss' long-awaited EP Citrus dropped earlier this year, seeing great success within the indie-folk sphere. Each track is gorgeously devastating and attests to her songwriting abilities that pull the most potent emotions from her audience. Poetic storytelling lie over lush arrangements of open tunings and powerful vocal layers – detailing stories of addiction, depression and violence. Tinged with heartbreak, these five tracks will have you shedding more than a few tears (in the best way possible!).
From Benjamin Leftwich Francis to Rosie Carney, Elanor Moss has an impressive array of collaborators in her discography already – cementing her artistry as one to look out for. With a debut EP that is absolutely to die for, Elanor Moss has made the greatest ripple in what the music industry currently has to offer.
:: "Jerusalem" – Ben Zaidi ::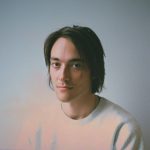 "Sometimes I feel like Jerusalem, there's three religions trickling through my veins," Ben Zaidi sings in a particularly raw moment of vulnerability. "Sometimes I feel like Jerusalem: by the time they can sort it out, there'll be nothing left to claim." One of the standout singles off the Seattle singer/songwriter's recently released debut album Acre of Salt., "Jerusalem" is an intimate and achingly honest reckoning. Ethereal, atmospheric indie folk sounds filter through the air like a fragile blanket of comfort and warmth as Zaidi explore his mixed race heritage.
I don't know where to go
I barely know where I'm coming from
I never met my grandfather, from whom I got my name
But the marquee letters spell "Zaidi" all the same
He was born before partition, in a town called Ajmer
Militias stormed his school, so the family fled to Pakistan
And me I've never been there, I don't know what it smells like
And when I say his name out loud I can't pronounce it right
There's quite a lot to unpack here: Zaidi spends six full minutes processing his identity in this beautiful, gut-wrenching song that yearns for release and actualization.
"'What are you?' is a question I've gotten more times than I can count," he tells Atwood Magazine, diving even deeper into himself and his profoundly personal track. "People want a simple answer, and there isn't one. Are you half-Asian? "Not really." Jewish? "Not technically." Oh, you're Pakistani? "Well, partly." Check a box for your ethnicity… "Other." I've had trouble answering these questions my entire life. So, finally, I wrote a song to try and answer them."
"Since I was 12 years old, I've been writing songs," he continues. "This is the first time I've ever written about my mixed heritage. I think it took me this long because I had to find a larger language for something so specific to me. How many people do you know with Jewish, Muslim, and Christian grandparents? My whole life, I've only ever met one other – –my sister, Kate. Ultimately, it was her words that launched this song. "Sometimes I feel like Jerusalem," she said. It was the perfect metaphor: A city being claimed by these same three religions, being warred over and torn apart by the very people who claimed to love it most. I recalled the day I told my dad, who was raised Jewish, that I had decided to take my mom's Muslim name, Zaidi, to perform under. It was the same anger and pain in the eyes of those soldiers in the newspaper. On the day the song came out, April 15, 2022, Ramadan, Passover, and Good Friday all fell on the same day. It only happens once every 30 years, so the last time it did was before I was born. You might be tempted to envision a harmonious Kumbaya circle of fellow worshippers, but the reality crashed in much more starkly. In Jerusalem, Israeli soldiers fired on worshippers in the Al-Aqsa Mosque, and the fact of the city's contested ownership bled back through its skin."
"Many mixed people dream of finding the magical place in this world where we fit in, where we are at home. The sad reality is, there is none. When your past is split, there is no one home to return to, no one place that can shelter all of you. But if you look hard enough, you might find traces of yourself in any person or place with a strewn, complicated past. This song is written for anyone sorting through the rubble of a jumbled ancestry. Anyone who checks the "other" box because nothing else rings true. Anyone who's been asked "what are you?" and struggled to respond. For some of us, there is no steady answer to land on. There is only a briny ocean to explore. Finally, after 29 answerless years, here I am, stepping off of the dock."
Ben Zaidi's upheaval of self is enchanting, immersive, and even overwhelming at times. He harnesses the limitless depth and magnificent power of music to dive into his very core, and the result is nothing short of breathtaking. Produced by Tony Berg (Phoebe Bridgers, Peter Gabriel, Beck), Zaidi's debut Acre of Salt. is an absolutely stunning record brimming with wondrous wisdom, lessons learned, and emotions excavated. It's a journey I'll be personally learning from for years and years to come.
:: "Bad for My Health" – Hanne Mjøen ::
Norwegian alt-pop artist Hanne Mjøen has just unleashed her latest single "Bad for My Health." Taking listeners into a realm of vocal bliss, her ironic approach to lyricism sees Mjøen creating music that makes listeners want to dance, yet provokes a rather impactful and saddening meaning.
Mjøen states, "Sometimes I think love is bad for me, and in some ways, it is, because it isn't always good and we're not always good for each other." In many ways, "Bad For My Health" takes listeners on a rollercoaster of emotion and empathy with euphoric musicality and meaning alike. With animated synths and quirky embellishments, the track emits the sound of an old familiar childhood toy, with clogs swirling and plucking as it gradually builds into an explosive singalong chorus. If she isn't already, then you need to make sure Hanne Mjøen is on your summer playlists.
:: Dead Summer – Dead Hendrix & Levi Zadoff  ::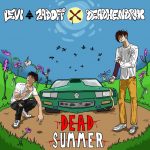 As I type this, I am midway through a road trip through both Canada and Upstate New York. In the midst of a cross-border journey such as this one, it seems all too fitting to lend an ear to Dead Hendrix and Levi Zadoff, who have been pitched to me as a "US/Canada punk duo." This is especially true since the former hails from none other than Ottawa, where I just spent a lovely two days checking out Byward Market, the National Gallery of Canada, the Dominion Arboretum, and the bike paths along the Rideau Canal and the Ottawa River. It's always great to listen to music from places you have just traveled to, right?!
Meanwhile, D.H.'s creative partner, Levi Zadoff, has lived in various spots on the West Coast, as well as abroad in Australia and the Netherlands. At the moment, he's currently based in Los Angeles where, like many young and bright-spirited musicians, he's looking to make the most of his creative aspirations. "Right now, I'm in LAX," he raps on "Can't Be God." "I do what I can, though… I'ma live like the end of my life."
Across the rest of the Dead Summer EP, the duo further detail the excitement and tribulations they're experiencing as young musicians on the rise (it's got them "trapped in my mind like I'm snowed in," as they summarize on "Love Game"). They stay true to these lyrical themes all the way through the final track, "Teenage Dirtbag." It's not, as you may have guessed at first (I sure did!), a cover of the famous one-hit wonder single by Wheatus, but it deals with similar themes of adolescent angst. All the while, the Machine Gun Kelly-style crossroads of rock, punk, and rap make this record a great deal of fun to listen to. Since, as the title implies, it's time to make up for the "dead summers" caused by COVID, tuning into new music as enjoyable as this would seem to be the ideal way to make that happen!
:: "Preach" – Emarosa ::
This is sultry, slick pop at its finest: A moody, smoldering song that, I'm sure, would have put a smile on Prince and George Michael's faces. Following 2019's acclaimed breakthrough LP Peach Club, Emarosa's "Preach," their first new song in three years, sees the duo of Bradley Scott (vocals) and ER White (guitar) basking in the deep glow of '80s dance pop. The long, enduring shadows of Tears for Fears and Duran Duran can be felt in this dreamy tune that blends the old with the new; I can't help be reminded of The 1975's sophomore album I Like It When You Sleep… as I get lost in the dreamy embrace of "Preach," a deeply self-aware song that revels in the moment, all the while knowing that "nothing lasts forever."
Pack it up love nothing lasts forever
And you shoulda coulda woulda
Now you'll never know
Lock it up son let that rhythm get ya
Well it won't be long until you've
Got your sticks and stones
God I'm feeling like I cant win
Cause you want it all or nothing
Can I live
Leave me alone
And you're doggin me for my sins
Tell me who do you think you're talking to
Leave me alone
"From the first snare hit to the unabashed MJ 'ow!' proclamation, it only takes a moment to realize we've doubled down on the pop sensibility we tackled in 2019," Emarosa's vocalist Bradley Scott explains. "The first words of this record, 'pack it up, love. Nothing lasts forever," says everything I've felt across the last 3 years since Peach Club. It can all be taken away in a second, you can be at the top and in the blink of an eye you're at rock bottom. Everyone has an opinion, a stone to throw, they all have something to preach. Just don't preach to me."
The song's sentiment is inspiring; its groove is irresistible; its breakdown is insatiable; and it's chorus is undeniable. "Preach" is an anthem we can all get behind in 2022, each of us knowing all too well that life is fleeting and our time is precious. Bravo, Emarosa; bravo!
But honey you ain't got to
Preach to me
Honey you ain't got to
Preach to me
:: "It's Coming Back" – Snailmate ::
The '90s have been making a major comeback. While many embrace this blast from the past, not everyone is as welcoming of the resurrection. Dynamic duo Snailmate's newest single "It's Coming Back" details this current throwback craze from a whole other perspective. The song's static soundscapes and screeching chorus really drive the message home. The pair reveals, "The 'good ol days' weren't really that great. I don't understand nostalgia at all; it's basically ignoring all the terrible crap we all experienced!" The visuals burst with vibrant, retro flair. Through fuzzy colors and patterned attire that 90s vibe is present throughout.
Snailmate is a Phoenix-based duo comprised of singer Kalen Lander and drummer and backup vocalist Bentley Monet. The two have masterfully fused synthpunk, grindcore pop and rap creating a style all their own. Being a part of the LGBTQ+ community they are a strong voice for all genders and sexualities. "It's Coming Back!" is off of their upcoming album Stress Sandwich.
:: "$4 Vic / Nothing but Me and You (Ftl)" – El-P ::
Before catapulting to headliner status with Run the Jewels, there was El-P, somewhat cult but with laurels of his own to boast. "$4 Vic / Nothing but Me and You (Ftl)" is his eight-minute love letter to Brooklyn and his late friend and collaborator, Camu Tao. It's all the more endearing then that El spends the first half of the track cursing, audibly launching spittle at the "maniacs, the aristocrat grifters" he sees as his counterparts, even the fuel for his art. El zeroes in on the gritty reality of city life in Brooklyn, mining meaning not out of sun drenched brunches at gentry-filled restaurants but late night encounters with drunks and drifters, all "entrusted with the same tomorrow."
As the song drives to its climax in part two, El shows his production chops and penchant for off-the-beaten path samples, working in tinny percussion, a theremin, and the pixely theme to Metroid: Zero Mission. Here, El wears his heart on his sleeve, his delivery a sea change from part one, lyrics like, "But I've never felt so brave/As when I'm looking at your face/They can decimate my body/But my heart will not disgrace" adamant with affection. El-P is a master of weary optimism, worn down love – it could feel corny coming from someone else, but when set next to his cynicism, it feels warm and earned.
:: "Livin in the Woods" – Teddy and The Rough Riders ::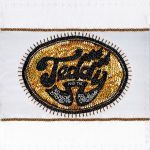 Teddy and the Rough Riders' first single of the year feels like it's truly 50 years young. The lead single off the band's forthcoming self-titled debut album (out July 1st via Appalachia Record Co), "Livin in the Woods" is a smile-inducing jamboree. Complete with classic pop harmonies, sweet country guitar tones, jangling guitars, lilting pianos, and warm horns, the song instantly calls to mind such defining musical legends as The Band and Crosby, Stills, Nash, & Young.
If the farmers don't get funds
There won't be very much to eat
If the young children can't have fun
There won't be very many sights to see
Maybe if you renovate your living room…
I'll be livin' in the woods
As it turns out, The Band played a big part in this song's creation. "I wrote 'Livin' in the Woods' while thinking about this Band outtake, "Ferdinand the Imposter," about the Doukhobors, which is a really sad and interesting story in American/Canadian history," Teddy and the Rough Riders' Ryan Jennings explains. "It got me thinking about growing up in the South, running around as a lil' long haired kid, getting yelled at, walking alone in Dragon Park, and always having that thought in the back of my mind – you can run away to the woods and make your own home someday – which is still the goal."
We may not all feel like we have the freedom to run away and make our living in great open pastures, but we've all felt the freedom's raw allure in some form or other, and that's what this song is ultimately about: Escaping the lockstep of the everyday, rejecting society's rigid structures, and choosing your own adventure from scratch.
We went walking down in dragon park
Me and George, when the movie let out
He had a bite taken from his heart
And dropped that whiskey bottle deep in the dark
You told me you were leaving soon,
But who's that jumping on the moon
I'll be livin' in the woods
I'll be livin' in the woods
Don't try to find me there
:: Let Go (20th Anniversary Edition) – Avril Lavigne  ::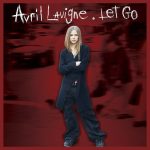 My inner elementary schooler sang for joy at the sight of Let Go, the album that started it all for Ms. April Grapevine, re-released as an expanded edition in time for its 20th birthday this month. All the old hits, like "Sk8er Boi" and "Complicated," remain a thrill to rock out to– and indeed, I enjoyed doing precisely that at the Boston Calling festival this past MDW– and it's also great to dig through some of the overlooked album cuts– "My World" and "Nobody's Fool" are among my personal favorites.
My inner middle schooler, meanwhile, was equally pleased to hear Avril's version of "Breakaway"– which, as she explained when I saw her at the Head Above Water Tour in 2019, was one that she originally penned herself before passing it along to Kelly Clarkson. The latter made it famous in 2004, when I was in 7th grade, with a couple lyrical adjustments – there is only so much "snow falling down" in Clarkson's home state of Texas; "when the rain would fall down" makes more sense in that context. But anywayssss… Lavigne is able to do plenty of vocal justice to her lyrical brainchild, and the other five bonus tracks all validate her famous advice: "take me by the hand, take me somewhere new."
One of the signature pop records is definitely worth returning to as it turns 20, but not just for old time's sake. There is plenty here to prove that Lavigne remains a creative tour de force worthy of attention, and her enduring stage presence confirms just that. Keep rockin' out, Sk8er Girl.
:: Kat Hamilton ::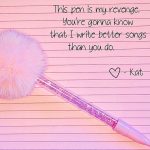 You know the expression, it takes two to tango? Often times when a man strays the female is pinned as the one to blame. She is seen as a home wrecker. Kat Hamilton's latest fierce indie rock release is an ode to any side chick that is deemed solely the reason for an affair. With gritty guitars, thrashing drums and in your face vocals, this edgy track packs a potent punch. She passionately sings, "This pen is my revenge, you are gonna know that I write better songs than you do." Those bold, unapologetic lyrics show she is holding nothing back.
Hamilton is a Los Angeles-based singer/songwriter crafting a distinct blend of rock, pop, Americana and emo. That powerful combination can be heard in this new single, taken off her second EP I Wish This Was A Love Story, an offering that examines toxic relationships from all sides. It allows us to see that sometimes the most intense loves aren't really love at all.
:: "Can't Stop" – Mike Rogers ::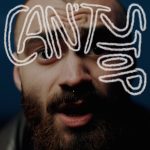 Amsterdam indie dance trio Mike Rogers recently dropped their latest single "Can't Stop." With a central narrative about a lonely man who battles with personal struggles with his past, themes of protest resonate throughout the track, hoping to get rid of those negative thoughts. Combining vibrant, flashy melodies and a fast-paced, contagious rhythm the electric track floods you with endorphins, certain to bring life and energy into your day.
Incorporation of vision and lyrical metaphors present themselves as the indie trio continues to carve out their unique style and persona. They explain, "We believe questions are the biggest inspiration. We're trying to ask questions more than to send a message, although that's also a bit of a vision we want to share." Needless to say, we can continue to expect more infectious, dance=worthy tracks from Mike Rogers, and with a debut album premiering in 2023, we're certainly going to be keeping a close eye out!
:: "Boutique Suite in Funky Fitzroy" – The Great Emu War Casualties ::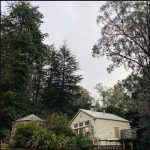 I think I started as a fan of The Great Emu War Casualties' band name: It's bold, definitively Australian, and it instantly stands out in a crowd. The same can be said of this band's music: Since forming in Liverpool in 2017, the now Melbourne-based trio of Joe Jackson (vocals, guitar), Saskia Clapton (bass, keys) and Bibek Tamang (drums) have turned heads with songs that intuitively marry the worlds of art rock and alt-pop. They made quite the entrance in 2018, releasing three striking EPs in their first year, and they've kept up a rather prolific release schedule since then: 2020's Box Office Poison and 2021's Vanity Project EPs are each their own colorfully captivating worlds of wonder.
But for any band or artist we listen to, there's that defining song that lures you in and makes you a permanent fan. For me, that's "Boutique Suite in Funky Fitzroy," The Great Emu War Casualties' rip-roaring final track release of 2021. A bright, buoyant indie rocker with a quick beat and thought-provoking lyrics, "Boutique" mixes life's relatable constant frustrations with an optimistic outlook and perseverant spirit.
I took the message from a blessing in disguise
Saying "when you gonna realise?" is how it started
Sat on a park bench. Another hundred in my hands
Routine and delete-able, spilling un-repeatables
It's not that it happened too fast,
There was a magpie choking on plastic
and it didn't seem too drastic a change for us to take
"'Boutique' is really just a slice of 21st Century life," The Great Emu War Casualties' Joe Jackson tells Atwood Magazine. "The monotony somehow only became amplified throughout the pandemic, which is bizarre when you think about it. I mean, it's supposed to be this 'once-in-a-hundred-years' event, but even throughout deepest darkest lockdown I was still just getting on the train going to work every morning as usual because for some reason office workers were considered 'essential'. I tried to keep a kind of optimistic quality to 'Boutique' though. Like, a sort of, "it's just so bad right now that it can't get any worse" so trying anything would be worthwhile. As a band, shows and recordings had been cancelled over and over and over again (like everyone else), but the one thing we have always been able to do is write. So here we are!"
"Boutique Suite in Funky Fitzroy" is a song of passion and staying power, with a can-do attitude that can't help but put a smile on my face. Charming, anthemic guitars glisten and groove over charged drums and soaring, cinematic melodies. Whether or not we always believe things will get better for us, it's music like this that serves as an anchor and inspiration, lighting that fire inside when our fuel is running low.
Now i've been waiting years – or so i say –
but it's not that relevant 'cos all i do is wait
Calm down
Doin' yr head in
I'm not a hypocrite
I'm only messin'
It's not a comeback
Just ask the crowd outside
Take another pill to make you feel alright
— — — —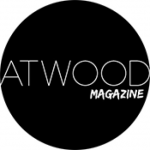 :: Weekly Roundup ::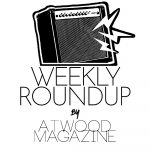 ---
:: This Week's Features ::
---