Dirty and clean, raw yet polished, The Bergamot's new album 'Mayflies' bursts with intimate energies, soothing yet in-your-face instruments, passionate sentiments, and stirring vocals that are chilling to the bone.
Stream: 'Mayflies' – The Bergamot
---
Brooklyn-based The Bergamot celebrated the ten-year anniversary of their band with an album full of passion, space, and hungry energy. Equipped with intricate harmonies and catchy melodies, the married duo and musical power pair have never sounded more confident or comfortable than they do throughout Mayflies, their third full-length record.
Well there I lie awake with you
It's nothing new, like an old cartoon
Flickering on the T.V.
Through a periscope, I see our lives
Through my eyes, I know
We'll be alright, we'll be alright
I have been waiting on you
All my life, all my life
I've been frustrated and blue
I never knew, I never knew
How much I love you
How much I love you
– "Periscope," The Bergamot
Released in September via Both Records, Mayflies is a holistic labor of love that took The Bergamot literal years to get right, but the hard work pays off in a big way: Dirty and clean, the album's songs burst with raw energies, soothing yet in-your-face instruments, and stirring vocals that are chilling to the bone. It's the kind of record that (what a concept) is sure to feel free long after its release date: If you're looking for a space to breathe, escape, and feel some bliss, you'll find that haven in Mayflies.
---
The husband-wife pair of Nathaniel Hoff and Jillian Speece, The Bergamot are no strangers to Atwood Magazine: We premiered their song "PDR" in late 2017, praising it as a "standout track, foreshadowing a collection with stylistic depth, vulnerability, risk, and little chance of receptive failure." Their 2019 single "Periscope" featured on our weekly roundup. Described as "a powerful and striking return," the song attacks love with an incredible rush of energy, inspiring cheer and excitement in all who stop to soak it in.
Both "Periscope" and "PDR" feature on the eight-track Mayflies, taking the album's first and second slots respectively and setting the tone for a record that dwells in its highs as much as it lows; rather than avoid extremes, The Bergamot live for them, basking in ineffable bliss on the sweet and urgent "Periscope," and leaning on the other direction with the haunting, poignant "Bones" and the manifestation of inner tension driving "Ceasefire." Elsewhere, songs like the beautifully glistening "L.A." ripple with warmth and haunting Americana rust – yet no matter where one chooses to "place the needle down" so-to-speak, Mayflies will always brighten up the room: Its music is spacious and full of light, thanks as much to the band's stellar production work as to the sheer beauty of Hoff and Speece's combined voices.
We were hopeless
The windows were open
Watching the planes fly by
The clouds were rolling
The salty air from the ocean
Those lights
Burning up in the sky
– "PDR," The Bergamot
Speaking to us last year, Hoff explained that the band had been opening every show over the past three years with "Periscope." This is the kind of high-caliber, time-tested and audience-approved material The Bergamot are working with: Songs that grew, changed, and developed into what they are today, as captured on record over a three-year span. If this pair never made another album, then Mayflies tells their story well and leaves a legacy in and of itself.
But thank goodness it doesn't have to come to that.
Singing about love and loss, the beauty in life itself, fading youth, empathy, and so much more, The Bergamot don't just give us entertainment: Their music is food for the soul.
Experience the full record via the below stream, and peek inside The Bergamot's Mayflies with Atwood Magazine as the band take us track-by-track through the music and lyrics of their stellar new album!
— —
Stream: 'Mayflies' – The Bergamot
:: Inside Mayflies ::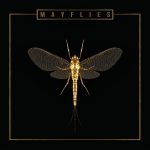 — —
PERISCOPE 
Tension and resolve. Beauty and tragedy. The polarity of juxtaposition perks our interest as humans. Love and turmoil is what we experienced as a couple traveling to all 50 states in 2016. A tumultuous year that called out for action. Action from those who are adorned with power and prestige, but also from everyday Americans. We tried to do our best given what resources we had at the time. This song was an offering to my wife Jillian during our journey.
I have always been fascinated by the oceans. Peaceful yet wrathful; languorous and pale. "Periscope" explores a sonic landscape similar (I hope) in the flow of the oceans. The pushing rhythm of the opening drumline as the guitar gently opens the record. "There I lie awake with you, it's nothing new, like an old cartoon flickering on the T.V." a nod to the past while embracing the now. As a gentle ocean lap at the shore in the early hours of the morning, the song builds from this timidness into its full crescendo. Filled with distorted guitars and fierce harmonies. The "Periscope" lyrics paint a vivid landscape of a challenging yet fulfilling love that my wife and I experienced on the road.
The music video adds a new dimension to the imagery in the lyrics. Painting a journey fraught with uncertainty and frustration. Yet somehow love can overpower just as the oceans can overpower us.
P.D.R.
Growth occurs most precipitously at the edge of comfort and certainty. In my life, when I cling to memories or tokens of my past I find it hard to truly embrace and see the opportunities that lie ahead of me. As Jillian and I sat with the rain pouring into our vehicle covered with a message of unity from people from every corner of the country, I had an epiphany. This was the time to let go. What we had done, what we had accomplished in that 9 month period, had only prepared me to create the most meaningful work of my life. The journey had just begun, but I had to let go.
I remember listening to "Killing Me Softly" in my youth. I was enamored with the level of syncopation in the track in the low end – particularly the bass and kick. I dusted off a bit of that old love when I constructed the hull of this tune. I wanted the groove to create a thick texture right in the heart of the tune. Yet, I wanted to song to somehow lose itself and end in a half time euphoria, ironic in the concept, yet effective in its execution. To swirl at half pace with harpsichords and organs while lead guitars borough deep in the tune supporting the melody. A method executed to perfection by Brian Wilson. I hoped to create a tune worthy of the sun-drenched shores upon which we sat in southern California.
BONES
What do you say to someone who wants nothing more than to leave this earth? How do you love someone so deeply, when they can't love themselves? I was struck to full alertness at 3:22 AM with the line "It's hard to carry a burden if you don't have any bones." This line shook me. I tossed and turned struggling with the idea of life being reduced to a lifeless form; unsupported and naked. Collapsed in a moment to a residual of one's former shape.
Surely no one ever wants to be confronted with the fact that we just don't have the right words. That we are inherently imperfect in moments that require absolute clarity of mind and direction. When someone reaches out to you in great need and tenderness. I had studied suicide intervention in high school by attending a suicide prevention conference. What I learned is that perfection is irrelevant in those moments of intervention. What matters is honesty, love, and most of all vulnerabilities. It's alright for a man to tell another man that he loves him. This song was the best way for me to tell my brother I loved him, no matter what, and that he could never change that.
The song and record ends with a gentle serenade from Jillian and I. This was Matt's vision surely to end with such elegant simplicity. I love how the record ends on such a vulnerable and moving moment – returning back to where it all began.
MAYFLIES 
What is a culture that only cares for the now? When we forget the likes of Aristotle along the way? Just as we write off the past, the plight of the mayfly goes mostly unnoticed by our society. Withering away in the far corners of the midwest. "The abundance of flying insects has plunged by 75% in 25 years prompting warnings that the world is "on course for ecological Armageddon" -The Guardian. The world is changing right in front of our eyes, underneath our feet, on our skin not in some far off and distant generation or year 2200 – right now yet industries lumber on. People have to work, paychecks have to be cut, bills have to be paid.
The mayfly opens up a conversation around a difficult topic of climate change, with a vulnerability that very few issues truly have. The mayfly, an aquatic insect, is a product of its environment – it lives and dies by the water it grows in. As the world has changed and the rivers become more polluted, for many different reasons none of which we have time to explore here, mayflies die.
Yet you have to tap your foot. A song has to punch you in the gut in order for it to have an impact. The lyrics, the beat, the modular synth that courses through the song help to create a sonic texture that is quite alluring even at first listen. The song starts on Em7 and resolved to a Cmaj7. I always love veering away from the I to end a song – familiar and conclusive yet somewhat wondering.
In the end "Mayflies" is a love song. Maybe evolution can happen in 4,800 generations of mayflies (the same length of Jillian and I's relationship at the time). Just as we change as people, so does the world around us. It's our job to pay attention to.
ONE MILE
Our Unity Collective Tour thesis statement. How can we expect to understand the world at large if we can't understand a person standing next to us in a cafe? Life in NYC taught me that life is happening all around us, all the time. As we sit falling in love, literally one thin wall away someone prepares a needle for a quick hit.
It took us 50,000 to all 50 States to realize that the problems that we face within our own communities are permeating our culture at large. If we can't figure out problems at home, how can we be expected to fix the world across the vast oceans and prairies?
I wanted to leave listeners with a sense of hope and empowerment with this single. You don't have to travel across the world to help someone. You can start today, right now. In your own home, at your own table, in your own neighborhood, community, city, state, and country. But it always starts with a thought. I hope this song inspires a thought of empowerment and through that others can go forth and change the world – one beautiful act at a time.
L.A. 
Muddled fleet-fingered guitars, distorted howls, and warbled and looped piano chords lay the founding texture for this song. What is left when the dreams of youth fade into the reality of middle age? When your 20's slip into your 30's and you go forth with a new sense of checked optimism about what you can achieve in this life. Just as I have ventured through those marbled arches of life, Elle has experienced this on a level equal and more profound all the same.
This song was produced and recorded in a cramped closet in northeast Indiana. It started as a demo that soon evolved into its own respective production. I don't think you ever go into a recording in a closet thinking will be a wildly successful critical hit. This song took us to #1 on the website SubmitHub of all time (over 8 million submissions).
The song started as an Americana song written in Brooklyn, NY at the kitchen table and evolved and opened up for about 4 years before I felt compelled to record it in its current form.
CEASEFIRE
All battles begin within. Words are waged in one's head well before physical action is taken. "Ceasefire" explores what those words are well before any decision is made. The physical and mental well being should be at the pinnacle of our culture, however, those who struggle the most are the most ostracized among us.
The music video is an exploration of expired copyrighted material from the 1920's and mixed media if you will using multiple layers of videos to create something new and unique. I call it a mixed media visual collage or a psychedelic fantasia.
The production was based loosely off some Radiohead tunes I had in my head for the last few months. The writing of the song was all done in one take – the guitar and the melody were composed in under 15 minutes. The lyrics were then labored over for a few weeks, overall it reminded me that sometimes you just have to create regardless of the intended outcome.
YOUNG AGAIN
My personal favorite. We have closed with this tune for over 3 years on the road. Yet we never were able to get a recording that fit the vibe and the lyrical imagery of the tune. Matt Wiggins really brought his world-class knowledge to this tune and opened it up. "Young Again" opens sonically where the album began – with the acoustic guitar which is truly my heart and soul.
The song opens with a C/G chord with a ringing open E – one of my favorite standard tuning chords on the guitar. The open strumming of the chord, feels like a sobering wake up from the night before (Ceasefire's ending euphoria). From the gentle open the song winds in a modular synth that blends a bit of white noise with a pushing and pulling modulation creating an ebb and flow gently sweeping the listener into this sea shanty.
The song is written in 6/8 which is a standard time signature for songs at sea, which returns the aquatic theme full circle from "Persicope" to "Mayflies" and resolving in "Young Again". This song also contains some of my favorite lyrics on the record. The bridge:
"One fourth of July it all sank in
The world that I'd been living in
It washed up there
Right on the Shore
The world I'd seen
I wanted nothing more
Then to take the hand of Miss Liberty
Dance one last dance
Just here and me
We'll make our footsteps on the shore
All I cared was to have one moment more"
Truly, that is what we are after. A sense of youthful optimism about where we are headed. One more chance to make an impact, or to believe that we can have an impact on this world.
The song and record ends with a gentle serenade from me and Jillian. This was Matt's vision surely to end with such elegant simplicity. I love how the record ends on such a vulnerable and moving moment – returning back to where it all began.
— —
— — — —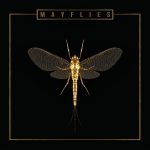 ? © 2020
Mayflies
an album by The Bergamot
---