Ethereal and enchanting, Timber's debut album 'The Family' offers a warm balance of dark and light as the Birmingham duo bring listeners on an ambient emotional journey.
— —
I think 'The Family' accomplished our vision, which was to make something that was sonically driven, musical, and lingering a little under the surface.
Birmingham's Timber are an excitingly ambient and moody spark of foggy light in the indie folk world. Focused more on the way their music sounds and feels, rather than particularly catchy melodies or clever phrasings, the band have crafted a debut record that is as intimate and immersive as it is withdrawn and reserved: Ethereal and enchanting, Timber's The Family offers a warm balance of dark and light as they bring listeners on an ambient emotional journey.
Stream: 'The Family' – Timber
[soundcloud url="https://api.soundcloud.com/playlists/597128862?secret_token=s-HrF9z" params="color=ff5500&auto_play=true&hide_related=false&visual=true&show_comments=true&show_user=true&show_reposts=false" width="100%" height="400″ iframe="true" /]
---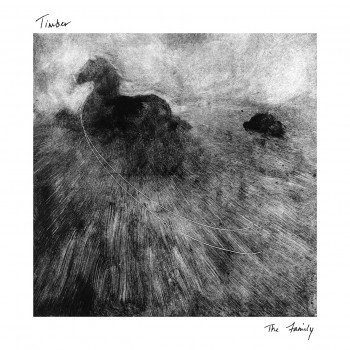 Atwood Magazine is proud to be premiering Timber's debut album The Family, out November 9, 2018 via Cornelius Chapel. Following pre-release singles "Sunstroke" and "Shuttlecock," The Family offers a full forty-minute immersion into Janet Simpson and Will Stewart's musical wonderland – a mysterious, heavily shaded wonderland full of reflection and space.
"To me, Timber is a little more impressionist, hangs back from the forefront," Simpson tells Atwood Magazine. "It's also more musically collaborative."
I think we try to showcase texture and dynamics in Timber rather than making the song the center.
Simpson and Stewart introduced Timber in 2015 through a self-titled EP full of folk influence and electric guitar, but their musical relationship goes back a ways: They initially connected through Stewart's Nashville-based country-soul band Willie and the Giant, and kept in touch for aid in one another's solo endeavors (both maintain individual music careers in addition to pursuing their band together). Simpson has released several records through earlier bands, such as Delicate Cutters and Teen Getaway, and has played or appeared on various artists' releases, including Wooden Wand, Through The Sparks, and Broken Letters.
Both halves of Timber bring considerable levels of musical experience and artistry to the table, but it's how these two talents come together so fluidly that makes their project shine. The Family is an amalgamation of stories, lessons, and moments of reflection that come together through shared textures and feelings.
"I guess in mind, there was something familial about the tone of the songs, or the characters," Simpson explains. "Whatever the dark undercurrent that drives the songs and ties them all together is, made them feel like a body of work that was all connected, even if the song subjects really aren't."
The Family opens with "Burying Ground," a beautifully soothing song that establish the aforementioned darkness. "I think sonically and rhythmically it made sense to have it as the opening track," Stewart shares. "It's slightly open-ended, as is most of the album. But I wrote that song probably four years ago and it's my version of a murder ballad – It could easily be interpreted it in a very different way, though, I suppose. But that was the original intent."
Stewart sings an intimate, mellow lead on "Burying Ground," with Simpson backing him up through lush echoes and soothing harmonies. It's followed by "As a Kill," which features Simpson front-and-center. One of Timber's strengths appears to be their ability to share artistic ownership: They coalesce beautifully, supporting one another vocally and instrumentally.
"I'd say that's a happy byproduct of how we work together," Simpson says. "We're pretty egalitarian about sharing responsibility in the band and songwriting in general. We have a very easy musical relationship, too, which means there's always room for both of us. My experience is that we are always trying to musically complement the other's song, and that the collaboration is organic and natural."
The pair cite "Burying Ground" and "Downtown" as good examples of this teamwork in action. The latter is also Stewart's current favorite: "I love the progression and the space it presents. Silence in a song can be very profound and powerful and 'Downtown' achieves that, in my opinion."
Simpson, for her part, is engrossed in the ominous "Colors." "It has a low key tension that doesn't ever seem to let up, an undercurrent of something foreboding. I also really love the guitar interplay in it. It's a little confusing to my ear, and I like that."
I remember every Sunday
how you liked your tea
Use the churner that you left me
Something about the way it feels
when I say certain things
I can't explain the way they've disappeared
Oh, the colors…
Colors of the dress you wore
The colors…
Is all that I'm seeing now
after they closed the door
Meanwhile, The Family's singles "Sunstroke" and "Shuttlecock" remain accessible delights perfect for introducing Timber's poignant, hazy, folk-ish sound. Atwood Magazine had the honor of premiering "Shuttlecock" just last month, calling it "a mellow, moving autumn song ready and waiting to send us on long journeys of reflection."
For Timber, it was an obvious choice. "We thought [Shuttlecock] had an easiness to it that we hoped made it accessible enough to draw a new listener in. It also hopefully conveys an overall vibe from the album – the balance of dark and light that threads throughout."
Yet it was the album's lead single, "Sunstroke," that really helped Timber find their sound, and determine what they wanted in this debut. "It honestly became the guide for the rest of the album in a lot of ways," Simpson shares. "Looking back at our first EP release, we were only beginning to formulate where we might go, sonically. Once we began recording 'Sunstroke' for The Family, the way the song's texture built, the shaping and dynamics, it challenged us to let the rest of the material grow to meet it, each song in its own most fully realized way."
Once they had that mood and texture, the rest was a question of not what, but how. Conceptually, The Family is an alluring tangent from real life – it's neither a daydream nor a nightmare, but rather a foggy mirror through which we reconceptualize our day-to-day lives, experiencing our worlds through a different lens.
This trip ends in the bittersweet "Move," a powerful album closer whose literal look at closure leaves us with feelings of wanting, longing, and incompletion. "That song came along on a really quick beach weekend trip – one that was painfully short," Simpson recalls. "It sort of touches on the fleeting nature of love, stillness, innocence, so it felt like a good way to close."
Out tomorrow, The Family is a twilight adventure awaiting your passage. Melancholy but sweet, incorporating both darkness and light, Timber's debut album is the perfect introduction to the Birmingham duo for those who don't already know them, and an emotionally stirring experience for all listeners. Stream The Family exclusively on Atwood Magazine; the album is out everywhere Friday, November 8, 2018!
Stream: 'The Family' – Timber
[soundcloud url="https://api.soundcloud.com/playlists/597128862?secret_token=s-HrF9z" params="color=ff5500&auto_play=false&hide_related=false&visual=true&show_comments=true&show_user=true&show_reposts=false" width="100%" height="400″ iframe="true" /]

— —

— — — —
? © Wes Frazier
:: Stream Timber ::