Oxford's Truck Festival is bringing indie stalwarts like Bombay Bicycle Club and The Kooks to Hill Farm, alongside a whole raft of amazing acts. We dive into this year's festival line-up and chat with must-see artists Lauran Hibberd and Abbie Ozard!
---
Last year, Truck Festival welcomed the likes of arena juggernauts Foals, the now Grammy-nominated Lewis Capaldi, and the timeless Two Door Cinema Club to Hill Farm. Given the calibre of last year's line-up (which resulted in a record amount of tickets sold), the festival organisers might have worried that they would be unable to compete with their own high standards. Thankfully they've got nothing to worry about, with this year's 22nd artist line-up already shaping up to be one of the Oxfordshire festival's best yet.
Headlining Truck Festival 2020 are Bombay Bicycle Club, Catfish & The Bottlemen, and The Kooks.
Having not released an album since 2018's Let's Go Sunshine, The Kooks' headline slot could suggest that more music is on the way from the Brighton-bred indie rock band. While their more recent material hasn't quite connected with fans in the same way as their preceding releases, thanks to streaming services such as Spotify, the band are now inspiring a whole new generation of fans: Craftily catchy tracks like "Naïve" and "She Moves in Her Own Way" seem to be thrilling new fans in exactly same way that they did 14 years ago when their debut album was released. With a headline slot that's set to intersperse those indie classics alongside some of their more inspired recent tracks, it appears certain that The Kooks will whip up the Oxford crowd into a feverish frenzy.
While they're not going to win any prizes for originality, over the last few years Catfish & The Bottlemen have emerged as bona fide festival headliners. Anthemic tracks like "Kathleen" and "7" feel practically made for the sprawling expanse of festival fields. Now with three albums under their belt, there's never been a better time to see Catfish live.
Arguably one of the biggest draws of the festival is Bombay Bicycle Club, a rare band who have continually reinvented themselves in a manner that has only increased their popularity.
Riding high off the release of their stunning new album Everything Else Has Gone Wrong, the band have proven the appetite for their music has never been higher. Testament to their huge popularity, the band are descending on London's 10,000-capacity venue Alexandra Palace for two shows this coming weekend.
Across the weekend artists like Blossoms, DMA's, The Hives, Pale Waves, La Roux, The Magic Gang, and Fickle Friends will be entertaining crowds at some of the festival's bigger stages. Meanwhile, across the rest of the site, artists such as Rhys Lewis, Aaron Smith, Swim Deep, Matt Maltese, and Kawala will be descending upon Oxford.
Also joining the line-up are Atwood Magazine artists to watch Lauran Hibberd and Abbie Ozard.
In a recent review, Atwood Magazine hailed Hibberd's debut EP, stating that she "seemingly effortlessly manages to cram in more personality, originality and diversity than most artists manage to embody within in their debut albums. With her electrifying live set and awe-inspiring talent, it's blazingly evident that the sky's the limit for Lauran Hibberd."
Abbie Ozard's electrifying track "Heartbreak Radio" saw a lot of people stand up and take notice of the Manchester up-and-comer. Much of her discography explores coming-of-age life experience with insightful perceptions and an almost wistful nostalgia-tinged romanticism. Having already sold out a raft of her own headline shows and supported whenyoung, Ozard is hitting the road this February to support Hibberd on the latter's five-date February tour.
Atwood Magazine spoke to both Hibberd and Ozard to dive into their latest releases, touring schedules and to look forward to Truck Festival 2020: Dive into Lauran Hibberd and Abbie Ozard below!
Atwood Magazine: It's no secret that here at Atwood we're absolutely massive fans of yours. Since the release of your debut EP, you've put out two new tracks in 'Sweat Patch' and 'Bang Bang Bang.' Why did those songs feel perfectly placed to follow your EP?
Lauran Hibberd: Yes! 'Sweat Patch' felt like a good way to end the year from me. It's my most Weezer-esque track and I felt like it was a good one to release whilst on tour with The Regrettes! 'Bang Bang Bang' is a track I kept in the locker for a while, but wanted to burst into 2020 as a sign of things to come. I was super proud of my debut EP but I feel like these tracks take a slight side step which I thought welcomed the year in nicely, as I work towards another EP and maybe even an album.
Before festival season hits, you've got your own headline tour in February. What can fans expect from those shows? And when you're crafting the live show with the band, what do you aim to achieve with it?
Lauran Hibberd: You can expect a lot of dry humour in between songs, some questionable rock moves and I would advise those of you coming to bring earplugs (in a good way). I take a lot of time building the set for a headline tour, I like it to dip in certain places and try new songs. But ultimately I want to showcase my sweet sweet songs to the sweet sweet folk of the UK, and I want people to have a good time. I call it a Hibberd house party.
If you couldn't tell from my elongated review, I absolutely adore 'Shark Week'. In some ways, it's very different from anything you'd released before but for many fans, it seems to be one of their favourite songs of yours. Did you ever anticipate the reaction your fans would have to it?
Lauran Hibberd: Thank you so much, it's honestly my favourite track too. I was nervous to put it out originally but I was reassured instantly by the response. It was warming because it meant so much to me, as I started out as a folk artist. I'd not neglected that side, just had moved on from it until 'Shark Week' snuck up on me and I accidentally fell in love with it and just had to release it. I'm so glad people took to it the way that I did.
You've already supported the likes of Hippo Campus and The Regrettes, as well as having already completed your own headline tour. What's been the most surprising thing about touring for you?
Lauran Hibberd: I think I was most surprised by how many people I would meet and how close you get to those people in that environment. I've been very lucky to find some amazing friends in bands I've toured with. And I've learnt from all of them as well. I also surprised myself with the amount of mcflurries I could consume.
What are you most excited about for Truck Festival?
Lauran Hibberd: I've never been but heard amazing things about it, so just honestly excited to see it for myself! Are there trucks??
Atwood Magazine: You released your amazing debut EP Growing Pains back in September. How does it have to have a body of work out?
Abbie Ozard: Ahhh thank you! It feels really cool, I'm super proud of the body of work I came out with in the end. I felt like I'd been leading up to it for ages but was too scared to put anything out because I wanted it to be dead perfect. This first EP feels like my little baby child.
The EP's name comes from the first track, 'Growing Pains'. At what point did that name emerge as the title of the EP?
Abbie Ozard: I was thinking about different titles for ages. Originally, I was adamant on calling it 'four songs about you' or 'four songs about growing', but I feel like 'Growing Pains' describes the EP perfectly as each tune kind of depicts the struggles that people face in their teens/early twenties. I didn't even realise this until I put all the songs together and was like, 'Ah sh*t lol these tunes are all full of teen angst!' Hopefully everyone my age can relate to them and hopefully I can make them feel a bit better for a moment.
'Heartbreak Radio' is an absolutely phenomenal energy-laden track. What was the creative process like for that song?
Abbie Ozard: Thank you!!! Well I wrote the song with Rich Turvey, we wanted to create a tune that would be really fun to play live with a ton of energy. We started with the main riff and just kind of went from there really. It didn't take long to write because I really wanted it to feel like an in-the-moment kind of song. I didn't want to think about it too much, I just wanted it to go 'BAM!'.
For people unfamiliar with your music, how would you describe your sound?
Abbie Ozard: Lo-fi sad girl bangers with bittersweet lyrics that you can dance and cry to all at the same time.
What are you most excited about for Truck Festival?
Abbie Ozard: I'm buzzing to watch the other bands because the line-up last year was so sick. I'm just gonna have a party day and have loads of fun with the band, I won't get too carried away so I'm awful on stage though don't worry x
— —
— — — —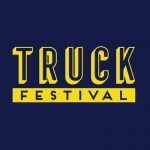 — —
? © Francisco Augusto