A kaleidoscopic outpouring of sweeping indie rock and dream pop, 'Outer Ego' soars with cinematic passion and honest energy as The fin. tap into our human core.
Stream: "Outer Ego" – The fin.
---
I believe that ego is not a "thing" – it's a state. That's what I want my ego to be, and also that's my image of love.
Yuto Uchino dove deeper into himself than ever before while making The fin.'s third full-length album, plundering his heart and his soul on an intimate, existential inner journey of self-discovery and becoming. Though he's since returned to the surface world, he'll never quite be the same as he was before that visceral experience – and thankfully for us listeners, the impact of Uchino's new songs extends well beyond their maker. A kaleidoscopic outpouring of sweeping indie rock and dream pop, Outer Ego soars with cinematic passion and honest energy as The fin. tap into our human core.
When the winter's gone
With some ice left
Silence is only a friend of mine
Awake until dawn
I'm left behind
Counting stars don't help me to feel alive
Don't take what we have away
Although it won't be a big deal for the world
Don't forget what we need to say
You will see some colours brighter in your world
Released on November 24, 2021 via HIP LAND MUSIC, Outer Ego is a refreshingly decadent indulgence of psychedelia, experimentation, and introspection. Arriving three years after The fin.'s sophomore LP There, the twelve-track Outer Ego finds Japanese producer and songwriter Yuto Uchino pushing his musical project – in which he writes, records, mixes, and produces everything – to its limits. His new songs are lush with driving guitars and expansive synths, radiant melodies and seductively stirring vocals. Conceived in isolation, the album is also full of space: Uchino ensures there's plenty of room on the record for his music to breathe, instrumentals to flourish, sounds to stretch, and lyrics to linger. The result is a refreshingly colorful listening experience full of surprises and moments of wonder that catch the ear and tickle the mind.
"The idea of making an album hit me when I was stuck home during the quarantine last year in Tokyo," Uchino tells Atwood Magazine. "It'd been a few years since we started to play abroad. I was literally flying everywhere to play music, and it was definitely one of the best experiences in my life. But I realised how much I was tired, and it wore me out after I came back to Tokyo to settle down. We had to cancel many shows due to the pandemic, but it gave me time to feel myself again. I started to recollect and process all of my feelings in these years because it was too busy to understand and track what I saw or felt back then. Creating the album was very experimental as I had to dig so deep to understand me first. And to make it into sonics."
"In the beginning, I wanted to make an album like The Beatles' White Album, as I had a lot of time to make enough songs to make a long one, and I thought I could work free from conceptual things. But in the end, it became very conceptual, as I got intrigued by the idea itself. I did songwriting, recording, mixing, and producing for this album, so it's like my masterpiece for now – I think it introduces very much how I see and capture the world, people and myself."
While its songs have their own magnetic allure, the concept behind Outer Ego is equally provocative. "When I named it, I imagined a state that my ego is spreading out into space, and it's getting thinner and thinner – as long as my consciousness," Uchino explains. "I believe that ego is not a "thing" – it's a state. That's what I want my ego to be, and also that's my image of love."
Outer Ego sees its narrator slipping in and out of reality, with opener "Shine" beginning in a state of self-awareness and slowly enveloping itself (and The fin.'s audience) in both memories and metaphors. "Breathing in the air that I had once, I feel this is my last dance," Uchino sings over soothing synths and a bustling, bouncy bass guitar. "I'm clueless, but it's said so in the wind. I hear the sound of the wings… Here and there, the lights reflecting how I feel. They shine my doubts…" It's an eclectic pool of sonic euphoria that, like that twister in The Wizard of Oz, whisks us off into another world.
---
It's a world of dreams – one filled with possibilities and potential, hopes and desires, analyses of the self and explorations of our relationships. The majestic "Over the Hill" comes to life as a rollicking, energetic upheaval; "Deepest Ocean" and its buoyant grooves proves an enthralling, harmony-soaked immersion.
Grief finds a voice in the poignant "Loss, Farewell" as Uchino tenderly mourns a friend, and in "See You Again" he continues to ruminate on life and loss – in particular, our continued relationships to and with the deceased. "Just keep walking with my heart floating, the empty road saves me when I breath slowly, happiness above me," he sings over a jazzy smorgasbord of absorptive sound. "I know your heart aches, mine beats the same way. I'm tired of being good, when I breath slowly, happiness above me, and you're gone." While the setting itself feels ethereal, Uchino's words sting with intent and a philosophical open-mindedness:
Floating through our minds
It's never gonna let you go
And it fades away
Revolving in our minds
We're never gonna let you go
Let it stay with me
"My favourite is how it ends," Uchino observes. "The last song is very dreamy; like I don't even find myself in it, just like having a dream. The last part is a moment I try to connect to reality again, but it all cuts out. I imagine it's like suddenly you wake up in the middle of a dream, but your dream still continues without you knowing." Just as he describes, "Edge of a Dream" is an intoxicating means of closure and farewell:
On the edge of a dream
You're outside alone
Seeing people walking back home alone
And I'm aware it's already gone
With the sparkling lights
I know I should have caught it before it's gone
On the edge of a dream You're outside alone Searching a waste to fill up space
And I'm aware it's already gone They leave you the blank
I know you should hold it before it gone
---
Truth be told, Outer Ego shines from start to finish, with not a dull moment in sight. Be it the dramatic drive of the title track or the smoldering funk and heart-to-heart lyricism of "Old Canvas" ("it's about a dialogue between myself and the old version of myself," Uchino says), The fin.'s new album is a reflective reverie that invites listeners to join him and slip away for a while. It was a stunning way to end 2021, and it serves as an equally enlightening soundtrack to the start of 2022 (and beyond).
I feel a day is ending slowly,
Standing blankly here
The sunshine's overflowing
My mind is drowning there
I saw my old self in the painting
No one's forgotten here
My heart dries up, and it's stolen
I'm dragged into a dream
No one tries to throw an answer to me
I'm the one who's scared to be free
But I know you're in the room where hides the blues
And you know I don't have a clue to get me through
– "Old Canvas," The fin.
---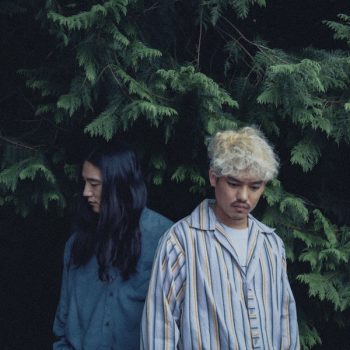 "The album has four phases," Uchino shares. "It starts from the surface of my consciousness that connects with reality strongly. And it goes deep down into my mind, where it shuts down everything from outside. Then, it rises up again, goes down again, and then comes back to the album's beginning. So I think you can have the whole journey I had when I made it, while listening to this album."
"I could reconnect to the world again to put out the album, and I hope it can bring something good to your life. Everything I sing in the album is very true and honest, so I hope it can open up people's hearts too."
Invigorating, intimate, and musically charming, Outer Ego has the potential to connect with listeners on multiple levels. It's The fin. at his most vulnerable, his most colorful, and his most exploratory. You may laugh; you may dance; you may cry; and you may see yourself in these lyrics. No matter how it hits, this collection of songs is sure to resonate long after the music stops. Experience the full record via our below stream, and peek inside The fin.'s Outer Ego with Atwood Magazine as Yuto Uchino goes track-by-track through the music and lyrics of the band's third album!
— —
Stream: 'Outer Ego' – The fin.
:: Inside Outer Ego ::
— —
Shine 
When I wrote "Shine," I was staying in the countryside near Tokyo. There's a stream behind the house, and I remember the wind was so fresh out there, and it reminded of me my hometown. Also, it made me feel how far I had come. I was wondering what has changed or gone and what will stay completely the same in me. I tried to capture the transition of time to make sounds keep shifting and morphing. As it turned out, it has a kind of subtlety that Haiku (traditional Japanese poem) has. While I was making it, I'd been continuously feeling like I was in a whirlwind of my memories and trying to figure out how I would shape and stock them in my mind.
Over the Hill
It's the oldest song on the album. It was just before I moved to the UK, I went back to my hometown, Kobe. I went out with friends, and they told me that I should make a song of that moment. There's a park I used to visit often and everything I saw and felt there is in the music.
Short Paradise
Since I was a kid, I've always liked stories with a small sphere. Closed, magical, dreamy and beautiful. Like a place, you really wanna get out when you're inside, but once you get out, you would miss it so much. That kind of place. Shine and Over the Hill are very realistic songs for me. I sing more about myself in reality. But Short Paradise is like it only exists in my mind, like a separate world from reality.
Deepest Ocean
I wrote Deepest Ocean in 2018 when I kept moving since we had so many shows worldwide at the moment. It was entertaining, but I was feeling unsettled at the same time. I found that I was searching for an ideal world that exists only in my mind when I wrote it. It's about escapism. But it has the vital energy to fight with reality and myself at the moment.
Old Canvas
I got inspired by a memory of an old painting at my parents' place (it's kind of an impressionism style painting.) I used to imagine myself having fun in the painting as if the painting world actually existed when I was a kid. And somehow, it turns out to be a song about coexistence with my old self and my current one. When I was writing lyrics, I had a sensation that I rediscovered an old version of myself, and that was talking to me.
At Last
It's a short story about a boy and a tribe who survived through the desert. They were so happy that they found a forest and a lake, but the boy decided to close himself by diving into the bottom of the lake. I think the boy is my inner child and this song is an outcome of that I tried to communicate with him somehow through music.
Loss, Farewell
I wrote this one after I got through my friend's death and his funeral. He was a great musician with a genuine heart. It's impossible to talk or ask anything to him anymore, so I tried to speak to him through music somehow like we used to.
See You Again
This song is the sequence of "Loss, Farewell." I wanted to put out my mixed feelings about life and death. I couldn't say goodbye to my grandfather when he passed away as I was in the UK. Since we had lived together for 18 years, the impact was big enough to change the way I feel about death. Every time I go back to my parents' house, I still feel like I could see him. It's strange to feel that, but I guess death is not a true separation. I made this song because I wanted to have hope but despair.
 Outer Ego
It's the latest song I wrote for the album. The album has lots of my inner elements. For some songs, I had to deep dive to focus on what's really in myself. But for this song, I wanted to make something that can bridge the real world and my inner world. It has a message for us to keep surviving strong, and fight through hard times in your life. Apparently, we've been through a lot in these strange times. So I wanted to make something that can be a light for someone.
Sapphire
The sensation that I had when I was feeling the wind in the car as a kid was a key in writing "Sapphire." As the song goes by, it develops the sensation from the past into the sense I feel now. The contrast of these two sensations reminds me of my reflection of light and the deep blue colour of sapphire.
Safe Place
I was so tired mentally when I wrote Safe Place, feeling anxiety for my life. I think I was getting down little by little through the quarantine without noticing. My life had changed drastically because of the Covid 19. I loved it to be home, but it was just different from my life before. I realised how much energy I could get from playing music, meeting people all over the world. Suddenly I felt like I had to stop and face myself alone. And I got stuck at the moment. So I wrote this music to heal myself and feel love to recharge myself.
Edge of a Dream
This song is the second oldest song on the album. I wrote it in the UK a few years ago. I remember that I felt like I was in a dream when I was playing the guitar riff again and again. It's about collecting fragments of memories in my dream. Some of them I'm familiar with, but some forgotten somehow. I'm just watching as it all comes and goes in the dream. After the blank moment, when the last part fades in, It's the borderline between my inner universe and reality. My inner consciousness cuts out when the last song ends, and my consciousness comes back to reality, and it returns to the first song.
— —
— — — —
? © 2022
:: Stream The fin. ::
---