Whether it's infatuation or just a crush, there's something magical about attraction. Of Good Nature's new single "Take Me Anywhere" captures the magnetic pull of desire through a vibrant, jazzed-up reggae sound that oozes warmth and longing.
I think she was an artist,
She didn't try her hardest,
she definitely looked the part before
Always gotta be a new thing,
you wouldn't even recognize her anymore
Its time to go, she said it slow,
you got me waiting by the back door
You should know that
you would have to save me
Listen: "Take Me Anywhere" – Of Good Nature
[soundcloud url="https://api.soundcloud.com/tracks/380653652?secret_token=s-HCttW" params="color=ff5500&auto_play=true&hide_related=false&show_comments=true&show_user=true&show_reposts=false" width="100%" height="166″ iframe="true" /]
---
Atwood Magazine is proud to be premiering "Take Me Anywhere," the latest single from Charlotte, NC indie rock-reggae group Of Good Nature. The four-piece of guitarist Cameron Brown, percussionist Joey Vachon, trombonist Brandon Hucks, bassist Jon Reed, and drummer David Hamilton Jr. have made a name for themselves by fusing rich musical genres and styles together, as is certainly felt in "Take Me Anywhere" – the band's first in a string of single releases this year.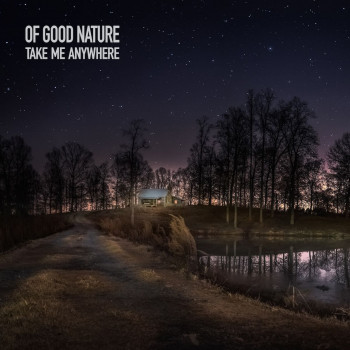 "We are stoked to release "Take Me Anywhere" as the first of three upcoming singles," Of Good Nature excitedly tells Atwood Magazine. "It certainly captures our growth as a band and as players and writers. Our blending of styles is developing into music that is approachable to everyone and we really dig that. The goal is to get our music to as many people as possible without sacrificing any creativity."
Take me anywhere,
I wanna be the one,
that you don't want to go without
I don't even care whatcha really think,
cause you know its all about me
I don't think its fair,
people get to live
their life while I stay hollow
Take me any, take me any,
Take me anywhere
"Take Me Anywhere" is a sonic throwback – to any kid from the '90s, the song will instantly remind you of the reggae pop and ska of your youth, with its lightly-rapped verse guiding us into a brass-heavy chorus. Vocalist Cameron Brown's voice is just scruffy enough; his emotions bubble over with every little inflection, highlighting the passion brewing in those simple, earnest lyrics.
The timings rough, I've had enough,
she brings me to my knees
Not a good or a bad thing,
just one that makes me think
I really thought she was,
a little too sweet hiding
something underneath but
Can't Say No
to someone that needs saving
It's sunshine in a bottle – a little burst of Vitamin D washing over your ears. With a relatable story and bouncy, pulsing beat, Of Good Nature invite us to bask in the heat of our very own emotions. Stream "Take Me Anywhere" exclusively on Atwood Magazine, and let Of Good Nature take you… anywhere…
— — — —
? © 2018
:: Stream Of Good Nature ::