A sun-soaked daydream, 'Where Does the Devil Hide' presents a maturing Zella Day in her element with an alluring color palette and songs that are as unapologetic as they are uncompromising.
Stream: "Benny My Dear" – Zella Day
---
Zella Day's music is a stylish seduction.
Hers is the kind of songwriting that tickles the ears as it charms the mind and warms the heart; she embraces arrangements that build upon the past in real time, enchanting us with familiar sounds in a new and exciting context.
"There was a time when artists were exploring and creating new genres of music that actually changed the world and shaped pop culture," Day openly reflects. "It's hard these days to make anything new, so I find myself going back and studying those who did it first. Music used to be more unpredictable. I strive to capture that energy in my own work as much as possible."
Released August 28th via Concord Records, Where Does the Devil Hide presents a maturing Zella Day in her element with a distinctively alluring sonic color palette; a sun-soaked daydream, the five-track EP is elevating, nuanced, and altogether dazzling. It's an iteration on Day's artistry that's been in development for quite some time – a quintessential California record that marries soaring, at times cosmic rock, with lush, earthen Laurel Canyon tones.
It's also Day's first bigger project since her 2015 breakout album Kicker, released through major label Hollywood Records, put her on the map and sent her around the world. "A haunting rhythm mixed with her tantalizing vocals create a magic potion potent enough to dethrone Lana Del Rey and usurp her flower crown as the next indie-pop princess," Atwood Magazine's Ethan Germann once wrote of Day's hit single, "Hypnotic." "Girls everywhere attempt to emulate the breathy vocals and throwback image that Day has perfected naturally. Raised in a small mountain town in Navajo County, Arizona, Day's versatile sound has been stylistically created with evident 'Wild Western' and Native American influences and a desire to escape to the big city and pursue her musical aspirations. The result: An intangible tapestry of sound and raw emotion, blanketing the pop, alternative, and folk genres."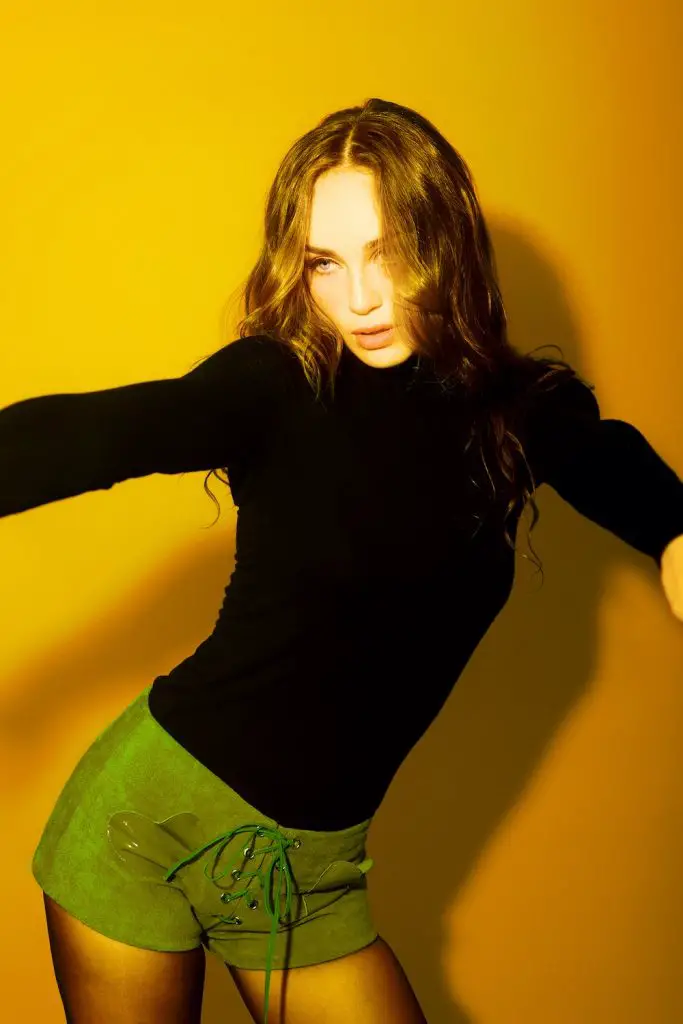 No longer with a major label, 25-year-old Day has kept in and around our consciousness with a smattering of delightful singles – from 2016's celestial "Man on the Moon," to a delightful cover of Hot Chocolate's hit single "You Sexy Thing" released last year – but Where Does the Devil Hide is the full monty. The new EP serves to usher in Day's second decade as a recording artist (her independently-released debut album arrived in 2009; Kicker was actually her sophomore full-length).
"I wrote all of the music for Kicker in my teens fresh from Arizona still living at my mom's house," the artist explains. "It was a time of youthful exploration, I was growing in and out of ideas at a rapid pace trying to learn about myself as an artist. Where Does The Devil Hide is more poised and collected in its foundation. Both works have been completely necessary in my evolution."
I am proud of myself for keeping the faith and continuing to work hard in an industry obsessed with the next best thing. It's important to be able to shut the world out and make things that turn you on.
Where Does The Devil Hide is as unapologetic as it is uncompromising: A fiery, flirty musical adventure ready to soothe our days and light up our nights.
Her hazy lead single and opening track "People Are Strangers" feels like an all-too timely depiction of 2020's alienation and disorienting reality. "It's important to "read the room" before promoting just about anything," Day says of the song and its rollout this past April. "The world was shutting down with barely any notice, everyone had to recoil into their own spaces, I was scheduled to release new music. "People Are Strangers" sings about betrayal from the figures and societal structures we've been told we can trust. There's grit to the realization that if anyone is going to save us, it's going to be ourselves."
---
As Where Does The Devil Hide progresses, Day's individualist spirit rises and shines. "Now you're playing my game, my game. Is it a shock when you're not on top?" she sings in "My Game." Her voice melting over a lush Motown-esque groove that proceeds into a full-on '60s immersion: "Now you're playing my game, my game," Day asserts in bold and feverish technicolor, blending a touch of The Mamas and the Papas into her fervent assertion.
Day's EP gets its name from a lyric in the softer summer escape "Only a Dream," a West Coast ballad of sorts that builds up and out into a dreamy overhaul of sound, color, and feeling:
Where does the devil hide?
Where does the devil hide?
He's telling lies to you and I
Taking us down one at a time
I don't care if it was only a dream
It was all too real to let go
I don't care if it was only a dream
Because it's better than being alone
---
"The title haunted me in my dreams," Day recalls. "That line is a reminder to myself to be wary of my own darkness being projected onto the world around me. When all of the music was written I was going through a deeply introspective time in my life, everything was changing and I had to be sure about who and what I was letting go of not allowing fear to dictate my decisions."
At this juncture, Zella Day seems to marry her passion for depth with a proclivity toward fun. Her new songs are entrancing, yet each one seems to unlock a wealth of emotions (baggage or otherwise) the artist has been seemingly saving for this very special occasion.
"If the song keeps tapping me on the shoulder there's something to it," Day says of her process. "There are certain songs or ideas that refuse to get lost in the shuffle. I like when they show themselves when I'm not thinking too hard, like waking up in the morning before I've had my coffee."
While she's spending her days at home in Beachwood listening to everything from the new HAIM record, to the late singer/songwriter Daniel Johnston ("If you are in the mood for a good cry, '1990' will get you there"), Day's got her sights set on that elusive post-COVID future, when we can all be back together again.
"I'm looking forward to live shows," she says. "The internet is not a strength of mine."
Nevertheless, the internet is where fans new and old alike will first hear of, and likely listen to Zella Day's new work of art – not to mention, read this article. There's no doubt that this is a welcomed return – Day has certainly arrived in 2020 with a renewed confidence and fresh sense of self – but there's more to it than that. Where Does the Devil Hide is imbued with a timeless charm that makes it the perfect indulgence during these uncertain and isolated times. Its songs capture the magic of togetherness and connection, intimacy and understanding; they are each a wondrous, intoxicating delight.
Experience the full record via our below stream, and peek inside Zella Day's Where Does the Devil Hide EP with Atwood Magazine as the artist goes track-by-track through the music and lyrics of her latest record!
— —
Stream: 'Where Does the Devil Hide' – Zella Day
:: Inside Where Does the Devil Hide ::
— —
People Are Strangers
Alone on the bathroom floor singing in a whisper while everyone else is fast asleep.
My Game
A pair of dice in a dimly lit room.
Purple Haze
Stoned in the freezer aisle at the market.
Only a Dream
Wrapped in black fabric on the West Coast dead of summer.
Benny My Dear
Stroking his hair while he lays on my stomach.
— —
— — — —
? © Neil Krug
:: Stream Zella Day ::
---