Every Friday, Atwood Magazine's staff share what they've been listening to that week – a song, an album, an artist – whatever's been having an impact on them, in the moment.
Atwood's staff share the music they've been listening to in the moment. This week's roundup includes Bathe, Parquet Courts, Lorde, Måneskin, Portrayal of Guilt & Chat Pile, Francesca Blanchard, Holy Knives, Emily Henry, Chris Pidsley, Arrows, julie, wilter, The Lighthouse and the Whaler, & Last Night Saved My Life!
•• •• •• ••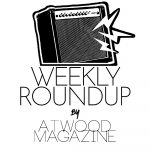 — —
—
:: "Pull Up" – Bathe ::
Brooklyn's Bathe consider themselves a "surf R&B" duo, which is perfect because their latest single is a glistening, smoldering wash of hazy and sunny sound. Beachy and dreamy, "Pull Up" is a cool kind of introvert's anthem – a smooth, ethereal immersion set at that special point during sundown when the full spectrum of color glows like a canvas in the sky. It's an emotional tug-of-war set to a gentle, hypnotic soundscape that at once recalls early NoMBe and Frank Ocean, while establishing a sonic signature of its very own. Guitar licks ebb and flow with an almost psychedelic flow as heated vocals, thick bass, and grooving drums engulf and entrance the ears.
"'Pull Up' captures those moments when your hazy internal monologue is louder than the party music," Bathe explain. "When your inner voice is caught between wanting to leave and wondering 'what if?'" Bathe's singer Devin Hobdy and guitarist Corey Smith-West perform with an alluring, relaxed confidence; despite it delving into the vivid depths of torn emotions, "Pull Up" is indisputably chill. For all those who've ever felt a little lost at sea, here's your anchor.
You can relax
Already rolled you one
You can pull up
Smoke and enjoy the function
Pull up, pull up
Burn another one down
Pull up, pull up
:: "Walking at a Downtown Pace" – Parquet Courts ::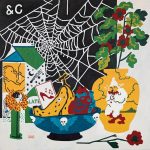 Following rhythm-driven, critically acclaimed record Wide Awake!, Parquet Courts are back to stepping once again with their first new single since 2018. "Walking at a Downtown Pace" soundtracks a madcap day trip through ever-bustling NYC, capturing the buzzing chaos and communal warmth of city life reborn after the worst waves of the pandemic. While it sounds as if it could have been a bonus track off of Wide Awake!, this track is more dance- and groove-centric, born out of improvised jam sessions inspired by the likes of Pink Floyd and Talking Heads. Their new album Sympathy for Life drops on Oct 22nd via Rough Trade, with a visual album screening on the 20th and US tour dates to come.
:: "Stoned at the Nail Salon" – Lorde ::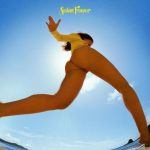 Disclaimer: you're about to deal with a Lorde apologist. You've been warned. I've read several criticisms about "Stoned At The Nail Salon", a song that has been defined by lots of fans as the worst single from Solar Power. Well, in my opinion it's actually the song that best shows Ella's personal growth. It's about an artist who feels afraid, weak, but is trying to reach some peace with herself. Still, at the end of the day she fears she hasn't made the right decision with the path she's taken for her life, or regrets not having spent more time with her loved ones. She's now a gorgeous and confident woman, but sometimes feels she has to choose between a quiet life in the countryside (that may become boring) and a world tour life – that gets the adrenaline pumping, but can be exhausting too.
Well, my hot blood's been burning for so many summers now
It's time to cool it down, wherever that leads
'Cause all the music you loved at sixteen you'll grow out of
And all the times they will change, it'll all come around
I don't know, maybe I'm just
Maybe I'm just stoned at the nail salon again
In "Stoned At The Nail Salon" Lorde allows herself a moment to breathe and think about herself, her life choices, and then concludes that she is exactly where she should be. It's normal to doubt yourself even when you're among the 200 most listened to artists in the world. It's also perfectly fine to take your time, achieve your dreams and then wonder if you're actually happy after doing that. The key to being so, however, lies in understanding what really makes us serene and proud of ourselves and embracing it. This could be achieved by treasuring our past and what people we've met along the way have left us, even if they're not in our lives anymore. And if you can't do that, don't worry, showing your weaknesses is the most heroic thing a human being can do. And since not all of us are heroes, there is only one thing left to do: get stoned and get our nails done.
:: "Zitti E Buoni" – Måneskin ::
I love the chill down the spine that accompanies the onset of a great song or, better yet, the onset of a great album. That chord that opens Hard Day's Night, the soft and simple beat of "Foreward" on Flowerboy, the Ford F-150 commercial in the making that is "Do I Wanna Know." "Zitti E Buoni," the opening track of Eurovision's 2021 winners Måneskin, is that kind of track. It follows three dominating guitar and bass riffs, supplemented by a somewhat simple but powerful drum. The repetition within the song allows for listeners to grasp the song with ease, regardless of an individual's fluency in Italian (or lack therof). Complexity enters with the vocals, supplemented by lead singer, Damiano David, who creates a conflicting rhythm within the verses (specifically in the second), but sinks into the pacing in the chorus. It's so simple, but the four members are such powerhouses that the song doesn't need much intricacy to be interesting.
It's the kind of song that places confidence below your feet as you open the door, stepping out into the sun first thing in the morning. It's the kind of song that pulses inside of you, that you feel in your toes and stomach and throat. It's driving and hard and emulates the line which the band's members rejoiced with following their victory at Eurovision- "rock and roll never dies." It's raunchy and intense, not in a jarring way, but in a way which binds with you. Thinking about redownloading Duolingo for this song.
:: Portrayal of Guilt / Chat Pile Split ::
It's hard to describe the sounds of these bands any better than how I imagine they are being presented on the cover to this split. On the one side, accurately dressed in all black and looking like some sort of wraith or phantom is Portrayal of Guilt whose offering, "Touched by an Angel," is a harsh blend of black metal and post-hardcore. The vocals are shrill and strained, the bass is fuzzed to hell, the guitars are dissonant and atmospheric, and the beats most certainly get blasted. For all of it's brutality, "Touched by an Angel" manages to stay light on its feet, maintaining a sense of dynamics and progression.
On the other side, accurately appearing as simply, and horrifyingly, a menacing, muscluloskeletal human, who, along with the wraith/phantom, seems to have been one of the drivers involved in the fender-bender on the album cover, is Chat Pile. Hailing from Oklahoma, Chat Pile ended 2019 on a high note with two stellar EP's, Remove Your Skin Please (which explains a lot) and This Dungeon Earth, and has carved a hard sound for themselves combining elements of noise, sludge metal, post-punk, and industrial, and their offering, "Brutal Truth," is all of that. The drums sound like machines, the guitar and bass are at once melodic and industrialized, and the vocals, courtesy of Raygun Busch, are quite actually unhinged. The piece expertly toes the line of abrasiveness and catchiness, which is something that Chat Pile continues to excel in. That, and generally being nothing short of abnormal.
:: "Loon Song" – Francesca Blanchard ::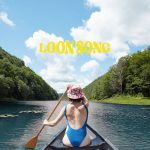 Vibrant and wondrous, Francesca Blanchard's "Loon Song" radiates sweet heat and possibility. Following February's release "new year's in paris," the artist's second release of 2021 is a soft and affecting bilingual indie pop indulgence, with a thick backbeat and intimate vocals (sung in English and French) luring us into the utterly transfixing heat of the hot season.
Can you hear that sound?
There's something in the distance telling you to slow it down
Drop the phone, look around
Can you feel the beat?
That pounding in your chest that wakes you from a dream so deep
You got high off a summer heat
Man, there's something good on the other side
something big and beautiful you can't deny
Blanchard describes "Loon Song" as "a reminder to keep forging ahead with hope and spark… like a loon call from across the lake in the dead of summer." It's the kind of song that frees you from the present's constraints, allowing for a moment of wonder and relaxation. The French-American singer/songwriter and producer channels sun-soaked yearning with hypnotizing finesse, inviting us to bask in the warmth of gold rays and let go for awhile.
:: "Born to Die"- Holy Knives ::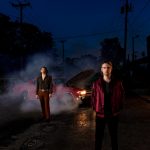 We all can relate to needing an escape, especially in these trying times. What if your way to unwind though, ends up just causing you more anxiety and distress? The Holy Knives 80-esque single "Born To Die" focuses on that very idea. The tune haunts with menacing, mechanical arrangements. During the isolation of the pandemic social media was a major outlet for many people. With all the hate and misinformation spread, that distraction quickly became anything, but. The duo stunningly expresses that deep darkness and fear.
I could run, but I don't know where
Cause it's easier when you just don't care
You only die once
And we are already there
The Holy Knives is made up of brothers Kody and Kyle Valentine. The two are known for their masterfully eccentric music. Touring tirelessly over the past few years and currently constructing an album, they are truly committed to their craft. This spine-chilling release produced by Ian Hultquist (Passion Pit) shows just how far they have come.
:: "haven't been" – wilter ::
Intimately atmospheric, wilter's second single is an invitation to slip away: To leave this world behind and sink into ourselves, slipping away into a pool of ambient emotion and an endless void of relaxed existence. Organic acoustic and electronic instrumentation melt into one on the mesmerizing "haven't been" as LA-based songwriter and producer Will Durkee indulges in a beautiful, compelling musical experiment – calling to mind the likes of Irish artist EDEN and Toronto's Mappe Of in the process. Melancholy, wistful, poetic, and deeply introspective, "haven't been" is an aching confessional: One that beckons us to draw intimately close as the artist spills his soul out in sound.
"'haven't been' was a musical breakthrough – the song that convinced me to release music and inspired the direction of the whole wilter project," Durkee tells Atwood Magazine. "It's actually built around vocal chops from the chorus of my previous single "solo/solong" and in many ways is the antithesis to that song. While "solo/solong" sits with the beauty in loss, "haven't been" jumps around the insecurity in impermanence when things seem to be going too well. Alongside the song I built an augmented reality experience to allow listeners to arrange the song's stems as plants in their own environments and at their own timing.  To me, "haven't been" is its own world, and I want listeners to be able to interact with it and transpose it onto their own world…"
A gorgeous tapestry and moving mediation, "haven't been" truly is a world unto itself – one that surrounds the ears, begging for repeat listens and deeper dives. Liminal spaces never felt so sweet.
sunrise it shines right into my eyes through your window
you had me hanging off of every last one of your words
timeless the numbers don't mean a thing anymore
starlight it falls over our foreheads into the dirt
isn't it too nice
isn't it too nice for the both of us
i've tried, i've tried and i've tried again i've tried to grow up
i'd dive away from my thoughts and right back into your touch
long drives don't feel the need to fill up silence anymore
twilight will everything seem different alone at dusk
:: "I See The Light"- Emily Henry ::
Sometimes it may feel as if hope is lost, but we can always find a piece of gratitude to hold on to. Emily Henry's new release "I See The Light" reminds us to stare at the North Star when we are in the depths of sorrow. Her stunning layered vocals glide over shimmering, clicking soundscapes and you can feel the pure poignancy of her message. The simplistic visuals show Henry surrounded by black with only a spotlight shining down. When you see others gracefully dance around her, there is something so hypnotic and captivating about the scene.
The DC-based singer-songwriter amazes fans with her unique style of electro/indie-pop. Henry's soft yet fierce tone allows her to beautifully tells stories with so much raw emotion. The single is off her upcoming 8-track album The New World. Listeners can connect to finding strength in pulling ourselves up from our struggles. "I See The Light" is an offering to inspire us all.
:: Daisies – Chris Pidsley ::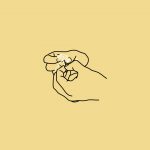 Chris Pidsley is the king of DIY music. Drawing on his emporium of talent and intimate recordings, he leaves listeners feeling warm and alive with his latest EP Daisies. A collection of five songs giving us pure authenticity with transparent lyrics and honest vocals, it's an infectious, indie-pop masterpiece.
With soothing acoustic tendencies, this EP hones in on the beauty of one-take recordings and the world of analogue rawness. Pidsley shares, "I wanted to maintain that sense of stark vulnerability and authenticity." From his experience with love and heartbreak to a song for his mom, this British artist will draw you in with his kind, real and relatable approach to his writing. Self-produced, written and recorded, this organic EP is no short of acoustic magic. Think The 1975 meets Rex Orange County.
:: "To Your World" – Arrows ::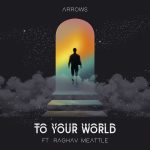 Fancy a jam? Look no further. Bombay artist Arrows is revving up the feel-good engines with his latest track "To Your World." The rock/blues single touches on the reality of needing to say "bye bye" to a relationship, but constantly finding situations that draw you back, no matter how hard you try to let that ship sail.
With an energizing feel, the track oozes jam band vibes, through an atmosphere of good-times and hopefulness. Its vibrant energy makes you feel alive and excited, delivering a surge of intoxicating emotions. With a touch of rock, a glimmer of folk and plenty of piano riffs that scream blues, "To Your World" is the perfect pick-me-up to get over that relationship, have a dance or just feel good in the present.
:: pushing daisies EP – julie ::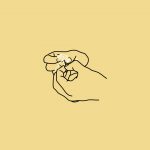 After causing quite a stir in the underground with only two singles out, shoegaze three-piece julie has dropped their magnificently brooding debut EP. Six tracks long, pushing daisies is a pummeling, moody distillation of their goth-tinged post punk sound that carries the self-assuredness of a more established band. Opening track "april's-bloom" drips with foreboding darkness as they give into their more unsavory impulses, and "lochness" devolves into a revelatory storm of distortion and soaring, caterwauling riffs. "skipping tiles," one of their strongest moments, is a self-immolating love song that is equal parts DIIV and My Bloody Valentine, while closer "daisy pusher" relies more on '90s grunge heaviness and twisted playground poetics. Already backed by a cult following, julie could very well be LA alt rock's next big thing.
:: "Let It All Go" – The Lighthouse and the Whaler ::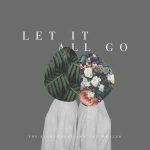 Where do we go when there's nowhere else to go? What do we do when we've done all we could? We let it all go, and leave things up to fate. Following July's buoyant and driving return "Way Back," The Lighthouse and the Whaler's stirring new single "Let It All Go" is a haunting surrender: A beautifully moving acoustic upheaval finding frontman Michael LoPresti wearing his heart on its sleeve, at a loss for what to do and where to go from here. A deeply personal plea for guidance during recent turbulent times, "Let It All Go" feels spiritual in nature: Its gentle, harmonized choral repetitions feel like a mantra in one's search for strength.
"Let It All Go' is a song about leaving control behind and letting things go as they will," LoPresti shares. "A lot of the song was inspired by my own attempts to control things in my life, instead of letting them be what they will and being content in knowing I did what I could and that was enough. In my experience, sometimes in trying to hold onto things so tightly it can actually do more damage than good." He sings:
Could somebody tell me where to go
When it all feels way too strong?
Could somebody tell me where to go
When it doesn't seem like there's any hope?
And you know I've gone a long long way
And the time is carrying you away
I hope that something keeps us up
But in the end is there the safety we require
"Let It All Go" charts the process of learning one of life's hardest lessons of loss and rebuilding, change and discovery. Through this song, The Lighthouse and the Whaler create a moment of humility, empathy, and intense vulnerability. We can't know what may come of us when we step into the unknown, but sometimes we have to take that risk in order to save ourselves and the things we love – whether it's a relationship, a job, a band, and so on. The hardest part is, and always will be, letting go. LoPresti says, "It takes an intense amount of personal courage to release this thing that you feel like you were made to do. And the only way I could do it in the moment was with this group of people – with The Lighthouse and the Whaler. I believe the world moves in circles, and so sometimes you let things go and they come back to you…"
And the light comes back and it's way too bright
And I'm not sure how to hold it all in
But I know there's got to be something
Yeah everybody has the love that you have now
Everybody has the love that you have now
Let it all Go, Go, Go
:: "Black Dress" – Last Night Saved My Life ft. Mikaila Delgado ::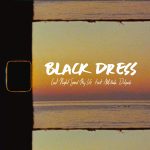 "Runnin' on the fault line, how could it be another way? You're my lonely little getaway." Here's to new beginnings: Last Night Saved My Life's latest song featuring Yours Truly's Mikaila Delgado is a refreshing ode to the early days of budding romance, where every second seems to last a lifetime and a world of possibility lies ahead. An exhilarating pop/rock anthem, "Black Dress" explodes into our lives with passion, fiery energy, and charged emotion:
7pm and I've already been thinking that today is gonna be
Written on the back of a Polaroid picture in a frame someday
Just let go, meet me on the patio
Lookin for an outlet tell me that you won't let go
I'm fallin like a domino
I guess in other words
You look so good it hurts
Already in a state of reverie, the Michigan indie band explode with irresistible charm into a radiant, unapologetically catchy chorus. Their vast gang vocals and big melodies recall such A-level pop bands as One Direction and 5 Seconds of Summer, while still harkening back to early aughts pop punk and rock.
You can wear your black dress
I'm in ripped jeans
Fallin on the mattress like in my dreams
Swingin from the rafters I could believe the words you say
You're my lonely little getaway
"When we wrote 'Black Dress', we tried to bottle up the feeling and excitement that comes along with a fresh start in a brand new relationship," Last Night Saved My Life tell Atwood Magazine. "We really wanted the song to have a playful and anthemic vibe, so we made sure it was at the right tempo to dance or jump around to. After we recorded the chorus it was clear right away how much potential the song had. We just kind of looked at each other and said "let's make this one sound as huge as possible." So naturally we recorded gang vocals throughout every chorus to make it sound like a big group of people singing. It was so awesome to have the chance to work with Mikaila Delgado of Yours Truly. She did an amazing feature in the bridge. Her voice really took it to the next level and made the song feel like a journey. I think this could end up being one of our most fun songs to play live and I can't wait for us to get out there and perform it!"
"Black Dress" conjures up a sense of hope and wonder; it's an open invitation to melt into euphoria. Last Night Saved My Life have tapped into something very special with this song, and we can't wait to hear what they do next.
— — — —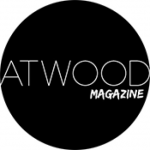 :: Weekly Roundup ::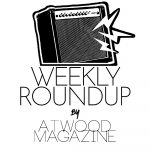 ---
:: This Week's Features ::
---