Every Friday, Atwood Magazine's staff share what they've been listening to that week – a song, an album, an artist – whatever's been having an impact on them, in the moment.
This week's weekly roundup features music by Sarah Kinsley, shy martin, Loupe, Ritho, Party Nails, Yueku, Choplife SoundSystem, Mr Eazi, Divine Sweater, Kath Myers, kuiper, M. Byrd, Stalking Gia, Deni, & Eric Dash!
•• •• •• ••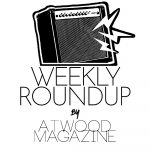 :: "Lovegod" – Sarah Kinsley ::
Singer/songwriter and producer Sarah Kinsley's discography extends well beyond her TikTok fame with "The King." In 2021, the artist debuted one of her poppiest tracks, "Karma," not to be confused with Taylor Swift's song of the same title. In her latest era, though, Kinsley dives into experimental sounds, leaning on an intergalactic influence.
The piano introduction feels visual and pulsating, while Kinsley's vocals are something adjacent to Tori Amos and Kate Bush. The '80s influence is definitely there, but "Lovegod" manages a fresh and almost summery sound. "Now I see you," the introduction states. "For who you are, singing holy praises to an indifferent God. Now I want to just open my heart, but I am without someone in that regard."
So smart.
:: late night thoughts – shy martin ::
Swedish singer/songwriter shy martin released her album late night thoughts on May 19, 2023. The about nineteen minute record is enchanting with seven songs that will make you reflect on some of the most pivotal moments in love such as the stages of moving on, the possibility of growing old with someone and even the simplicity of being patient when it comes to the heightened emotion. Her soft and angelic voice is gorgeous, bringing a vulnerable yet calming tone to the album while she sings lyrics that are creatively relatable like, "I hear the moon gossip through my paper walls."
we can just lay here and wait it out
we can just rest for a little while
don't have to be anywhere right now
we can just stay here and wait it out
Her fifth track and latest single on the album, "wait it out," is the epitome of artistry. The storyline is told beautifully as it goes into the idea of waiting for someone. But unlike other songs in the industry, this one sticks out because it goes into detail about the situation and honors not only the person but the relationship too. She sings about the other person going through their own personal turmoil and how she won't give up on them. She'll let the person do what they need to do to heal, while still being there for them. She mentions and understands how they don't have to talk about it, they have time to just "wait it out." It's absolutely refreshing and captivating.
Late night thoughts is the album everyone's soul needs. It'll capture your heart in a variety of ways. You can listen to it now, wherever you prefer your music.
:: "It's Getting Wild, Getting Older" – Loupe ::
There's an undeniable ache at the heart of Loupe's latest single, yet that doesn't stop it from being an utterly irresistible enchantment: A rush of visceral passion and raw, charged emotion, "It's Getting Wild, Getting Older" is an existential crisis channeled into a warm indie rock reverie. The Amsterdam-based band unveil layers of unresolved angst and inner tension in a song that soars and stirs, inviting us to contemplate those age-old rhetorical questions about purpose, place, and presence: Who we are, what we are, where we are, and why we're here.
You got a couch for the front room
It's vintage
Stuck in the backseat
It's not really fitting
I guess it's too late to change it now
You speak of dying like ordering oat milk
Say the idea gives a reassuring feeling
It's not something I would say out loud
But oh well
Released May 19, 2023 via Excelsior Records, "It's Getting Wild, Getting Older" is the fourth single off Loupe's forthcoming debut album Do You Ever Wonder What Comes Next, out June 16. Active since the tail-end of 2021, the Dutch quartet of vocalist Julia Korthouwer, guitarist Jasmine Van Der Waals, bassist Lana Kooper, and drummer Annemarie van den Born can always be counted on to inspire our hearts and soothe our minds while igniting something deep down inside. The band's debut EP Older (2021) and their sophomore EP Spring '19 (2022) set a strong foundation full of colorful, provocative, and melodic indie rock, and their latest songs have been their savviest yet: Steadily teased out since late last year, "Lonely Dance," "Caught in the Moment," "My Hands," and "It's Getting Wild, Getting Older" are some of Loupe's savviest, sweetest, and most nuanced songs to date.
The latter is an especially memorable and moving: "'It's Getting Wild, Getting Older' is about how you can find yourself ending up somewhere thinking, is this it?" the band's Julia Korthouwer tells Atwood Magazine. "It's about feeling really small in this big universe and wondering why and what it is we are here for. It's more of a topic I think about often. Can be a bit depressing, but also help put things into perspective. When you get worked up about things in your life, and it actually all falls into insignificance when you zoom out."
"I often have it in the supermarket or at the train station, or on (Dutch bank holiday) King's Day, for example. That I can really think, what's the point of this? A bit of a crazy rut of people who all seem to be and do the same thing. And everyone thinks themselves important, when in fact nobody really is in the bigger picture."
We feel the full weight of this heavy topic come down in the song's chorus, as Korthouwer accepts that there are some things we may never fully know or understand. "Oh we leave it up to fate," she sings. "So I hide what's left in the corner of my hand, for you to find and take it all. And I wonder what comes next, when everything is falling into place."
Oh we leave it up to fate
So I hide what's left in the corner of my hand
For you to find and take it all
And I wonder what comes next
When everything is falling into place
It's hard to feel like we matter – that life matters – when the world is so big and we are so small. Sometimes it helps to shout it out to the high heavens, or in Loupe's case, to let it all out in a vulnerable, vibrant song. "It's Getting Wild, Getting Older" isn't a brooding nihilistic acceptance; it's hopeful wandering, wide-eyed, through the woods of life, patiently waiting for a spark of enlightenment, a hint of understanding, or a moment of zen to lift our spirits.
Whether that ever comes is the kind of question we can only answer for ourselves, but I'll tell you one thing: This song certainly did the trick.
When everything is falling into place
You phone your dad just to ask how he's doing
While switching channels to turn off the news
(and) Say; what does it matter after all
We're dying young or getting old
How come we don't
How come we don't
Matter at all
:: "FANTASISING" – Ritho ::
British indie, dream pop artist Ritho has just released a colorful, feel-good track just in time for the warmer months. "FANTASISING" draws inspiration from the likes of Holly Humberstone and Sam Fender, while still remaining entirely unique with Ritho's distinct vocals and ability to allow listeners into his vibrant, animated dream world. "FANTASISING" demonstrates the artist's need to use music as a form of therapy, letting his brain wander to those far corners of his mind and expressing his truest and most vulnerable thoughts and feelings. The track is all about his contemplative tendencies, as he shares, "It is about struggling with the juxtaposition of getting to know someone and allowing for that relationship to grow, while still having daydreams about your life and the future with that person."
The catchy new single is certain to be stuck in your head all day long, with its shimmering, sun-soaked synths, memorable lyrics and overall uplifting, chilled-out vibe. Encouraging listeners to find solace in the depths of their own thoughts, Ritho proves the sheer power the mind beholds with "FANTASISING."
:: "Bull In A China Shop" – Party Nails ::
They say what doesn't kill you makes you stronger. In life you may go through a lot of crazy stuff, but those who fight through it, come out the other end with a newfound power. Party Nails' colorful and courageous alt-pop new single "Bull In A China Shop" is all about navigating through those worrying, confusing times. The single was written during one of those terrifying situations, lockdown due to COVID. Party Nails reveals, "I had so many weird dreams about basically all of the scary and hard stuff I'd ever lived through, and I would write about it. I thought this song was about someone from my past. But now I'm realizing it's about me too."
Party Nails aka Elana Carroll is a New York native singer, songwriter and producer. Many of her releases touch on themes of love, heartbreak and anxiety. Her palpable raw emotion pushes over daring dance-pop beats. That juxtaposition of angst atop glittery, feel-good backdrops makes for highly compelling pieces. This song has that same luminous passion she is known to portray.
:: "Paradise" – Yueku ::
How many love songs do you know that start with the phrase, "I think I'm finally headed for a breakdown"? Released May 25, Yueku's "Paradise" is an uncompromising emotional eruption. It's an outpouring of the turbulence life throws our way, and the people who calm that inner, raging tempest – who turn our stormy nights into bright and sunny days; who make us feel like we're in paradise.
I think I'm finally headed for a breakdown
Try to tell myself it's really not that bad
But the next thing that I know I'm headed downtown
So you can pour the sweetest nothings in my head
And I wonder ooo just what you're feelin
When we lay up in your bed & you're staring at the ceiling
Are you thinking to yourself "is this the real thing"
'Cause I swear when I'm with you
For Yueku – the moniker for Nashville-based singer/songwriter Christian Koo – this song represents him at his most vulnerable and raw. "It's a simple love song for someone who makes my time here much easier," Koo tells Atwood Magazine. "When life is overwhelming, daunting, and bleak, this person makes things feel like a taste of paradise. The track expresses some uncertainty about the afterlife and the religious ideas that can surround it, but with the core message that the time spent together here in the present is enough "heaven" for me."
We don't know where we're going, but we're sure glad to be here right now. Yueku's chorus aches with a sense of comfort and gentle, sweet euphoria:
It's just like paradise
All my tears disappear with you
It's just like paradise
Lay right here all my fears
Gone cause you're just like paradise
A beautiful love song soaking up life's little moments, "Paradise" is, true to its namesake, a little slice of heaven in song.
:: Chop Life, Vol. 1: Mzansi Chronicles – Choplife Soundsystem & Mr Eazi ::
South Africa has been on my mind a little bit lately, mainly since I've been teaching high school history this year and we're currently studying the Age of Exploration. Thus, I've been teaching a fair amount about how the likes of Bartholomew Dias, Vasco de Gama and Ferdinand Magellan (well, technically Juan Sebastian de Elcano, since Magellan had already died by that point in the voyage) would sail around the Cape of Good Hope en route to some of the promising trade posts and spice-heavy lands that lay ahead.
Since one of the primary goals of history class is to connect past and present, I've made an effort to see what notable events have taken place in South Africa not just in the 1500s and 1600s, but also in more contemporary times. And I made quite the discovery, let me tell you! It turns out that Cape Town and Johannesburg have been where Nigerian singer Mr. Eazi and Kenyan-born DJ Edu have bounced between throughout the recent year-long recording process of their new collaborative album, Chop Life, Vol. 1: Mzansi Chronicles.
The finished product does more to cover ground across Africa than Dias and De Gama et. al. could have ever dreamed of. It seems that Mr. Eazi and DJ Edu were able to touch base with plenty of South African artists while they were down there– Moonchild Sanelly, Major League DJz, Ami Faku, and Nkosazana Daughter are among the many local acts to have been recruited for this project. Elsewhere, Mozambican producer DJ Tarico shines on his guest spot on the single "Patek," which also features Ghanan artist Joey B. And of course, Mr. Eazi and DJ Edu make their native Nigeria and Kenya proud left and right with their vocal and beat-making capabilities.
Chop Life, Vol. 1: Mzansi Chronicles ultimately promotes the Mother Continent as a place where vibrancy and creativity are radiating at every corner. "I believe that African music is going to the point where it's not just [about] the artist, but about the music and the total experience," Mr. Eazi has confided. Don't let the opportunity to see if he's right sail by you!
:: "Waking Up Alone / Julia" – Divine Sweater ::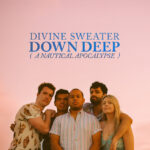 Brooklyn-based and Boston-born, the band Divine Sweater has always had a knack for putting out a vibe that gets listeners on their feet. True to this habit, their third record, Down Deep (A Nautical Apocalypse), released today (May 26), via Better Company Records is ten tracks of straight grooves.
"Waking Up Alone / Julia" comes as a standout track from the record; the band deems it as their "love letter to krautrock and fusion era Miles Davis." With a thrumming bass line underscoring hazy synths, listeners are immersed in the band's nostalgic-yet-continually-innovating melodic palate. A giant tone shift occurs around two-and-a-half minutes in; the rip-roaring soundscape transforms into a snappy confession of love for this "Julia."
"I don't need to go out at night / I don't need to feel the sunlight on my skin / Just wanna be in the room you're in," lead singer Meghan Kelleher sings, before asking, "Julia am I gettin' through to ya?"
"You're waking up alone. Remembering they're gone. We can't go back in time, but where would we go if we had the chance?" The band poses as they describe the track. Rest assured, we wouldn't go back to a time where we didn't have Divine Sweater's "Waking Up Alone / Julia," and Down Deep (A Nautical Apocalypse).
:: "Bad TV" – Kath Myers ::
Intimate and unfiltered, Kath Myers' new single is raw, honest, and achingly visceral. The singer/songwriter explores her depression head-on in "Bad TV," a breathtakingly beautiful indie rock upheaval that captures the brooding, the darkness, the lethargy, and the inertia – all in three and a half captivating, emotionally charged minutes of weariness and wonder.
The clothes in the corner are toppling over
and so are the dishes in sink
my friends keep on calling i keep on ignoring
I text them to say I'm ok
I lie and I say I've been busy recording
and no need to worry about me
But Mr. Sandman is here
He didn't bring me a dream
all he brought is a lot of self loathing
and a lot of Bad TV
Released May 19, 2023, "Bad TV" holds nothing back in highlighting life in our lowest moments. Myers' first single in two years (since June 2021's debut album Sensitive Groups) marks the beginning of a new chatper in the Los Angeles artist's career as she prepares to release her sophomore LP Bad TV this July. It's a record she says touches on themes of anxiety, depression, toxic relationships, and fear of rejection – thus making its titular track the perfect lead single, and one she says finds her dealing with extreme depression and "feeling as though an outside force completely takes over your body and brain during these times."
"I wrote 'Bad TV' when I was dealing with a particularly crippling episode of depression," Myers tells Atwood Magazine. "I could not seem to do anything but watch old episodes of The OC which then just fed into this perpetual loop of shame and depression. When I was finally able to scrape myself off the couch, I brought the song to my collaborator, Aaron on acoustic guitar. I still had a lot of the feelings looming so he handed me an electric guitar and was like "play it." He hit record and what came out was rather sloppy and unhinged but it set a nice tone for us to build on. I was hearing a synth part similar to the one on "Friends of P" by The Rentals, and that song became a nice production reference. Aaron played everything else on the song and we finished it that day. I wish I could say that I immediately stopped watching The OC after making this song, but that would be a lie ◡̈."
In all fairness –and this is neither here nor there – sometimes TV is more of a comforting background presence than it is an absorptive cinematic experience.
In Myers' song, bad TV is both literal and metaphorical, as a symptom of her depression and a part of her lived reality. To her credit, "Bad TV" makes for some great music: This is the kind of song that promises to lift us up out of our own malaise. It may have been born out of her worst moments, but Myers' new song is a full-on fervor and we wouldn't have it any other way.
:: "blood on the floor" – kuiper ::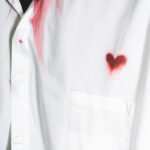 It's a one-in-a-billion chance that I stumble on a song from TikTok that has me counting down days until the release date, but kuiper's latest single, "blood on the floor," defied the odds. A fifteen-second snippet on my For You Page had me waiting on Spotify until the song's release this morning, and just after a few listens, it's safe to say that it'll be stuck in my head for a long while.
Korean-Canadian singer-songwriter kuiper proves that less is more with the melody and production of "blood on the floor." With lo-fi beats, sparkly synths, and minimally, but intricately layered vocals, kuiper cleverly fuses pensive lyrics with sunny tones and buoyant melodies. "They'll be blood on the floor / Our memories are wanted knocking on my door / Regret and cigarettes keep burning up my core / Will you come running for more? / What are you trying to implore?" he questions, a gloomy lilt on his voice. But, despite the nostalgic melancholia of the lyrics, the track remains upbeat and feelgood, full of energy, fervour and life.
An impressive showcase of his ever-evolving sound, kuiper proves his musical agility through the creation of "blood on the floor." A bona fide earworm with equal parts sunshine and rain, the song is perfect company for the transition from spring to summer.
:: "Gunslinger" – M. Byrd ::
German-based artist M. Byrd has been releasing a slew of singles this year in the lead up to his album, The Seed. The latest addition is the new track, "Gunslinger" seeing the artist imagining himself on the frontline of a war, after seeing a pop-up ad asking people to go and fight for Ukraine. M. Byrd shares, "One day, I was on the internet and stumbled on a pop-up. It said 'You can go to a Ukrainian embassy in Berlin and be at war in a few days to fight.' I had been imagining guys and girls my age signing up, getting a weapon in their hands, and fighting away. It drove me crazy. I couldn't imagine this was happening."
The emotional track packs a punch, as the thought-provoking lyrics transport you to a world which most of us are lucky to never have to experience for ourselves. The raw guitar perfectly captures this emotion, reflecting the gut-wrenching feeling. "Gunslinger" is both poignant and stirring, as it makes us look inwards on our own lives and be grateful for what we have.
:: "Tempest" – The Broken Islands ::
Canada is one of my favorite countries in the world, but so far I've only been able to develop that impression by visiting two of the ten provinces there. If one day I ever make it to some of the other eight, I trust my favorable perspective on the Great White North will only be enhanced. Something that definitely gives me confidence in that much is the awesome new song "Tempest" by the Broken Islands, who hail from the yet-unvisited-by-me city of Vancouver, British Columbia. If the rest of the cultural scene on the left side of the Canadian map is as cool as this, then I'll definitely have a promising visit in store for me once that day finally comes.
"Tempest," an excerpt from the group's upcoming third album, boasts a style the group describes as a "raw and driven post-punk-meets-shoegaze aesthetic." Whatever that may be… it sure sounds impressive! Plus, lyrically this track describes the eerie feeling of "losing yourself, losing who you are as a person because all your focus is on someone else, for whatever reason. You crawl into them. They become you. You wrap your whole life around them, give them all your energy, heal them, love them, then you wake up one day and realize you never reciprocated anything back from them… The sun sets, and a new day comes, and nothing changes."
That thematic material might all seem daunting, but the ethereal soundscape it's built upon makes it readily consumable. Plus, adding a visually majestic music video to the mix helps out considerably. The Islands may be "Broken," but their creative output here is remarkably cohesive.
:: "Euphoria" – Stalking Gia ::
Alt-pop artist Stalking Gia's single "Euphoria" is aptly titled, as it is wholly wistful and euphoric. Her warm, falsetto and lush landscapes create the ultimate relaxing listen. The piece focuses on the desire to obtain a profound connection that goes beyond just everyday repetitiveness. She delicately sings, "I'm afraid that we'll fade away with the sky." It is stunning lines like that, which illustrate a common fear of losing a bond you worked so hard to build.
Stalking Gia is a captivating singer-songwriter hailing from NYC. She is widely known on social media apps like TikTok for her hit "saddest happy girl." The melancholic track is a clever play on the popular nursery rhyme "Oh My Darling Clementine." This new release has that same bittersweet sentiment.
:: "xx" – Deni ::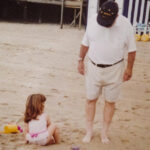 I've long had an affinity for (Atwood artist to watch and Editor's Pick) The Western Den's music – the Boston duo "make the kind of intimate alt-folk music that tears even the strongest soul to pieces," I wrote back in 2019 – and so it comes as no surprise that I would fall headfirst for singer/songwriter Deni Hlavinka's solo project as well. Introduced in 2021 and slowly teased out over the past two years, Deni makes indie pop music with (surprise, surprise) an intimate twist: Songs like "Missed Call" and "New Year's Eve" are exceptionally vulnerable and visceral pieces of music, blending catchy melody with cathartic, poetic inner reckonings. Deni's latest single, her fifth release overall and first of 2023, is no exception: A reflection on life, identity, biology, and time, "xx" is a hauntingly beautiful moment of unfiltered and uncompromising humanity brought to life in song.
Your daughter's daughter
Named after your lover
I am a nomenclature once original
You look like a giant in your finest beach attire
They say I have her eyes… do I?
"I wrote this song after finding a picture of my grandfather and me long ago on a beach in Delaware," Hlavinka tells Atwood Magazine. "I'm named after his wife, my grandmother – and as I've gotten older I started to resemble her more and more. Not only in appearance but in personality. I feel the same way about my resemblance to my own mother."
"'xx' – a reference to the x chromosome – is an exploration of how connected everything is and what passes on between generations, even when I feel like I'm attached to nothing and no one. Even when I crave radical defiance and independence. Maybe that's a genetic trait, too. My loud laugh. My aversion to large groups. My eye color. My use of humor as a coping mechanism. I find it all so eerie, really. Eerie. Powerful. Healing. An exhale of inevitability. A curiosity of my individualism. What is mine alone? What has carried through?"
Duplicated chromosomes
Oh, how peculiar
Reincarnate, cyclical
I'm starting to see double
I'm starting to see
This tug-of-war between nature and nurture manifests itself in a soul-stirring performance delivered through hushed singing and smoldering synthesizers. A slow-burner if ever there was one, "xx" provokes us to join Deni in contemplating who we are at our core; how much of us is the result of our parents and grandparents, and all those who came before? Are we just a slices of someone else, recycled into fresh strands of DNA? Is our agency really ours and ours alone?
It's spooky to think about ourselves as a product of the past, but that's the truth. Whether (and how) we live our lives with that in mind is another question entirely, but there's no mistaking that each and every single of us stands on the shoulders of all the generations who came before us. Deni's "xx" just brings it out to the forefront of our minds so we can see our heritage – and indeed, our birthright – a little more clearly.
:: "Everything Is Nothing" – Eric Dash ::
We've all got something that brings that spark of life to our eyes. For many of us, a spouse or partner comes to mind – the light of our lives, we like to say. For others, life is driven by a passion like art, dance, or music. You can't always explain the why of it all, but the experience of performance (or creation) fulfills you like nothing else can in this world. Released May 19th, Eric Dash's latest single is an homage to those passions and the people who make it all worthwhile; after all, nothing we do is really complete if we don't have others around us to share it with. In that way, "Everything Is Nothing" reminds us that deep down, it really is the people in our lives who fill every moment with meaning and make each second so special.
I've been here before so many times
It makes me feel like I am living a lie
When everyone is gone I can barely breathe
It's something that I did,|
cause I just want to be free, I couldn't see
That everything is nothing without you
And I don't know where I am going to
I'm not old but I'm not young
and maybe I was born to run
But everything is nothing without you
For Dash, this song – the second single off his new album, set to release this August – is an especially important piece of his journey as an artist. "I started making music when I was 8," he explains. "I recorded my first EP at 13 entirely with a PC mic from Staples on Cakewalk. I've been making music ever since and never thought for one second that I would run into a difficult time. I didn't know what that was. I couldn't comprehend it. I left my family and friends on the East Coast in pursuit of a dream that I thought was a certainty but the further you go along, the more you endure, the more realistic and practical you become. "Everything Is Nothing" is a real look at life, the decisions and sacrifices I made, and the overwhelming knowing that even if I achieve everything I ever wanted, it's nothing without my loved ones to share it with."
"This album is also about trying to make something that I love from the past come back in a modern way. I'm super grateful for this album, the entire experience, and everyone in my corner, but when you're making music that isn't pop you run into a lot of issues and obstacles today. But I hope that people see all of the heart in this album and it's just the beginning of a wonderful career."
No matter where we are, no matter what we're doing, our days are better spent knowing that we're not alone. "Everything Is Nothing" is a tribute to those who come along for the ride – the family, friends, and everyone else who joins us on our life's journey.
— — — —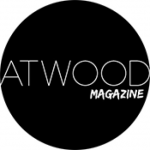 :: Weekly Roundup ::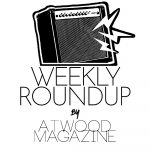 ---
:: This Week's Features ::
---