Every Friday, Atwood Magazine's staff share what they've been listening to that week – a song, an album, an artist – whatever's been having an impact on them, in the moment.
This week's weekly roundup features music by Hozier, The Americans, Chance Peña, Charli XCX, Cayo Coco, Gold Lake, Ethan Tasch, Party Nails, Small Words, Mitch Rowland, City Ghost, Gabzy, PEARL, LUNA AURA, and Mint Fatigues!
•• •• •• ••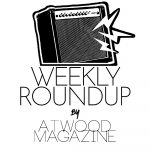 :: "De Selby Pt. 2" – Hozier ::
I had the immense privilege of witnessing the debut of this song during a recent Hozier live show in Italy. With a beautiful lake view and 1,500 people in religious silence, "De Selby Pt. 2," along with "De Selby Pt. 1" resonated throughout Gardone Riviera in all its magnificent glory. It is a piece that explores darkness, mainly. The darkness in your soul, the darkness within a romantic relationship. The song is about total devotion to the person you love, being willing to do anything for them – even blocking out the sun – at any cost, even that of finding your soul consumed and pitch black.
I wanna run against the world that's turnin'
I'd move so fast that I'd outpace the dawn
I wanna be gone
I wanna run so far, I'd beat the mornin'
Before the dawn has come, I'd block the sun
If you want it done
The chorus is sung with desperate, energetic yearning, as if the sole purpose of the narrator's existence was to fulfill the wishes of their special someone. Listening to this song live was a transcendental experience, I would dare to say it. Hozier is definitely an artist to see at least once in a lifetime, especially given the masterpieces coming out of the upcoming album Unreal Unearth.
:: "When You Get Back" – The Americans ::
There's an undeniable pain in Patrick Ferris' voice as he begins to sing his band's new song. It's the pain of heartache; of insurmountable loss, and of yearning. But alongside that pain lie the glimmers of hope, expressed through a soft and caring tenderness. Charming and churning, The Americans' "When You Get Back" aches with a feverish folk rock passion as the band roar their way through a cathartic and captivating slow burn.
The world belongs around you
That's something to belong to
You've got something missing in me
You left the life of virtue
To them that might deserve you
And drifted out to sea
You left your home in haste
How I longed to keep you safe
And lately I don't mind the mixed company
Lately I don't mind, cause you promised me
You'd call me when you get back
And we'll leave it at that
A highlight taken off The Americans' brand new EP Strays (out today via Incandescent Records), "When You Get Back" is an emotive, cinematic eruption from the depths of a weary heart and forlorn soul. The latest record from the trio of Patrick Ferris (vocals/guitar), Zac Sokolow (guitar), and Jake Faulkner (bass) finds them at the height of their musicianship, delivering catchy and soulful anthems and odes that quiver and quake with a powerful, profound intensity.
Its lead single is especially visceral: "'When You Get Back' is about a loved one gone astray, and a willingness to wait ceaselessly for their return," Ferris explains.
Time's allied most seldom
With those in need of helping
So much love I never will set free
Letter after letter
I felt you knew me better
So I listened when you said to let it be
Twist your hair, and I'll call it mine
Wear me thin as a lucky dime
And lately I don't mind when I hear about
Lately I don't mind who you bring around
A gentle, radiant tempest, "When You Get Back" is a heart-wrenching and smoldering seduction: The kind of song that makes us instantly fall in love with a band we can't wait to dive deeper into headfirst.
::  Lovers to Strangers EP – Chance Peña ::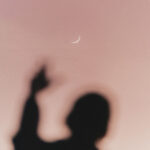 Chance Peña released his EP Lovers to Strangers on July 14, 2023. The four songs highlight the feeling of love becoming complete and utter heartache when it ends. But unlike other heartbreak songs, Peña's low voice echoes in an understanding and beautiful way. It makes the heartache feel bearable. It touches upon the thought of knowing heartache is a mutual experience everyone goes through, as hard as it may be to process in the moment, it will get better within time.
Each song dives into a possible moment or thought someone may have during the healing process. For example, in the song "Long Lost Lover" he sings, "Swear her love was like a habit/ I'm thankful that I had it/ It was damn good while it lasted," shedding light on the good times instead of the bad but still feeling devastated over it having to end. Something almost everyone who has gone through a split could understand. But out of all four tracks, "Breakup Song," brings forth that mutual understanding the most. It reminds people that heartbreak makes you who you are, it teaches you lessons and although it may not work out with a specific person, one day your love will be better spent.
Sister I can't tell you this won't happen again
Oh all the pain your feeling well it is what is
It's rough but don't you let turn you away from love
They were wrong for leaving but remember that you're enough
Peña is currently doing shows with "Daylight" singer David Kushner. You can listen to the Lovers to Strangers EP now!
:: "Speed Drive" – Charli XCX ::
It's one of the most anticipated movies of the summer — or the whole year. Of all the singles released from Barbie, this is a personal favorite. It's equal parts stupid and brilliant in a way only Charli XCX can capture.
In fact, this artist is known for her car-inspired hyperpop hits (i.e. "Vroom Vroom," "Porshe,") and even posing on top of a wrecked car for Crash. "Speed Drive" is appropriately used during a car chase for Greta Gerwig's 2023 film — and samples Robyn's "Cobrastyle" and features similar lyrics to "Hey Mickey" by Toni Basil.
"Ah-ah, Barbie, you're so fine, you're so fine you blow my mind," Charli XCX sings in the chorus. "Jump into the driver's seat and put it into speed drive / Hot, ridin' through the streets, on a different frequency / Know you know just what I mean, we're runnin' through the red lights."
It's no "Party 4 u" or "Visions," but "Speed Drive" has been on repeat since its Spotify debut, making us even more excited for Barbie. Let's go party!
:: "Gently, Dreamer" – Cayo Coco  ::
Cayo Coco sets his mind free in his new single "Gently, Dreamer." Reminding listeners of the importance of not allowing ourselves to become consumed by our thoughts, the artist shows the benefits of letting go and healing from past trauma. Cayo Coco is the project of Indiana born, Los Angeles based Lumen Loraine, who after a period of deep inner-exploration has produced a plethora of songs that see him looking inwards.
He shares, "I experienced multiple life changing soul connections over the last 3 years. Each of them shined an awareness into the depths of my being, and I saw many things I had been avoiding in myself. A lot of my songs are about the magic that meeting those people unlocked within me. This music is for them, myself, and anyone else who is healing and is on the path."
"Gently, Dreamer" features fast-paced percussion, layered vocals, grungy guitars and haunting synths. A weird and wonderful mix of sounds and textures, the track is an interesting listening experience, with surprises around every corner. The artist performed every song on the track, allowing him to take complete control over the result and making it uniquely his own. As the first single to be released from his upcoming album, we're looking forward to seeing what other thought-provoking and insightful messages he has to offer us.
:: "Hidden Lovers" – Gold Lake ::
Gold Lake's latest single comes to life with a heavy, intoxicating allure: Glistening guitars and soul-stirring vocals coalesce in a rush of raw fervor as the Brooklyn-based duo of Carlos Del Amo and Lua Rios deliver a story of unseen intimacy – a tale of "Hidden Lovers," connected to each other, away and apart from the rest of the world.
You were twenty-two
A lover and a muse
And on that very night
I became your parasite
Oh, mother don't you know
He's a shooting star
Oh, father I'd be lost
With a feeble heart
N'I remember when they said
They'd break into your head
Nobody'd ever seen
Right inside a dream
Released July 12, "Hidden Lovers" is the lead single off Weightless, Gold Lake's upcoming sophomore LP and their first album in nine years (out October 20). Co-produced by Aaron Dessner of the National and Chris Taylor of Grizzly Bear, the new record promises to ache with all the passion, the feeling, and the fervor we first witnessed on the band's 2014 introduction; nearly a decade later, they sound more mature and more sure of themselves and their sound, but the foundation is largely the same: Dreamy indie pop; a blend of the cathartic and catchy; a desire to move souls and bodies all at once.
"When we wrote this song, the words from the chorus sort of emerged from the mumble track, and we loved the image of lovers hiding within songs, intertwining with the melodies and the words," Gold Lake explain. "The '50s, Roy Orbison vibe of 'Hidden Lovers' is a perfect concealment for lovers trying to live their life hidden away from life itself. But the constant drive, the pulse-like guitar mirrors the desire we ultimately find within us to push forward and persevere, despite life's hurdles. Above all, this is a song about the desire to move forward, love, and the peaceful knowledge that you are in this life with the other person."
"Hidden Lovers" is a tender tempest: Vivid, visceral, and utterly, unapologetically enchanting. Gold Lake's return is something to be celebrated and cherished by all – not in secret, like the lovers in their song. Get lost in the sweet tint of radiant romance.
:: "Love and Japan" – Ethan Tasch ::
My siblings have helped to push Japan to the front of my mind this month. First, I bike with my brother out to the Chicago Botanic Garden, and we tour (among many other fine spots there) the Japanese Garden, filled with black pines, gold ginkgos, and a few of those iconic pagodas and arched bridges. Then, my sister heads off to Tokyo with her friends and texts me updates about how she is currently hiking Mt. Fuji and planning to wake up at 2 a.m. tomorrow morning so as to make it to the summit by sunrise. Incredible!
Given all that my bro and sis have done to get Japan to dominate my thoughts as of late, I definitely was in the right mindset to check out a song like "Love and Japan" by Ethan Tasch. The lyrics mainly recount a Lost in Translation-type experience of trying to navigate Japan as a foreigner, with middling results ("Let's just order in some sushi… I'll put sumo on the TV… I don't speak the language well…" and so on). He's there to visit his romantic interest, but then he'll head back to Los Angeles, meaning that his thoughts are dwelling thousands of miles away the whole while. "I close my eyes a lot, tryn' to find a way back to you," he says as he wonders one of the largest and most opportunistic urban regions of the world.
Is he missing out on the chance to fully profit from his trip abroad by allowing himself to be taken over by such a state of mind? Up for debate, but it definitely makes for an appealing thematic concept, made more so by the mixture of violins and guitars, as well as the Vlog-style music video shot on location across Tokyo as Tasch checks out the lay of the land. He shows a lot of early promise as both a singer and instrumentalist, and hopefully more of that will be manifested further when his debut album Got Him! arrives at the end of the month.
:: "Someway Somehow" – Party Nails ::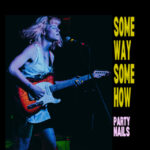 Love never truly dies, does it?
At least, that's what Party Nails tells us in her newest single, "Someway Somehow," released today (July 19). Within the span of three-and-a-half dreamy minutes, the musician ruminates on the notion of undying affection. The love in question is one so strong that it transcends time and place. Even heartbreak is no match against the magnitude of these feelings.
"Cause I will always want you / Always love / And hold you / Someway / Someway somehow," Party Nails sings as mellow ambience gives way to thunderous, rip-roaring guitars. With instrumentals that deftly purvey the strength of overwhelming emotion, she continues on to confess, "If you really wanted to, you could leave me, leave me blue."
"This song feels like something I found — like it always existed," Party Nails shares. "Like I was on a walk and found it under a rock, as if it were a fossil waiting to be found. It's about the complete, full, forever love you feel for your partner, your parent, your child, your friend; humanity. The deep knowing that you will never, ever stop, in spite of all obstacles."
If one thing is certain, it's that our love for Party Nails is boundless. This track might as well be an ode to our enthusiasm about her artistry, and all of the amazing things we have to look forward to when it comes to what this mesmerizing musician has planned!
:: "Candy Colored Daydream" – LUNA AURA ::
Sonically and emotionally charged, LUNA AURA's latest single is an unapologetic and unrelenting statement of intent. Feverish, searing and soaring indie rock erupts from turbulent depths as the all-caps "CANDY COLORED DAYDREAM" roars to life with dynamic intent and pure, raw passion. It's dramatic; it's electric; and it's intoxicating.
Smooth sweet talking
The cool kids walking
The world comes knockin'
and it's passing me by
Oh so vapid
I got a bad habit
Of coming off rabid
And I don't even try
The highs, the lows
The fast, the slow
It's plucking at my feathers
I just wanna let it go
"'CANDY COLORED DAYDREAM' is about my relationship with magic mushrooms, and how they've given me the confidence and courage to be authentically myself in a world full of actors," LUNA AURA tells Atwood Magazine. "It was inspired by my experiences as a developing young artist in Los Angeles, and how I've lost myself in the process of chasing a dream. I found an escape from all the noise that allowed me to turn inward and find the peace and clarity I had been looking for most of my life."
Released July 13, 2023, "CANDY COLORED DAYDREAM" is the third single taken off LUNA AURA's forthcoming third EP, THE FICTION (out Fall 2023). The LA-via-Phoenix artist roused our ears with "MONEY BAG" and delivered cinematic, angsty singalong with "LOST IN THE FICTION," and now she's delivered another heated explosion of intense fervor. Her chorus is a particularly empowering moment of cool, inspiring self-confidence:
Comin' up, head in the clouds
I'm a God, I think I figured it out
And nothing's gonna phase me
In my candy-colored daydream
This is the music of an artist fully in tune with herself. Whether you're adding to your running playlist or in need of a favorite new jam, "CANDY COLORED DAYDREAM" promises to delight and ignite all the senses.
:: "Come June" – Mitch Rowland ::
From working as a dishwasher in a pizza shop to now winning Grammys, playing in massive stadiums while working closely with one of the finest artists creating today, who he gets to call his friend- Harry Styles, Mitch Rowland is a man of incredible talent and intrigue. It comes as no surprise that Rowland's debut single, "Come June" might just be one of the most genuine works of art to be produced in the modern day.
"Come June" explores the soft side of both reality and music as it throws listeners straight into a time machine and sends them to the famed Laurel Canyon during the reign of Joni Mitchell and Crosby, Stills, Nash, and Young. It's the type of music that paints the moment of time it fills in shades of pale yellow and cornflower blue. You listen and instantly feel at peace, it's as familiar as songs like "Sunny Side of Heaven" by Fleetwood Mac, "Moonlight on the River" by Mac DeMarco, or "Sky Blue Sky" by Wilco, while still existing as its own fresh voice.
With bright chords, soothing vocals, ethereal organs, and lyrics that make the heart ache for companionship, this tune is a gorgeous vignette of a simplicity that only comes from a natural and pure love
I'm a little on the run
I'm a little bit bored
Hide in the middle of the universe
Where the hills are steep and the complication's low
Lately I get all my news from you
Let's get in the car and see how far
We need to go from here
Every lull and bit of this little song hints at an overall knowledge and respect of heritage and nostalgia, but reinvented to be perfectly Mitch Rowland.
All this to say, "Come June" is a delightful method of escapism for any listener in search of a sickeningly sweet auditory experience. It also serves as a sure indicator that Rowland's debut album, to be released October 6th, is destined to be just as authentically beautiful and captivating.
:: "Good News"- City Ghost ::
Anyone that goes through mental health struggles knows just how taxing it can be. At times it can feel as if there is no respite and the pain is never ending. Indie-alt outfit City Ghost's ethereal new single "Good News" focuses on the complex battle with mental health and the longing to find better days. With fuzzy rock arrangements and light yet piercing vocals the listener is instantly hooked. The single is off of their EP Cause and Effect. The aching 5-track body of work details grappling with depression and anxiety and finding the power to heal.
Salt Lake City natives City Ghost was formed in 2018 by vocalist and musician O'Neill and guitarist Mascarenas. Eventually they rounded out the group with Sam Richards (guitar), Chase Griffis (bass), and Ken Vallejos (drums). The band possesses bold sonics of gritty guitars, pounding drums and penetrating pop melodies. Their authenticity shines in each release inspiring others to let out their most intimate emotions.
:: "Hear Me Out" – Gabzy ::
My parents are getting ready to move to London for the year (they had their going-away party this week and everything). That means that I'll probably get a chance to go visit them and thus return to that city for the first time since I was 14 years old in 2006. It also probably means that I should better become acquainted with the current music scene in England– it's surely come a long way since the last time I was there, when "You're Beautiful" and "Unwritten" were among the country's top hits of the moment.
One song that's helped me to fulfill that objective is "Hear Me Out" by Gatzby, a singer of Nigerian heritage who now resides in Southeast London, where a considerable African community exists. He's had a busy July, having performed at the Somerset House concert series last week; plus, his most recent single, the soothing R&B slow jam "Hear Me Out," just came out on the 10th. Over mellow guitar strings cooked up by Bad Bunny collaborator Dera, Gatzby recounts his efforts at trying to patch up a wounded relationship ("We can work this out… girl, just hear me out").
It's a situation many can relate to– Gatzby himself among them. "It speaks for everyone that's been in a relationship that hasn't necessarily worked," he says of "Hear Me Out," whose lyrics focus specifically on "that turning point where it feels like everything is just going wrong." Gatzby is confident he can resolve this dilemma, though– and putting this song out may just be the way to do so. "I'm trying to prove to my girl that I'm a changed person, but as they say, 'your past always catches up with you'," he confides. "For the listeners, I want them to feel like they're in the middle of our intense argument, and it's like, 'Woah, this could really be it'…."
:: Where I Go – PEARL ::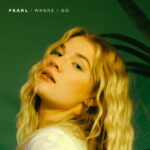 PEARL invites listeners into her luscious green sanctuary with her new EP, Where I Go. Creating a world where people can lose themselves in her silky vocals, oscillating synths and gentle percussion, listening to this EP is certain to wash away your worries. The four-track release narrates acceptance, and the journey of recognizing emotions, processing them and ultimately moving on, whilst trying to keep positive. The British songwriter shares, Writing these songs was a really reflective process, I would look back at a memory, make sense of it, and plot a path through. It was really cathartic."
Reminiscent of the likes of Sylvan Esso, BANKS and Maggie Rogers, PEARL's music is truly hypnotic as she crafts a magical place, inspired by her love of all things verdant. Organic and celestial, Where I Go is the ultimate destination for when you need to unwind and switch off.
:: "Talk" – Small Words ::
For a band called Small Words, their latest single is quite the big statement – though to be fair, it is a four-letter noun. Released June 23, "Talk" is a blush of dreamy indie pop perfect for evening grooves and nighttime moves: Radiant vocals and glistening guitars create a contemplative mood as the Indianapolis four-piece use their instruments to paint a scene of charged emotions and wavering energies. "I've been having nightmares that I'm not quite like myself," vocalist Nick Long sings at the start, his voice heavy as he begins his four-minute confessional. "Seeing other people through the lens of someone else." He goes on to set the groundwork for a tear-streaked goodbye:
I think I need more
You need a bit less
There's something you have
To get off your chest
Time can lay waste
To everything overnight
For Small Words, this song captures "weight of unspoken emotions" – that push and pull between living authentically and honestly, whilst trying to maintain a harmonious connection with your special someone. Sometimes harmonies fall out of place, and the discord chews you up inside.
"[It's] a heartfelt exploration of the challenges that come with expressing one's emotions and feelings within a relationship," guitarist and bassist Aaron Lindauer explains. "The song delves into the delicate balance between wanting to maintain a harmonious connection with someone while also grappling with the weight of unspoken emotions. "Talk" invites listeners to reflect on their own experiences of communication within relationships and the complex emotions that arise when faced with the vulnerability of sharing difficult truths. It serves as a reminder that open and honest communication, though challenging, is an essential component of fostering deeper connections and growth."
Yeah, but
We don't have to talk about it, no
I don't want to think about it
We don't need to wonder if it's good
Yeah, no
We don't have to talk about it, no
I don't want to think about it
We don't need to wonder if it's good
Their first single of the year and their first follow-up after November 2022's debut LP Violent Absence of Love, "Talk" is a phenomenal show of musical and emotional acuity from Small Words. It's unapologetically raw and powerfully human: A song that hits almost too close to home, capturing something familiar and painful for all. Yet there's something soothing in feeling seen and heard in this way; in knowing we're not alone in our experiences, and recognizing our individual pain as part of the collective experience.
It's all ever-changing
I'm losing sight of what this was
If you want to get back together
Our excuse can be "just because"
When you think you need more
I'll need a bit less
There's something I have to get off my chest
Time will infect
The memories I've yet to lose
I'm losing you
Relationships ebbs and flow like waves, and "Talk," for its part, explores that part where we journey through life's stormy seas. Brooding and beautiful all at once, this song hurts in the very best of ways.
:: "Pastime" – Mint Fatigues ::
Mint Fatigues' first song in three years is an inescapable enchantment: Hushed vocals and lush guitars dazzle the ears with charming warmth as "Pastime" rushes to life, visceral and invigorating, tastefully tender and ever-so-slightly raw at the same time. It's a wondrous song of reflection and reckoning, of love in a downward spiral, of innocence lost and broken hearts.
Step up to the plate, I wanna
Try to get on base, but you gotta
take one to the face, oh baby
I love the way…
Released June 16 via Manor Records, "Pastime" is a welcome return from Missouri-based singer/songwriter Cole Simmons' indie pop project. Introduced to the world in 2020 via a slew of singles and a debut EP (First One), Mint Fatigues enjoyed a solid debut year before falling silent for a bit. His second go is at once soaring and spirited: A dusty, colorful rush of inner turbulence channeled through spellbinding songwriting and fiery music akin to bands like Hovvdy and TOLEDO (the latter of whom joined Simmons to help bring his latest song to life).
Simmons actually found inspiration through a friend: "A good buddy of mine was going through it with his partner," he explains. "I saw an often sung story of a couple loving each other but forcing a relationship that probably shouldn't be. To me the story is a happy ending because those two wish nothing but the best for each other and found an opportunity to grow. I have a habit of finding the humor in things so combining a relatable story with a sort of lighthearted visual, comparing a game of baseball to a failing romance, seemed like a no-brainer at the time of writing."
"To me, producing and songwriting are just as fun, so I often get friends to play on my tracks and try to make new ones by asking people to collaborate. I am a huge fan of TOLEDO so getting Dan on board to play the rhythm section and mix the track with help from Jordan was a big honor."
"Pastime" aches, but it's ultimately uplifting: Through the fog of failed love, we see that life goes on, and people move forward. Mint Fatigues is doing the same, and we can't wait to see where he goes next.
— — — —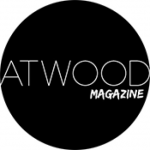 :: Weekly Roundup ::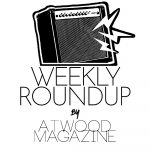 ---
:: This Week's Features ::
---