The 2010s are coming to a close, and with them ends an exciting era of musical innovation and societal transformation. The past ten years have seen the breakdown of genre, increased accessibility for content creators, and new modes of access for music consumers. Downloads bowed to streams in the West, and artists like Ariana Grande, Drake, and Taylor Swift rose to international superstardom – but this is just the tip of the iceberg of a busy, busy age; it seemed like the more connected we were, the more disconnected we felt. Music was a means of transcending distraction and hardship; a vessel of understanding that lent us stability for moments of stress and doubt.
How better to capture a decade in music than in the words of those who lived it and breathed it? Atwood Magazine is proud to present Our Favorite Albums of the Decade, in no particular order (you can jump directly to an artist by clicking their name above, and return to the top of the page by clicking any album art below). For ten weeks, our writers will be breaking down the music of the 2010s year by year. These are the records that shaped the people we are today: The music that carried us through pivotal milestones, the songs that together form the soundtracks to our lives. We have grown and changed, matured and evolved, but in this time of reflection, we can still feel the sense of wonder we felt as listeners pressing "play" for the very first time.
This week we celebrate 2019 in all its musical beauty: From Vampire Weekend's long-awaited Father of the Bride and Ariana Grande's overwhelmingly intimate thank u, next, to Hozier's soul-stirring Wasteland, Baby!, Billie Eilish's stunning, groundbreaking debut album, albums by Leif Vollebekk, King Princess, Jade Bird, Marika Hackman, Maggie Rogers, Taylor Swift, and many more.
Mitch Mosk, Editor-in-Chief
— —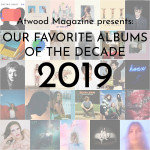 Our Favorite Albums of 2019
Hozier's return could not have come at a better time, or with a better message: A montage of life's hardships and music's uplifting warmth, Wasteland, Baby! is an intense, irresistible dive into the depths of human emotion and experience. It's music for celebrating love, togetherness, and connection; for dwelling in the beauty of life's majesty and mystery. It's also music of isolation, separation, loss, and defeat; for accepting and seeing through darkness and hardship. Hozier manages to find clarity and balance whilst embracing polar opposites – finding inspiration in music while paying homage to his influences and heritage.
Musically, Hozier has never sounded more sure of himself: Wasteland, Baby! expands upon the stirring blend of folk, blues, rock, R&B, and soul he established on his debut. The high moments are dynamic and explosive, sometimes built by guitar and big vocal harmonies, and other times built off strong keyboards and evocative choral chants. Such highs are offset by beautiful ballads and quieter, moody silences soaked in heavy feeling.
And we haven't even touched upon the individual songs: Album opener "Nina Cried Power" (featuring Mavis Staples) is an anthem of hope for bleak times. Catchily moving, "Almost (Sweet Music)" is a cleverly-titled track littered with references to some of Hozier's personal favorite jazz songs. In the outpouring "Shrike," there is submission to a higher cause and heartfelt surrender. In "To Noise Making (Sing)," there is that rush of warm, blissful euphoria we feel when we raise our voices and come together in song. Later on, Hozier stares down the end of days with a declaration of love in the sweetly lilting album closer "Wasteland, Baby!"
Wasteland, Baby! is a tempest: A glorious storm that will knock the wind out of us, and keep us coming back for more. The glorious power of this record is such that it captures the timelessness of music itself, and the amazing feeling we get when communities get together and share their love. Through Wasteland, Baby!, Hozier delivers a raw, inspired sermon on modern life that is as relevant today as it will be in ten years from now. – Mitch Mosk, New York
---
It is always a great thing when you see an artist come into their selves and become increasingly more comfortable and confident with their music and songwriting. This is exactly what happened to Marika Hackman with her third album Any Human Friend that she released via Sub Pop at the end of the summer. Compared to her previous two releases, Any Human Friend is a transparent, confident, joyous explosion that combines the best of pop, rock and synths into an album that explores every dimension of the human experience.
From the quiet "wanderlust" and "Any Human Friend", that bookend the record and carry you smoothly in and out of this fantastic listening experience, to the undeniably exciting "the one", "i'm not where you are", and "hand solo", Any Human Friend has Hackman producing her best work that feels closer to herself than ever before. It's an ode to women, queer love, female sexuality, heartbreak, to being alive.
The stories the album tell range from a punishing look at yourself after a breakup, to a sultry song about lesbian sex, an anthem for female masturbation, and a closing song about how we're all special and golden. Superficially, Any Human Friend is a fun and cheeky record about love and sexuality, but the more you listen to it and look deeper, the more it is an in-depth examination of the good and bad parts of being human.
Hackman has never shared so much of herself with the public, something that's reflected on both the directness of her lyrics and the album's cover art, which features Hackman – visually upfront and centre on an album cover for the first time – and the more she lets her in, the better she gets.
Self-loathing and self-love are served in equal amount, and are equally as compelling when told through Hackman's eyes.
Ultimately, Any Human Friend is an album you listen to and can't help but feel like a superhero when you do. It's powerful, iconic, addictive, and best of all, it's the work of an artist who has clearly never felt or been better. Marika Hackman is unstoppable, and Any Human Friend is just scraping the surface of what she's yet to achieve. – Nicole Almeida, Philadelphia 
---
Blood Cultures was a band that was introduced to me this year, and that alone makes 2019 an absolute standout for me. Their sound is something I've never heard before, and being able to dissect it further with a once in a lifetime opportunity to speak with them made my love for it grow. Their penchant for visceral electronic beats is something to be lauded, crafting intricate soundscapes that invigorate listeners with its infectious melodies. Their album, Oh Uncertainty! A Universe Despairs, was one the defied normal genre conventions and encapsulated a multitude of styles in its 40-minute run.
Each track possesses its own mood, its own theme, that aids in capturing listeners and sending them off into the worlds created by the group. Tracks like "Again, This Time In Color" are warm and vibrant, bringing with it a danceable melody that will elicit smiles as a result of listening. Then there are the raw tracks like "Glass." The intensity is apparent from the first seconds and it only grows from there. After the halfway point of the track, one would be hard-pressed not be left in a trance, one where their mind and body are now two. Blood Cultures excels at the abnormal, and their brand of mystery only strengthens their appeal, making Oh Uncertainty! A Universe Despairs an album to be praised. – Adrian Vargas, Seattle
---
Ariana Grande's 2018-2019 run is something that will be marked in music history forever. Not only did she release her highly anticipated studio album Sweetener in 2018, but she followed it up with the devastatingly beautiful, deeply personal thank u, next. thank u, next is the result of what music should be the result of – Grande had a heartbreaking few months, and she did what any true artist would do to cope with this heartbreak; she created.
She created and released an honestly pure, unfiltered album just mere months after her last album released because she wanted to and because she could. She didn't follow the industry standards or the rules of the game. She felt she created something whole. She captured her feelings in a new work of art, and she wanted the world to see it. She wasn't wrong. Thank u, Next broke industry standards. It shattered the rules and made it's own along the way. This is an album that will go down in history forever. – Kelly McCafferty, New Orleans
---
This isn't the first time I've sund Billie's praises and I highly doubt it'll be the last (for my latest "Team Billie" rant, check out Tunes & Tumblers ). But there's more than one good reason why the world has caught Eilish fever. In fact, there are fourteen. WHEN WE ALL FALL ASLEEP, WHERE DO WE GO? is one of the most striking, breathtaking debuts from a young artist since Lorde's Pure Heroine, and is perhaps the most scene-shifting since the Strokes' Is This It. From the first teasing laugh of studio voyeurism interlude "!!!" to the lingering breath of "goodbye," she makes a single, uninterrupted statement. She models herself as the anti-popstar, the "bad guy" palette cleanser from the saccharine brightness of Top 40. And if the stream counts are any indication, the world was eager for that change.
Eilish's subdued, almost begging whisper-singing didn't originate with her (shout out to Lorde, who seriously owes us her third album), but she makes that breathy croon sound utterly incomparable. On "when the party's over," she breaks apart with a pain far beyond her seventeen years. "8" and "wish you were gay" likewise ooze with a wounded vulnerability, but not without a playful wink.
It's when her teeth come out though that the album leaps from great to awe-inspiring. The BDSM snarl of megahit "bad guy" and pulsing paranoia of "bury of friend" inject some adrenaline into the seeping darkness. It's a horror film for the pop crowd, a gateway drug for the closeted emo kid. And it's pop cherry cola through and through, just not as you expect it.
If Eilish can not just hit the target, but obliterate the bullseye so early in her career, there's no telling what her future holds. Check back in with us in 2029. – Anthony Kozlowski, Los Angeles
---
After first releasing music in 2015, 2019 was the year that saw Kevin Garrett finally release his long-anticipated debut album. Given many artists' growing willingness to hinder the delicate creation of an album's narrative in order to pursue streaming success, Kevin Garrett's almost old-school approach proved to be remarkably refreshing.
The variation within the album feels born out of Garrett's desire to transport his prospective listeners through an emotional journey, rather than forcefully created to fit a multitude of different playlists. Like every great album, it's more than just a sum of its parts and Hoax saw Garrett delight his fans in almost an unexpectedly brilliant way; infusing every second of his debut with multi-faced emotion in a powerfully poignant way. – Luke Pettican, London
---
There's not a band that could make ruminations on despair sound more joyful, but PUP's Morbid Stuff is loaded with so much baggage, the only way it could be properly released is in these shouty singalongs. While we prepare for the anxiety of not only a new decade but an election year, the Canadian punks distill some of those shakes down with simplicity. Listen to "Scorpion Hill:"
If the world is gonna burn,
everyone should get a turn to light it up
Down and out, I've been on the rocks
I've been having some pretty dark thoughts
I like them a lot.
The band seamlessly transitions between hardcore like on "Full Blown Meltdown" to poking fun at their fears in "Kids." The band assaults you with fear in the most pleasant way.
Where Pup's earlier albums focused on similar emotions, the band hasn't been able to accurately flex the fuck-it-all suburban nihillism, while also capturing the fear that comes with it. "Sibling Rivalry" has the swagger of 70's hard rock, but the same "fuck off, you don't get it" quality that you get from screaming "You know how to piss me off/Don't test my patience." Still, few capture the real existential dread of just staying up late, thinking messed up thoughts that the title track does. Morbid Stuff is an album about railing against the mundanity of anxiety. Where so many great albums of the 2010's focused on anxiety, Pup felt like they were trying to saw the door off the cell that that anxiety created. – Jimmy Crowley, New York
---
Following the major success of her 2017 debut studio album, Hero, and her 2018 chart-topping collaboration with Zedd for "The Middle," it hasn't been a secret that Maren Morris, through her artistry and her music, has taken 2019 into her own hands. GIRL is the second studio album that Morris released this year, and is possibly one of the most important musical statements she has ever made.
GIRL explores everything from perseverance to finding yourself to being appreciative of the love that's in front of you to find out who your real friends are. The album's lead single, "GIRL," released in January 2018, has become an anthem for young girls and women everywhere. It's a powerful, reassuring, and fearless track that reminds it's listeners that, "Everything's gonna be okay." On top of using her platform to give women a voice, Morris has also partnered with fellow country artists Brandi Carlile, Amanda Shires, and Natalie Hemby to create a musical supergroup called The Highwomen – their self-titled album that was also released this year explores what it means to be a woman in today's world. It's exciting to see what Morris has up her sleeve for using her music to inspire change, brave thinking, and louder voices in music for this next decade. – Erica Garcia, Los Angeles
---
On
---
Releasing the band's first project in almost six years, indie pop/rock band Vampire Weekend's album Father Of The Bride is definitely worth the wait. Sonically vibrant and upbeat juxtaposed by heavy lyrics, the record dives into deep pensive themes of spiritual uncertainty, institutional corruption and the misery of failing relationships.
An undeniable album standout is their highly memorable single entitled "Harmony Hall." A nod to jam bands like The Grateful Dead, the simplistic yet passionate song features sparse vocals atop organic instrumentation. The track radiates with a joyful, feel-good sound, contrasted by dark lyrical dread. "Of Wicked Snakes inside a place you thought was dignified," it's a statement on how even the most stately of places can still be corrupt. Musically cheery and bright, 'This Life' is bursting with spirited guitars and infectious handclaps. Having been compared to Van Morrison's 'Brown Eyed Girl', the song explores religious and cosmic indecision. 'Unbearably White' is an art pop song that details a declining relationship. Showcasing soft melting vocals and jazz infused bass, this laidback track lulls you into relaxation. Collaborations on Father of The Bride include Danielle Haim, Steve Lacy and Mark Ronson among others. – Chloe Robinson, Los Angeles
---
Mikaela Straus can do no wrong: The artist known as King Princess is as graceful and elegant as ever on her debut album Cheap Queen, an intimate and exposed record for times of love, times of loss, and times of tension. Driven by its titular lead single and the passionate anthem "Hit the Back," Cheap Queen invites listeners to bask in deep rhythms and vibing indie pop melodies as King Princess addresses everything from love and desire to change and moving on, queer identity, being a bottom, and so much more.
At 20, New York-based Straus has worked hard at keeping her runaway success at arm's length from her music. Her songs are down-to-earth and reflective of a young person's life experience: Honest, dazzlingly vulnerable, and utterly provocative, she immerses listeners in heartfelt moments shared between two souls, and long nights out that seem to never end. The beautifully poignant "Ain't Together" is a perfect example of Straus' impressive maturity and artistic development – not to mention her sheer talent at crafting songs that bend and break our hearts.
Ever since she debuted last February with "1950," we've known King Princess to be a star among stars – but never could we have expected something as radiant as Cheap Queen. All hail our King Princess. – Mitch Mosk, New York
---
Maybe you can't judge a book by its cover, but looking at the cover of the new Taylor Swift album sure can tell you a lot. She's floating through a bright sky filled with puffy clouds lit up in bright, gorgeous pink, and a shiny heart is etched around her right eye— it's just about the farthest thing imaginable from the dreary, black-and-white, tabloid headline-covered face of hers that "graced" the cover of her previous album, reputation. Such a contrast emphasizes that Swift has entered a much more ebullient period of her life since 2017— the arrival of a handsome London bloke named Joe Alwyn certainly played a key role in such a transition— and that change for the better is illustrated well by the accompanying music.
Put on the Lover album and you will swiftly be absorbed by the rush of good cheer that is achieved by such smile-inducers as "Paper Rings," "The Man" and "London Boy." Sure, her British slang on the last of these tracks is cheesy, but it's also way too adorable to resist. Per Taylor Tradition, the album makes room for some more serious tracks, such as the thoughtful ballad to her sick mother, "Soon You'll Get Better," and the introspective "Cornelia Street." Far from feeling out of place, these songs have gone on to become some of the most critically-acclaimed pieces on Lover and grant the album some very crucial emotional weight. Seven albums in, Swift is still going strong, and Lover deserves to be ranked with 2019's finest releases in every respect. – Josh Weiner, Washington, DC
---
Following their 2017 debut About U, MUNA came back both softer and stronger in 2019 with Saves The World. The Los Angeles trio amassed a cult following for their smart, vulnerable lyricism as well as their catchy hooks and 80's inspired, dark pop sound. MUNA channel a cinematic, storytelling energy into Saves The World, most evident on the shimmery "Navy Blue" and melancholy, country-esque "Taken". But the most prominent theme on MUNA's sophomore LP is the trio's startling ability to communicate raw and complex, extremely personal emotions.
Throughout Saves The World, we see more of MUNA's collective psyche and more of their hearts, too. The band has been open about this record being extremely personal to them, particularly for lead vocalist and songwriter, Katie Gavin. The album was made for cathartic purposes and it serves the same one for its listeners. From the heart wrenching realizations on "Who" to the unabashed self love on "Number One Fan," Saves The World is a lesson in emotions to be both cherished and relished. It's an album to dance, cry, contemplate and rebuild with, but most of all, it's a reminder that each of us is worth saving. – Alex Killian, San Francisco
---
In an industry that tends to glamorise life, in turn leaving out all the gory details, Rex Orange County (born Alex O'Connor) takes a refreshingly personal and honest no holds barred approach. The emotional maturity that the 21-year-old demonstrates in Pony is enviable — even if he would disagree. Despite the dazzling success of his second album, Apricot Princess, O'Connor has recently encountered some testing times. For that reason, his third record is wiser than one would expect from such a youthful creator: it plays with mindful concepts and is extremely intelligently written.
The first single from the record, "10/10", combines upbeat drums, thin synths and robotic vocals with raw emotions about Rex's mental health. Akin to the rest of the record, "10/10" is unapologetically sincere and quietly hopeful, which makes for easy and eager listening. "Never Had The Balls" is another outstanding offering from Pony. Potentially one of the most optimistic and encouraging songs on the album, both musically and lyrically, "Never Had The Balls" expresses the benefits of being honest with your feelings. A chirping bird song and lively riffs are perfect additions to this motivational track. Despite perfectly delivering its sentiment, Pony is authentic and unpolished, just the way its writer intended. This record adds a new captivating depth to Rex's artistry and proves that honesty truly is a virtue. – Bethan Harper, London
---
A now Grammy nominated album, Lana Del Rey shines her brightest on Norman Fucking Rockwell!. Drawing influences from surf culture and the West coast (to name a few), comes a beautifully executed album with both odes and criticisms of America. Del Rey slyly shades shitty poets who blame their mediocrity on the news and other people in the album's title track 'Norman fucking Rockwell.'  She name checks the Beach Boys and their song 'Kokomo' on 'The greatest' and covered Sublime's 'Doin' Time.' It's a purely cohesive record that flexes some of Del Rey's best lyricism yet.
The peak of NFR lies in 'California,' a song that encapsulates everything the LP is in five minutes. The verses provide a sense of comfort, while the chorus is reminiscent of a bunch of rock-n-rollers having one last party before they part ways with each other. "If you come back to California, you should just hit me up," sings Del Rey on the last lines. One thing is for sure, Jack Antonoff and Del Rey should produce together more often, because this is pure gold. – Lexi Lane, New York
---
Nilüfer Yanya's Miss Universe is a compelling concept record. Running through Yanya's punchy debut album is the faceless faux-care of a healthcare helpline, WWAY Health, a wry creation that provides levity as well as structure. Sustaining any concept throughout the length of an album is a task which can either succeed at the cost of less narrative tracks, or be too vaguely delivered, meaning the project's thread becomes tangled. Yet, Yanya reaps the benefits of her daring, and then some; slightly Kafka-esque interludes are tackled head-on, carrying the listener into the parallel world she creates. Importantly, the placing of these snippets within Miss Universe is executed with care. For example, 'Experience', slipped in between the raucous 'Angels' and the slow-build 'Paradise', allows us to catch our breath amidst enthralling electric guitars and breathy, bold vocals.
Indeed, the atmosphere Yanya cultivates on Miss Universe is not only born of the narrative, but also owes much to the musical echoes and pulses underpinning the record. Not every track nods explicitly to WWAY Health, yet Miss Universe has an unmistakable sound, powered by Yanya's voice, which jumps in captivating fashion between the low and almost conversational, to higher, melodic reaches. Whether used sparingly or with a climactic and distorted thrash, the electric guitars dance tantalisingly around the vocals, and brilliantly leave room for bleeding saxophones. Funk and jazz tones are coupled smartly with Yanya's sincere lyrics, meaning Miss Universe is both playful and earnest. The result is an infectious and unforgettable indie-pop debut, one of 2019's most original releases. – Tim Horwood, Birmingham, UK
---
Since their sophomore album Plural in 2017, LA-based duo Electric Guest has remained relatively quiet and enigmatic about any new music. Then, a few months ago, they slowly began releasing new single after new single, reestablishing themselves in the musical ether. This then all, finally, culminated into the full-length effort of KIN, which not only solidified Electric Guest's existing musical prowess, but further extended their abilities into new and exciting territories for listeners to absorb and enjoy.
KIN, versus Electric Guest's 2017 sophomore effort Plural, ostensibly tackles much broader themes than its predecessor, focusing more heavily on ubiquity rather than putting the energy of the album onto a specific person or thing. KIN more naturally enjoys itself, utilizing effortless pop sensibility to properly express its full range of thoughts and feelings throughout its 11 tracks. Through KIN, Electric Guest are able to fully be themselves without reservation, and this is fully exhibited throughout the album as each song bounces from feeling to feeling. KIN showcases life and love in its rawest forms, allowing listeners to attach themselves however they see fit.
Electric Guest have seemingly curated a brand for themselves that is not quite purely one genre, yet not quite anything overtly wide-ranged, but whatever it is is nonetheless intriguing and engrossing. Throughout the years, they have utilized their sonic enchantment to their absolute benefit, and KIN only further proves this. From the endearingly sentimental "24/7" to the overtly judgmental "Basic," KIN never focuses on positive or negative traits, but rather expresses itself through raw emotion, whatever that might be. Throughout KIN, and throughout their entire career, Electric Guest have manifested a reality for themselves that never feels wholly definitive; never achieving true closure, rather, opening up a variety of doors and possibilities for what might happen. KIN simultaneously includes and excludes all of the best and worst parts of being oneself, never truly acknowledging which part is better or worse than the other. – Maggie McHale, Philadelphia
Out of the lo-fi bedroom pop aesthetics that brought us hits like "Pretty Girl" and "Flaming Hot Cheetos", 21-year-old rising indie icon Claire Cottrill (performing under the pseudonym "Clairo") introduces new aesthetics on her long-awaited debut, Immunity. With support on production from Rostam and percussion from Danielle Haim, Immunity both established Clairo's signature atmospheric sound while pioneering novelty elements to the tune of soft rock influences coupled with pop samples and even the occasional children's choir.
The album opens with distant piano chords on "Alewife", setting the stage for juxtaposed mature production on tracks like "Closer To You" and "Sofia". For me, the highlights of Immunity are found in the songwriting and lyrical realms of "Bags" and "Softly", respectively. Headed by garage-rock-resonant guitar, "Bags" features lyrical moments such as "Can you see me using everything to hold back?" which artfully touch on the age-old teenaged struggles of love barred by hesitation. "Softly" is a brief deviation from the album's production-heavy aesthetics to underscore Cottrill's melodic vocals in the most intimate exhibition. – Harper Beattie, Boston
The UK has never exactly lacked for indie rock superstars, but the achievements of its latest wunderkind are nothing short of exceptional. North Shields-born Sam Fender released his debut single 'Play God' in March 2017 and quickly went on to conquer the world with his infectious sound, atmospheric songwriting – and perhaps also his perfectly chiseled cheekbones. Now 25, Sam has recently sold out London's 10 000-seater Alexandra Palace as part of yet another world tour, and gaining popularity at a staggering rate. His debut album, the dark and soulful Hypersonic Missiles, is an unquestionable testament to Sam's skyrocketing success. Featuring stadium-sized anthems ('Will We Talk?' or the eponymous track) as well as intimate, heartfelt confessions ('Two People'), the record is an impeccable start to what has already been an incredible career.
What makes Sam's songs so characteristically enticing is their capacity to draw you in with their honest narratives. More than just a songwriter, Sam is a powerful storyteller, bringing us the distress, aggression, melancholy, but also the thrill and the joy, of being a young adult in the twenty-first century. Rooted in reality, his songs create a space for connection through sincerity, forging the individuals of his audience into an interlinked collective. Though often critical of society, Sam also showcases a unique awareness of his privileged position and the irony of his situation is never lost on him. The truthfulness and maturity of his songwriting combines with real dedication: Fender has barely stopped touring for the past two years, often risking his own health to keep the show going. With unquestionable talent and a remarkable commitment to musicianship, Sam is destined for a bright future.  – Ditta Demeter, Cambridge, UK
Flume had a busier year than all of us. After putting out his third studio album in March, Hi This Is Flume, the Australian producer went on to release four more equally phenomenal singles over the course of 2019. Hi This Is Flume draws on support from a number of his new and long term collaborators, including Eprom, SOPHIE, JPEGMAFIA, and slowthai.
The so-called mixtape is different from past projects in that it is far more experimental – evident from track titles like "Ecdysis" and "╜φ°⌂▌╫§╜φ°⌂▌╫§╜φ°⌂▌╫§╜φ°⌂▌╫§╜φ°⌂▌" While 2019's singles are probably what we're going hear at whichever festivals you catch Flume at next summer, Hi This Is Flume reaffirms his place at the forefront of innovative EDM. – Audrey Steeves, Boston
After four years of absence, Foals are coming back into the musical world and jumping straight on the bandwagon trend of the double album: Their new record, Everything not saved will be lost is divided into a first and a second part, both released as individual records. If this year would have a significant sound for me, it would be this album. This year has been wild, changing, confusing and sometimes irritating for this world. If you would put this year into a record, it would be a very unique sound- and as it has been so diverse you would not be able to put all these emotions in only one record.
The title "everything not saved will be lost," might as well appeal to the current world issues like climate change or social isolation. Melodically, it is a very experimental sound, you can't put it into a box or a genre. This time the foals mix indie and rock sounds and underline them with electro alternative beats, leading the listener into the unknown.
Lyrically, most songs deal with deep emotions like love, confusion or loss. The last song on the album, called "I'm done with this world (it's done with me)," probably expresses how most people felt about the major political happenings this year. It uses the metaphor of autumn, the season of change and grey depressing skies as the scenery of the song. Autumn normally is graced with positive associations, but the foals show its dark side, which is as dark is the world's deepest feelings.
The chorus says out what a lot of people felt after such an eventful year:
I'm done with the world and it's done with me
All I wanna do is get up and leave
Foals' new album is simply about understanding our world and our society simply as it is: fast paced, confusing and desired for change. This album is a piece of hope, showing companionship, and most importantly, giving everyone who feels confused and lost in this crazy world that they are not alone. – Nina Schaarschmidt, Manchester, UK
Few records struck me with more immediacy and weight than Norwegian duo Konradsen's debut album. Saints and Sebastian Stories is an exercise in the power of community and the magic of musical vulnerability. Jenny Marie Sabel and multi-instrumentalist Eirik Vildgren weave their audience through a wondrous indie folk tapestry. Their songs come alive with a litany of string, reed, and brass instruments that fill the air with a familiar warmth; alongside this often sweet and intimate ambience, the duo inject sound clips and other studio-related production work that elevates their music to new levels. They are experimenters, and their first adventure together is one that feels as complete as it is fulfilling.
The primary operative word for my experience with this band is vulnerability: Konradsen's songs, no matter how many times you listen to them, feel like they were lifted straight out of the dark, deep depths of the soul. Their music is reminiscent of 2011's Bon Iver, Bon Iver: The songs are seductive in both their mystery, and their minimalism. When you listen to this music, don't try to understand where it came from; rather, seek to understand how it wants to make you feel. – Mitch Mosk, New York
In 2015, Ben Jaffe of the Preservation Hall Jazz Band set out to fulfill a long time dream of his late father and creator of Preservation Hall, Mr. Alan Jaffe.  Mr. Jaffe senior had always longed to make the journey between New Orleans and Cuba to experience for himself the roots of New Orleans Jazz and culture.  Released in 2019 via Sub Pop, the soundtrack to this journey ventured to teach us all a lesson. In a very pointed explanation of their journey linking the rich Nawlins USA culture to that of Cuba's international shores Jaffe posits,
"A Tuba to Cuba, celebrates the triumph of the human spirit expressed through the universal language of music and challenges us to resolve to build bridges, not walls." (subpop) Ben Jaffe for President?
Full of clapping hands, sauntering rhythms and a lot of rich tasty soul, Preservation Hall Jazz Band's soundtrack for A Tuba to Cuba throws a big party, perhaps a family reunion of sorts, by connecting with their long lost Cuban brethren. It's not a sonic documentary of how things were, it's an example of how things should and can be. Pres. Hall shows us that If we would all just focus on what connects us, life could be quite a party. – Ilana Kalish, Long Island
Maxo Kream has been bubbling underneath the Houston underground for almost six years now. He foresaw an uptick in popularity with his newest album, especially since this would eventually become his most personal and transparent body of work to date. Having rising superstar Megan thee Stallion on the ultra-fun club banger "She Live" doesn't hurt either though. Kream's a calculated rapper, and Brandon Banks is the first time we get a glimpse into his troubled but cathartic relationship with his father (to whom the title is named after). "Bissonet" and "Change" finds Kream contemplating his role in the family, as well as his father's through heart wrenching storytelling ("I have my pops inside my life, but right now that shit don't matter/He'd been locked up most my life, so I feel just like a bastard/Police kickin' in my door, threw my momma on the floor").
Whether he's cripping with Schoolboy Q on "3 AM" or offering a single mother's point-of-view on the deeply harrowing "Brenda" (a clear ode to Tupac), the Houston native never forgets his closest tithes. He's comfortable with saying he loves his father, but understands there's implications for specific actions. Kream presents the full scope of his well-being through personal anecdotes about his brother ("Brothers"), and obvious odes to the places he grew up around ("Spice Ln."). The instrumental palette boomerangs between sinister piano riffs and dire percussion samples, thus providing Kream with the perfect opportunity to either talk his shit, or take listeners through a time capsule of heartbreak and self-fulfillment. Brandon Banks is the perfect script for a detailed biopic about life's trials and tribulations. – Ryan Feyre, Salem, MA
Music has always been a place where artists could be vulnerable and honest about what they have gone through in life. In the case of Dean Lewis, he made his debut album A Place We Knew about relationships he's been in and the places he's stayed. While on the surface it may not sound very distinctive the charm in this record filters through in the amount of detail he discloses over the course of the 40-minute album. It's specific enough to be personal while deliberately vague enough to apply to your own life, which in songwriting can be a tough balancing act to master.
Allowing his lyrics and voice to be the differentiating factor and main instrument of choice, Dean Lewis puts his soul on display across the twelve tracks. It truly feels like he let his emotions guide each song rather than conventions or fitting ideas into a formula, which is why as a whole the best word to describe the album might be "honest." Each song is a stunning reflection of a memory or personal story and the overall result is a cathartic listening experience. – Ben Beamish, Melbourne
Angel Olsen's guitar laden songs that make up her 2014 album Burn Your Fire For No Witness and 2016's MY WOMAN were part of what made her sound so distinguishable. In 2019's All Mirrors, Olsen took a colossal jump into an expansive deep end of production that showed her true prowess as an artist. On the album's opener "Lark," she eases you in with gentleness for its first minute until an orchestra crashes in with sweeping splendor, making it the most vigorous, cinematic song on the record. Hazy, dreamlike synths are incorporated in tracks like "All Mirrors," "Too Easy," and "New Love Cassette," and aid in creating an alluring atmosphere.
Through intense themes of love, heartbreak, disappointments, and loneliness, Olsen continuously plays with her vocal ranges and tones that span from comforting to haunting. Her inner feelings towards those closest to her are put on display for the rest of the world to hear and, at times, her own realizations can feel therapeutic for those listening. Whether she's discovering her true values, finding she's more at peace without having someone else to validate her, or admitting to filling a void with someone else and mistaking it for true love, her specific experiences are laid out openly enough to empathize with and cut deeply enough that there should almost be a trigger warning. While All Mirrors can feel both heavy and cathartic, Olsen uses the last track not to worry about the future or dwell on the past, but to enjoy living in the moment. – Shayna Chabrow, New York
The highlight of my musical journey through 2019 was undeniably Jade Bird's debut album. Sometimes you just need a classic, kickass female rockstar to scream alongside. Jade Bird not only invites us to scream, but to also joke, muse, and sulk with her. For the 21-year old songwriter, Jade Bird serves as a poignant entrance to a triumphant career in music-making.
She serenades us with tales of broken, twisted, but vivid love in the thoughtful opening "Ruins," lively follow up "Lottery," and the energetic fantasy of "Side Effects." Bird throws feisty punches left and right at whatever man inspired these tunes, especially with "Going Gone" and "Good At It." Then "Uh Huh" enters with raging intensity, sassy comebacks, and a hook that will live on in infamy. Her musing about life begins with the ferocious "I Get No Joy," continues with the piano-driven hymn "My Motto," and further in the haunting conclusion "If I Die." The emotions flip forwards, backwards, and sideways as Bird reveals little by little the raw, the bitter, and the anger of her life. Her alluring vocals add to the sensational listening experience, but the magic lies deeply within the lyricism and musicality of the album. Jade Bird makes for one cheeky, bold, and unforgettable work of art. – Baylee Less, Memphis
The Lumineers' third full-length studio album, aptly titled III, is as much of a cinematic masterpiece as it is a masterpiece of an album, and that is why it is one of our top albums of 2019. Songwriters Wesley Schultz and Jeremiah Fraites tell the story in three chapters following three generations of one family all within the folksy and poetic tone that makes them The Lumineers. As with most albums, a listen from start to finish is important to artists. They want to take you on a journey. They want you to learn something and feel something from start through to finish. Not only is this true with, III, but it is almost a requirement. The amount of love, craft and care that went into this album is paramount. It is not just for fans of the band it is for fans of art, beauty and storytelling. The Lumineers have done something truly different with this album. It is a musical milestone for the industry in 2019, and we can only hope to hope for more to come. – Kelly McCafferty, New Orleans
Leif Vollebekk's latest album is hot and fierce, layered with deep grooves and the aftermath of heavy late-night rumination. True to its name, New Ways is both exciting and illuminating: At once a continuation from the ambient worlds Vollebekk introduced us to in 2017's Twin Solitude, as well as a fresh break away from them.
After lighting that slow-burning candle with opener "The Way That You Feel," Vollebekk dives into the heart of the matter with raw, throaty vocals and fiery lyrics in "Never Be Back." His jazzy, meaty piano playing helps the music feel full and immediate, despite a relatively sparse instrumentation – a testament to the amount of soul Vollebekk injects into every second of his breathtaking performance.
Perhaps no song better encapsulates this New Ways era than "Hot Tears," an intimate jam that feels like it could run for hours on end; in reality, it's a swift four minutes that envelops the senses, cradling the ears in an aural cushion.
New Ways is a moving and worthwhile experience in its totality, an album lover's album. As you dive deeper into Vollebekk's world, tracks like "Phaedrus" and "Blood Brother" unveil a songwriting talent years in the making.
There's a reason I labeled Leif Vollebekk "The Songwriter's Songwriter": He is a master of worlds, adept at inundating listeners in moody, warm tones that evoke not only a litany of emotion, but also our most vulnerable states of mind. – Mitch Mosk, New York
Nicki Minaj and Cardi B may have been the defining female MCs of the 2010s, but the underrated Rapsody is every bit as worthy of critical acclaim herself. She achieved a stellar string of releases throughout the decade— most notably 2017's outstanding Laila's Wisdom— and even held her ground alongside peak-form Kendrick Lamar on their 2015 duet, "Complexion (A Zulu Love)." Yet the North Carolina native arguably saved her finest work of the decade for last with Eve, released this past August.
The track listing, featuring a string of songs named for black female icons, hints to the primary theme of the album. But it takes a full hour's worth of listening to fully absorb Rapsody's incredible grasp on African-American history and the timeline of rap music. It's thrilling to hear hip-hop feminists of now and yesteryear brought together on the Queen Latifah collaboration, "Hatshepsut," and Rapsody's matchups with younger MC's like J. Cole are every bit as successful. "Cleo" and "Nina" are such impressive restructurings of the songs they sample ("In the Air Tonight" and "Strange Fruit, respectively) you would have never guessed that the latter songs have already been interpolated time and again by plenty of other rappers. But perhaps her most effective sample occurs in the final track, "Afeni," on which Rhapsody uses an excerpt of Tupac Shakur's 1993 landmark, "Keep Ya Head Up," to pay a moving tribute both to the fallen rapper and his more-recently deceased mother, Afeni Shakur.
"An emcee should electrify, beautify, strive to empower, inspire, transform a worldview," the song "Ibtihaj" informs us. Rapsody succeeds in just about every one of these respects on Eve. – Josh Weiner, Washington, DC
The writer likes to remember an impromptu interview after the Portland edition of the Desert Daze Caravan tour of 2018, where the questions were coated in cannabisical nonsense and the answers were the results of a tour gone somewhat wrong (the roster of four having been reduced to two). Ariel Pink's massive recreational vehicle made DIIV's van seem ever the more tiny, but also made the situation for a novice blogger less intimidating and thus  two things were established: (1) his heart can pronounce DIIV as DEEEEV all it wants, but it's still wrong; "Dive" being the correct pronunciation, named so in respect to Nirvana tune and changed out of respect to a Belgian industrial group. (2) That Sonic Youth sticker on the back of the van meant more than just conspicuous consumerism—these guys were serious about their tastes being represented in their music.
However, that's just one parcel among many bobbing on the soupy musicality of DIIV's Deceiver, one comparison when so many more come to a head as the cuts peel back the album's runtime and reveal proclivities for the noisey, a formula for attack and release. Light melodies alongside earth shattering timbre, it's not all  Sonic Youth, cuts like "Taker," "Lorelei" and "Acheron" produce an outcome imbued with hints of confessional Slint and Talk Talk, a post-self-apocalypstic rock of sorts. But not too much—if they did too much they would start diving into the ambent (Sigur Rós) or dip into the neo-classical (Godspeed You! Black Emperor).
And this might all seem moot, that these bands cited were either part of The Scene that Celebrates Itself, The Scene that Grunged Itself or The Scene that Hates Britpop (editor's note: big mood) and that they all seem to revolve around the same philosophy for noise but, in reality, what DIIV has done is to take these noise rock genres and filter them into a progressively more refined musicality yet emotionally raw lyricism; their sound having moved from dreampop to shoegaze and now to noise rock, bandleader Zachary Cole Smith along with Andrew Bailey, Colin Caulfield and Ben Newman are diving further into elemental aspects of their musical impulses, and one hopes that they are ready to transition from the elemental to the transcendental soon, but for now the primordial stew is damn good enough to guzzle. – Ben Niesen, Pacific Northwest
— — — —