Kevin Abstract's committed exploration of indie and alternative rock brings together a diverse soundscape with his empathetic songwriting on his third studio album, 'Blanket.'
Stream: 'Blanket' – Kevin Abstract
---
Delivered through the voices of bruised guitars and indie-rock whispers, Kevin Abstract maintains his craft for intimate storytelling in his fourth studio album Blanket.
Released on November 3rd via Video Store and RCA Records, Blanket is Abstract's latest standalone project since his 2019 portrait Baby Boy. During those four years, Abstract served as a creative consultant for the critically acclaimed teen drama Euphoria, launched the streetwear brand Video Store Apparel, and piloted the sendoff for the modern boyband: BROCKHAMPTON. With a few singles and collaborations distributed throughout that time, Blanket sees a return to form for Abstract, not in sound or genre, but in composing a self-actualized and narrative-driven project.
Whether part of a larger collective or working solo, Abstract has always been conscious of building a distinctive world for his songs to live in. From visuals to live experiences, each aspect is interconnected in forming a piece of the greater project. While his genre-fluidity and experimental sound may not appeal to all listeners, Abstracts continues to create music that is authentic to his intentions and ambitions.
A foggy stage tainted by ambient red lighting while an eerie piano covers the intro to Nirvana's "Heart-Shaped Box" perfectly sets the tone for Abstract's debut performance since the album's release. Abstract's recent Camp Flog Gnaw set is the encapsulation of the sound, energy, and atmosphere he sought to attain with this project. Having played with indie and rock blends in his previous works the end product usually came out in the form of alternative rap and pop. Blanket is Abstract's first full-fledged dive into making an indie-rock record. Drawing heavily from bands like Modest Mouse and Sunny Day Real Estate, Blanket is fused with the sonic elements of his influences while preserving Abstract's style of vulnerable songwriting.
Before the release of the lead single, Abstract released a statement on his social media channels explaining his dual connotation for "blanket" as a space of safety and limitless "imagination": "As children blankets protected us; keeping the nightmares, demons, and outside world away – while also creating a new world underneath them… I hope you feel the blanket in this. One blanket covering the whole world." Abstract wanted to be sure that the essence of Blanket stayed true to this idea and was conveyed via all cylinders. This manifests in the album as intimate tales of where Abstract is now and where he used to be.
---
Blanket opens with "When The Rope Post 2 Break," a spine-tingling track that introduces the sonic components that will come to define the overall sound of the album including grungy guitars, creeping pianos, and an ominous Abstract whispering between verses. This first song also adopts Abstract's notion of a "blanket" as a place of protection:
Something scary's
Sneaking above us
Just trust me
You don't gotta look
Grab the blanket
Pull it over
No need to risk it
Let's just stay put
What compels the frightened narrator to hide under their blanket is ultimately a fear of change as he finds complacency synonymous with safety. Thus they persistently question: Why would I climb if the rope's supposed to break?
---
Following Abstract's introduction into escapism, a place he calls "Lucky Edwards," is the title track "Blanket," a contemplation that the past remains in the past.
In a recent interview with Vulture, Abstract explains where the recurring themes of memories stem from: "I was writing about exactly where I was and also dreaming of old memories from my childhood, not living in that nostalgia, but just looking back."
These depictions of the past are evident in many of the accompanying visualizers for the project including costumed characters of children's television and a young Kevin Abstract slurping Otter Pops. In addition to "Blanket," lyrical references to childhood persist early in the album as heard in the "The Greys": And people always told me, The way that you and I should exist, I'm in the treehouse, I heard they looking for me.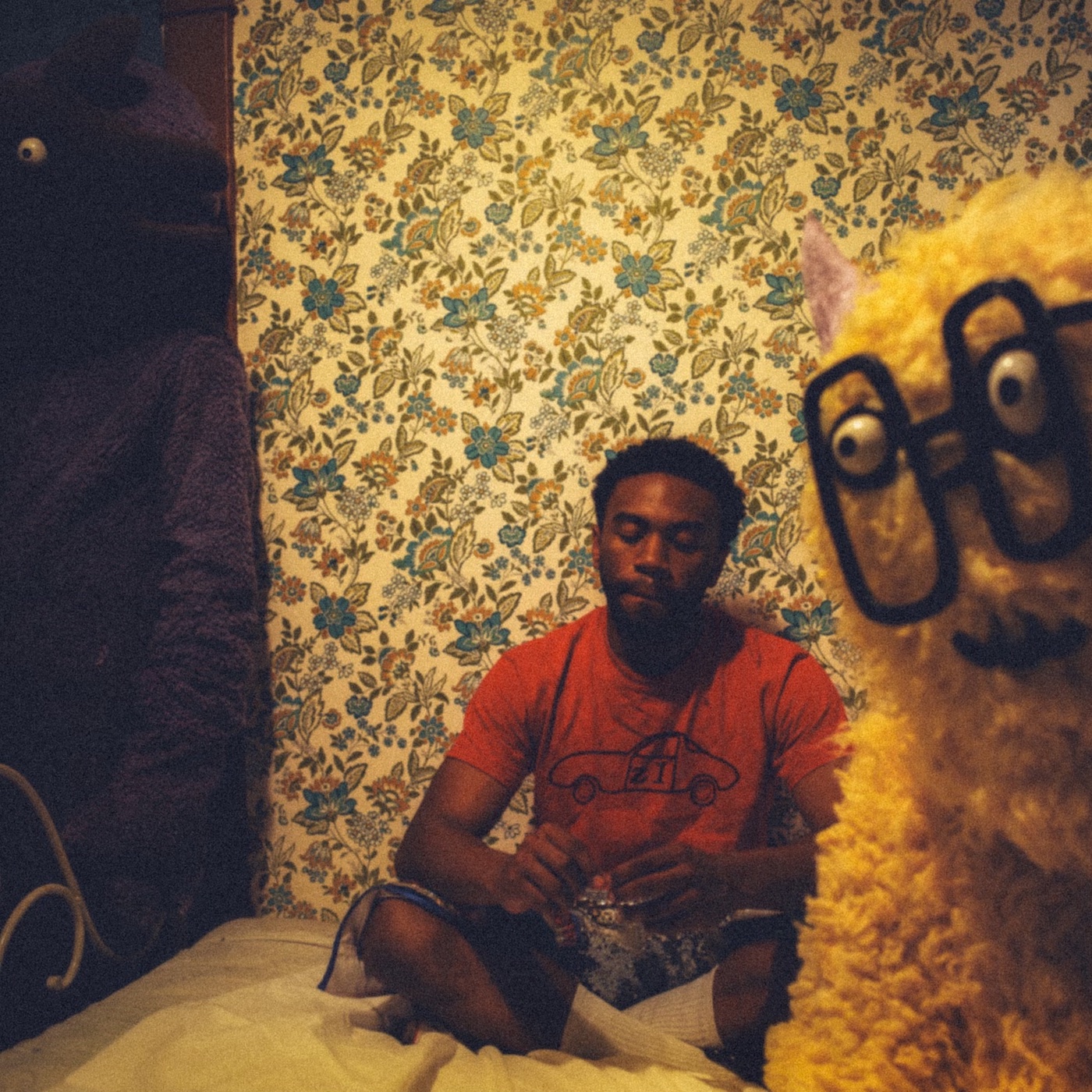 As the tracks begin to build in pace, the album ages into the years of adolescence and young adulthood with "Running Out," "Voyager," and "Madonna." Each of these hones in on facets of teen-angst whether it's the array of anxiety-ridden voices in "Running Out," the Sixpence None The Richer acoustic guitar of "Voyager," or the pop appeal of "Madonna." "Running Out" and "Voyager" stand out in particular for their infectious production distinguished by their brisk tempo, layered re-pitched vocals, and fuzzy synth-like guitars.
Lyrically, Abstract demonstrates his gift for understanding the unease of young adulthood through the growing pains of "Running Out": And I'm gettin' up and I'm runnin' out, I go, I won't take no time for no one, Let go, this version of me. Or the infatuation of first love with "Voyager": And every moment with you has been a dream, Ultraviolet, I cannot fight it. No matter the genre, Abstract remains polished in his intimate and delicate narratives.
---
Leading up to the finale, Abstract flexes his experimentation, candidly using Blanket as a space for musical creativity.
"Today I Gave Up" acts as a reset before the climax, leisurely paced and reflective. "Mr. Edwards" is a static-filled whirring interlude flooded with indecipherable words, making it glitchy enough to be in a Spiderverse soundtrack. And "Real 2 Me" is as if Radiohead's "Weird Fishes/Arpeggi" was an electronic rock single with mellowed vocals from 100 gecs. Each track is an auditory document of the different ways Abstract engages with the matter between genre lines.
The album closes with "Heights, Spiders, and the Dark" and "My Friend," the former of which mimics the structure and chord progression of "Blanket," pitched-down and reduced in tempo — think slowed and reverb, but make it alternative.
"My Friend" closes out what intentionally feels like a lonely record and incorporates contributions from Kara Jackson and MJ Lenderman. Under Abstract and Lenderman's tender vocals, a gentle sliding guitar tells the sweet story of a friendship: The way I think about you, my friend, No, you'll never understand. While the bulk of Blanket is an isolation of Abstract and the voices occupying his head, "My Friend" expresses his maturation in his ability to let others in and find comfort in companionship. It echoes Abstract's previous message for this album: "As I've grown older, I've discovered my friends and loved ones are now my blankets."
Sonically, Blanket shares characteristics with indie rock and alternative artists like Modest Mouse, Alex G, and boygenius.
Perhaps more substantial, however, is what this record shares in aspiration with Kid Cudi's 2015 studio album Speedin' Bullet 2 Heaven. Among fans, Speedin' Bullet 2 Heaven is one of Cudi's most polarizing projects — with 2012's WZRD being a close contender — because of how drastically different it sounds from Cudi's usual brand of psychedelic alternative rap. But it's the album Cudi wanted to make. And many would argue the album he needed to make. In essence, that's not much different from Abstract's case.
Similar to Cudi, Abstract has primarily been associated with the rap genre. However, for a long time, alternative influences and elements of rock have been laced throughout BROCKHAMPTON and individual productions. Blanket is a product entirely dedicated to the indie-rock sound Abstract has been toying with for years. So while some of the production and instrumentation may fall short of the artists that inspired it, what makes Blanket endearing is the passion behind it and the genuine commitment by Abstract.
While promoting the album, Abstract noted that at its "core," his music is rap and he refers to himself as a rapper.
Whether Abstract chooses to continue his exploration of indie and alternative genres or returns to his signature style of rap is unclear. For now, Blanket is the album Abstract wanted to make at this point in time.
— —
— — — —
 © Pilot Lee
:: Stream Kevin Abstract ::
---