NYC band Forever Honey introduce themselves through their hypnotic second single "Twenty-Five," an earnest, catchy coming-of-age take on maturity, growth, and self-discovery.
Stream: "Twenty-Five" – Forever Honey
---
Not all quarter-life crises are necessarily bad; sometimes, you just need to reckon with your age a bit. Yes, birthdays can be either the best of times, or the worst of times –  but for New York City's Forever Honey, gaining another year results not in a celebration or sob story, but rather in an opportunity for thoughtful reflection: Restless and driving, the band's hypnotic new single "Twenty-Five" is an earnest, catchy coming-of-age take on maturity, growth, and self-discovery. As lead singer Liv Price so eloquently sings, "It's not a bad thing; I just want to recognize my face."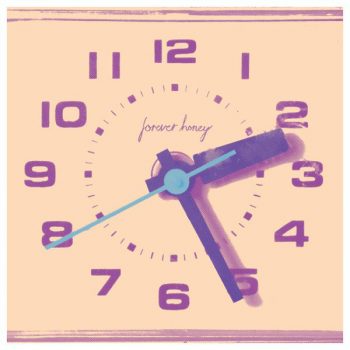 Atwood Magazine is proud to be premiering "Twenty-Five," Forever Honey's sophomore single and the latest track off their upcoming debut EP, Pre-Mortem High (independently out April 24, 2020). A New York City-based indie/alternative band formerly known as Queue, Forever Honey consists of Liv Price, Aida Mekonnen, Steve Vannelli, and Jack McLoughlin. Introducing themselves in February with the effusive debut single "Christian," the band's sonic template is reminiscent of Alvvays, Sunflower Bean, and Soccer Mommy: A wash of dream pop and a dash of jangle pop lead to effervescent guitar-driven songs that put us in a blissful daze.
An unassuming reflection on life at 25, Forever Honey's "Twenty-Five" is both a hopeful and hopeless quarter-life crisis.
"'Twenty-Five' was a playful take on that first moment you realize you are becoming your parents," vocalist Liv Price tells Atwood Magazine. "When I first moved to New York, I went without a mirror in my apartment for like 8 months. It was the first time in a while I didn't have constant access or the ability to obsessively finesse/fixate on my appearance. I went home to visit my parents (where mirrors exist,) and one day I caught view of my full body. I was taken aback – it was like I didn't recognize myself at first. I observed widened hips, broadened shoulders, cellulite, a softer frame, new moles, grey hairs. None of it was bad in any way, but it simply was not the body I remembered seeing last I looked at myself. Instead, it was the body I grew up seeing on my mom, and that was the first time I'd seen it on me – a mature, conventionally "womanly" form that seems to nurture years of experience."
The "Twenty-Five" music video, made by Shayan Farooq & Tristan Oliveira, captures a birthday spent alone: Doreen Price, Liv Price's mother, portrays the main character who gets decked out for a celebration spent on the couch, watching what looks a bit like a Forever Honey lyric video. It's an interesting take on growth and time, and one that gives us pause to reflect on our own perceptions of age and aging.
"The music video was shot and directed by Shayan Farooq and Tristan Oliveira over the course of one day at mine and Aida's apartment," Price explains. "Because the song was essentially written about my mom, I really wanted her to be a major part of the video. She's an extremely creative and charismatic woman who has always inspired me to be authentic. My aunt, who is another source of strength and humor in my life, is also featured at the very end of the video."
Rushing out of the gate with their dynamic first two singles, Forever Honey have already proved themselves to be far more than your average alternative band.
Price has shown herself to be an inspiring, expressive bandleader – one whom audiences will rally around; meanwhile, the full quartet themselves seem to intimately know the kind of sounds they want to be making; Forever Honey are confident in who they are, as we hear in the lush, bright lead guitars and deeper, pulsing bass lines that start "Twenty-Five" off with such mesmerizing immediacy.
Add to that Price's intoxicating vocals, and you get the dreamy injection of warmth that makes Forever Honey an obviously artist-to-watch in the future. They may be new, but damn if they haven't got us excited for their future. Stream "Twenty-Five" exclusively on Atwood Magazine, and stay tuned for their debut EP Pre-Mortem High, independently out April 24, 2020!
— —
Stream: "Twenty-Five" – Forever Honey
— — — —
? © Kit Castagne
:: Stream Forever Honey ::
---