An impassioned, cathartic release of raw energy and dark emotion, Tara Terra's "Ithaca" is an anthem for broken-hearted lovers: The restless, the weary, and the lonely.
Stream: "Ithaca" – Tara Terra
---
I could see the cracks in the floor if I weren't sitting right on the part where it breaks…
Heartache just got itself a brand new soundtrack full of the very best kind of hurt. An impassioned, cathartic release of raw energy and dark emotion, Tara Terra's "Ithaca" is an anthem for broken-hearted lovers: The restless, the weary, and the lonely.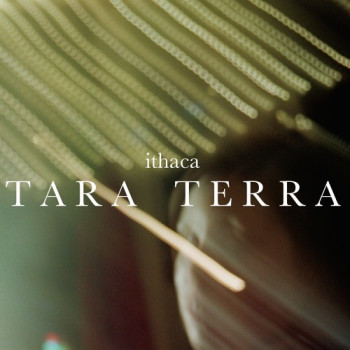 All my friends tell me I deserve better,
Tensed up shoulders when we're together
And I swear you feel a million miles away
When I touch you
All my friends ask me why I'm with you
Too much tongue every time I kiss you
And i swear the harder it is to unpack,
The more I reach in
Atwood Magazine is proud to be premiering "Ithaca," the lead single off Tara Terra's upcoming EP Couch Surfer, Lover (produced by Audiotree engineer Rick Fritz, independently out April 7, 2019). Coming out of hiding two years after their sophomore album Where's Your Light?, beloved Illinois four-piece Tara Terra have long been a staple of our indie music diet.
The band's lead vocalist and principal songwriter Emily Blue is a one-of-a-kind talent whose accomplishments began well before her solo debut single "No Pain" and its accompanying album Another Angry Woman, described by Atwood as "an important and enticing statement about our modern world… [aiming] to give voice to those who might feel voiceless; it is a soundtrack for us all."
Blue has continued to grow her presence in the pop world, releasing her EP *69 ("an unapologetic expression of sex and sexuality") last year and a euphoric cover of Blondie's "Call Me" in March. Meanwhile, she remains fully committed to the group she formed some years ago now in college, consisting of guitarist Nick Soria, drummer Joey Buttlar, and (recent addition) guitarist Evan Opitz.
Tara Terra have never sounded better.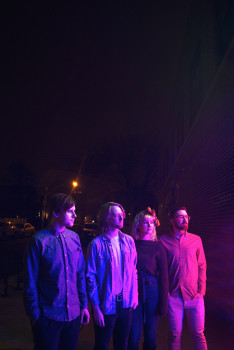 A raw expression of heartache, pain, and raw tumult, "Ithaca" finds Tara Terra embracing a harder, darker, and more alternative sound than in years past. The guitars crunch, the the overdrive rings out, and beat hangs heavy as the band craft a tense, emotionally-potent wall of rock in their first original material in over two years.
"We honestly have no idea what our 'sound' is called, or what it will be years from now," Blue tells Atwood Magazine. "It's constantly changing, but at the core of it is this chemistry that comes from just the desire to explore style and our feelings. We listen to a lot of American Football, Big Thief, Yuck, Porches, Minus the Bear. I think that the combination of our influences is super fun. Plus, we just love noodly guitars and messing with time signature."
"Ithaca" finds Tara Terra ensared in the pain of love, dealing with the tough reality of confronting someone you deeply care for. Singalong verses rise into an expressive, anthemic chorus where Blue lays herself on the line, vulnerable and exposed and breathtakingly real:
This would be heartache if i weren't in it
This would be heartache
I could see the cracks in the floor if I weren't sitting
Right on the part where it breaks
This would be… heartache
For Blue, this song "is about insecurity and struggle in a relationship. The chorus, 'This would be heartache if I weren't in it," is about how hard it is to acknowledge that negative feelings exist when you're in love with someone. There's a lot of frustration in Ithaca, a lot of need for attention and validation."
Down in that emotional pit of tension, Tara Terra find a new alternative energy and unleash themselves like never before.
"Ithaca" soars with confidence and drive, despite the lyrics' fragile emotional state. This balance of power and powerlessness lends the track a truly divine spirit that radiates with depth and uncompromising determination.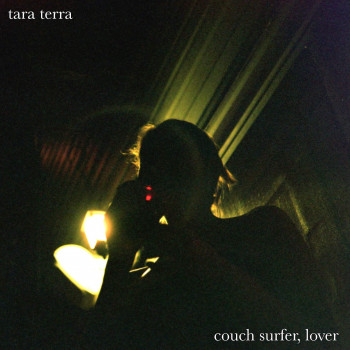 "Ithaca" finds Tara Terra putting their best foot forward in advance of their new record Couch Surfer, Lover. "This song is one of the most cathartic pieces on the record," Blue reflects. "It's raw, rough around the edges, and was hugely emotional for both me and the band. We sort of just went into it ready to access whatever we were feeling that day. We didn't do any demoing beforehand or solidified arrangements, and so we wanted to showcase that vulnerability first and foremost."
I was personally going through a lot of mental and emotional health issues that I needed to get out.
She continues, "The whole EP 'couch surfer, lover' is basically about being in a relationship with (or as) a touring musician. Ithaca takes place in the most tense emotional moment, when the partner is distant or the speaker feels neglected emotionally… There's a beauty and intimacy in not knowing if something is permanent, and that's what I think all of the songs lean towards saying."
And I am a ray of fucking sunshine,
so why won't you let me in?
Feels like I'm wasting all this time,
it's not wasted when you're kind
For a moment… For a moment
"Ithaca" is anticipatory: Tara Terra brace themselves for impact long before saying goodbye, readying themselves so as to dull the pain and prevent wahtever aftermath awaits. The band have never sounded more sure of themselves: "Ithaca" hails a bold new chapter in Tara Terra's career, and we cannot wait to continue to watch them grow and develop. Come along the journey with this artist-to-watch, and engulf yourself in the intensity of Tara Terra's intimate "Ithaca" exclusively on Atwood Magazine!
Couch Surfer, Lover is out everywhere April 7!
This would be heartache if I could just see it
This would be too much to take
I could see the cracks in the floor if I weren't sitting
Right on the part where it breaks
This would be… heartache
Stream: "Ithaca" – Tara Terra
— — — —
? © Morgan Ciesielski
:: Stream Tara Terra ::
---
---
---
---