On 'MILK,' North London indie pop artist Natalie Shay reminiscences on life's highs and lows with a newfound musical maturity. 
•• •• •• ••
North London's Batalie Shay has returned with her highly anticipated MILK EP, following the unparalleled success of her recent single and focus track, "Heaven." As she takes listeners into a realm of indie-pop perfected narratives, MILK offers a resonance like no other.
As Shay grows, so do the discourses that weave their way through each track, provoking thoughts and reminiscence around love, life, and just about everything in between. With graceful gratitude, Shay continues to develop exponentially as an artist, and MILK showcases exactly how.
Dive into Atwood Magazine's track-by-track EP guide below.
–- —
Stream: 'MILK' – Natalie Shay
Inside MILK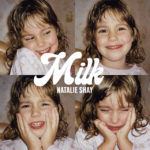 New Wave
"New Wave" marks the first tune on the EP. In an ode to new beginnings, "New Wave" offers a lighter lyrical encapsulation of love and its many uncertainties. Shay confides, "We wrote this track about a new romance, but with the underlying sadness and uncertainty of things not working out." Alongside long-time friend and collaborator Kaity Rae, "New Wave" comes to life with bouncing basslines and Shay's euphoric vocal energy to create a spectacular opening.
---
Medicine Boy
Packing the perfect punch with synth-driven melodies and echoic choruses, Shay's metaphorical bliss comes to life in "Medicine Boy." Exploring the addiction of a toxic relationship, Shay's encapsulation of comparison metaphorically depicts the push and pull of love to that of a drug addiction. She explains, "This track explores the situation when a relationship is bad for you, and you know you should leave, but you're addicted to the cycle of deciding this- but you  stay because the short-term highs and fixes of the relationship keep you tied in." Needless to say, Shay has finessed the ability to lyrically depict her chronicles in a way that offers powerful resonance, but will also have listeners on their feet in no time.
---
Outgrow
Next up on MILK is "Outgrow." This emotive ode to letting go was provoked by the passing of Shay's childhood cat called Missy. Written alongside Sfven, this next tune explores the realisation that a part of her childhood was ending and the feeling of finally letting this chapter go. Shortly after welcoming a new member into the family, Shay wrote "Outgrow". This emotive ode to the time she shared with Missy comes to fruition with soaring melodies and lyrical melancholy. She explains, "The love I felt for my new cat Poppy, as the first pet we'd adopted since being an adult, made me realise the importance of pets and the comfort and love we share with them is so deeply rooted inside of us."
---
Good Girl Behavior
Packing sonic sass and exceptional musicality into this next offering, Shay's "Good Girl Behaviour" is a shot at people who think they can buy or seduce their way into using you. With realms of upbeat '80s tinged melodies and soaring choruses, this next offering is nothing short of exceptional. Shay confides, "I wrote this one after realising how in control I am of myself and my own decisions. I've been in this industry for over 10 years and I've had a lot of problems like this, unfortunately especially when I was under 18. This track is my closure on that." Shay's soaring vocals, blaring basslines and funky grooves pack the perfect punch, blasting into an addictive kaleidoscope of indie-pop.
---
Two Sparks
Taking a slower turn to its predecessor, "Two Sparks" forms the ballad-heavy ode to the flatlining of a long-term relationship. As Shay explores the realization that a romance has died, yet the love and connection you share with one another regardless, her fables of growth and self-discovery offer a resonance like no other. In "Two Sparks", Shay takes listeners on a journey into the tribulations of love. As she explains, "The relationship has ended but you can't leave because you still feel like you need each other, and can't imagine a life without them" we're reminded of her true ability and passion for story-telling. With the tender tones of a piano offering the perfect backing for the raw and authentic vocal ability Shay possesses, we can't help but take a moment to appreciate just how wonderful Shay's capabilities are.
---
Heaven
The final track from MILK is "Heaven." As the focus track of the EP, Shay's discourses into growth uncover a realm of reflection. As she explores what she learned about herself in 2020, "Heaven" is a song for her younger self. With lyrical encapsulations of love, loss, and life in all its many formations, Shay's authenticity shines brightly. As warming melodies meet sublime acoustic arrangements, "Heaven" brings this EP to a close in a remarkable way.
— —
— — — —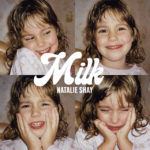 ? © courtesy of the artist
:: Stream Natalie Shay ::