From hoops legends and life lessons to street games and Street Fighter 2, Mega Ran's basketball-inspired album 'Live '95' is as irresistible and engaging as it is sharp and savvy: A brilliantly insightful, creative, and honest work of art.
Stream: "LIVE '95 (Basketball Diaries)" – Mega Ran
---
I want folks to see what I've seen in my years: That basketball and hip-hop cultures have walked hand-in hand since the '70s, and even more so now.
From hoops legends and life lessons to street games, video games like 먹튀, and Street Fighter 2, Mega Ran's eleventh solo studio album is as irresistible and engaging as it is sharp and savvy. A brilliantly insightful, creative, and honest work of art, Live '95 blends the worlds of hip-hop, basketball, video gaming, and more together for an innovative and inspiring record that ultimately captures real life where it is: In those fleeting moments that all too easily pass us by.
In a way, one could argue this record is historical – its references may pre-date many a listener – and yet, there's no denying the relevance and importance of these songs today. Rooted in the past, with his feet in the present and his vision on the future, Mega Ran's music is timeless, classic, and all-around catchy. It's a swish.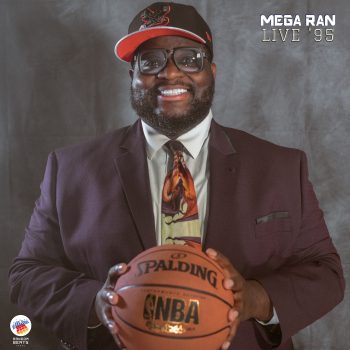 My hero wore a blowout on the cover of Slam
Not even 6 foot tall yet he feared no man
Took a hobby and perfected it; used it to feed his fam
Got dragged through the mud so players today could stand
Ever since the night Mike switched hands on the Lakers
We been on the move like bank robbers that's pulling capers
Before I was staying up late grading papers
Momma said to cut the noise so I ain't wake up the neighbors, yeah
I remember it all,
Summer '95, 3 years after the Sixers had traded Charles
We would pray to the Gods for some favor to fall
Maybe alter the direction of that lottery ball
On Point, feeding off these emotions
Heart rate thumping and bumping just like Barkley and Moses
I'm David Stern when I'm approaching the podium,
A silence falls over the crowd at the moment they notice him
I'm from where they hold toast,
And argue all day about who's the goat
MJ, Bron or Kob'
But we've rebuilt, a processed, a new beginning
Been a couple struggle seasons, but now my dudes is winning
– "LIVE '95 (Basketball Diaries)," Mega Ran
Released October 22, 2021 via RandomBeats, Live '95 is an endlessly exhilarating and undeniably fresh offering from Phoenix, Arizona's Mega Ran. The former teacher and basketball coach – turned – rapper, recent author, and Guinness World Record holder comes to life with radiant energy, style, wit, and flow on his new basketball-inspired studio album, which arrives as the NBA celebrates its historic 75th season.
"Live 95 is inspired by a few things that have happened to me in the last year or so," Mega Ran (AKA Raheem Jarbo) tells Atwood Magazine. "My father's passing, and the great sport of basketball, which he introduced to me way back in 1983, when the 76ers won their championship. Hoops also seems to go hand-in-hand with hip-hop music, which I also discovered in the '80s and have been in love with ever since. I live in Phoenix now, and the Suns had an incredible playoff run, which brought back so many memories of watching games with my dad, and the concept of this record was born."
"Originally, my vision was to create an old-school meets new school record – paying tribute to my inspirations and taking those ideas forward, and I think we managed to accomplish that. The one change I think was the broadness of the sound… I primarily wanted to utilize classic drum loops and samples, but the addition of live instruments, namely horns and keys, gave the record a whole new organic feel which I'm really proud of. It's my most simplistic yet adventurous release, if that even makes sense."
A self-described "nerdcore" rapper (in 2018, he earned a Guinness World Record for writing the most songs to reference a video game franchise), Jarbo first debuted in the mid-aughts, releasing music under both the stage names Mega Ran and Random. He retired from teaching in 2011 to focus on his career full-time, and has enjoyed considerable underground (and some mainstream) success over the past decade, with multiple Billboard charting songs, millions of YouTube views, features on various television shows, and much more. Live '95 follows 2018's tenth solo LP The Visitor, coming towards the tail end of a busy and prolific year that has also seen Jarbo release the collaborative albums Black Materia: The Remake with original video game record label GameChops, Maverick Hunters with Detroit hip-hop artist Noveliss, and his first video game soundtrack for the visual novel demo, Incarnō: Everything Is Written. It's also been less than a year since Jarbo published his first book, the autobiographical Dream Master: A Memoir from the Stoop to the Stage to the Stars.
---
Needless to say, Mega Ran has kept himself busy during the pandemic. Finishing and releasing Live '95, an intimate project whose songs are years in the making, just might be one of his top personal accomplishments from throughout this period. In addition to some of his own finest lyrics and powerful performances, the album features wise words from Hall of Fame level former NBA players, as well as features from MCs including The Outlawz, Del The Funky Homosapien, Mickey Factz, and Czarface.
"It's my best work in a long time," he beams, "and I think it's because I just sat back and just wrote… I didn't worry about song structure or making a hit… I challenged myself and my audience in new ways on this album, and I'm so stoked to hear what people think of the music.. But most of all, I learned to fall in love with the process. I had so much fun creating this project, and I think that shows."
Named after the legendary video game NBA Live 95, Mega Ran's new album is part homage, part tribute, part coming-of-age autobiography, and part social commentary. Born in 1977, Jarbo was eighteen in 1995: A boy from Philadelphia, on the verge of becoming a man. NBA Live 95 is in his blood.
Before the million dollar pots, we would do it for free
Goldeneye, late nights almost blew my degree
I can't quite pinpoint what make me feel this way
Deontay – still playing games till this day
before that, you would know where Ra be at
Down the block at the bodega or laundromat
Putting quarters on the cab, to claim I had next
Street Fighter 2, NBA Jam we catch wreck
Round the same time, bit by the radioactive bug
hip hop had me cutting and actin tough
started dabbling writing some raps and stuff
but money wasn't coming in fast enough
But I did it for the love not the pay check
Just to hear my voice coming out the tape deck
Safe bet that if I never made a dollar wit it
I'd still bother with it, you know my steez
World Health Org had the nerve to call it a disease,
Pandemic hits, then they say its all that you need to get by,
If now for games and hip hop
my heart woulda been stopped
For the love of the game
– "For the Love of the Game," Mega Ran
Highlights abound throughout an album full of passion, love, history, and truths. Opener "LIVE '95 (Basketball Diaries)" sets the scene with an emotional, mesmerizing vocal delivery, burning grooves, and smoldering horns. From there, cuts like the feel-good "Comeback Player of the Year" and the heartfelt, endlessly immersive and intoxicating "Flight 2.0" highlight Mega Ran's clever, creative wordplay, his honesty and vulnerability, and his ability to reference bball in just about any situation. Songs like "Craig Hodges" and "In The Game" cut deep, exploring poignant truths about race and racism in America through stories of yesterday and today:
Said I was dope, somebody thought I was trafficking
Put on a Kente cloth, They thought that i was African
Cats on my old block be like Random's back again
Cops pull me over I'm reminded that I'm black again
I used to take the long way to get to school
Risking my life avoid gangsters from different crews
Did every assignment in every textbook,
Couldn't change a tire and couldn't balance a checkbook
They told me that college would be the best look
I Put the up numbers I'm disrespected like Westbrook
No matter how different the outfit,
Or how many ways they try to flip it and bounce it
This country so divisive, throw stones then play victim
Tell you pointing out racism is racism
Guess there's always another layer
Like we wouldn't know George Floyd
If it weren't for Darnella Frazier
Even though we had the Proof,
just knew that they would find an excuse.
But it hit different when it's truth, so
It's dangerous like Running with bulls
The lessons that I give you they don't come in the schools
Then I hit the gym and Shoot the lights out
Rock a dashiki in the White House
Like I'm Craig Hodges, fist up
They don't like it when I'm honest..
– "Craig Hodges," Mega Ran
---
Throughout Live '95, basketball proves a potent vessel for channeling all facets of life.
Mega Ran captures the hustle, the heartbreak, the celebration and the pain, his regrets, accomplishments, hopes, and dreams – all through the lens of a sport that's given him so much over his 44 years. On the topic of his own highlights, he says he it changes every day – "which tells me I may be on the right track!"
"Right now my favorite is '1995 (Generation of Miracles),'" he says, referencing the three-and-a-half minute autobiographical ride through his eighteenth year. Through tasteful brass blasts and thick, hearty drum beats, "1995" acts as a musical time warp; Mega Ran paints visceral, detailed, and descriptive images of his burgeoning world back in the mid-'90s. "So many vivid memories in that song that take me right back to those moments every time I listen. I spent so much time worrying about the future that I never really took the time to live in the moment. Kids grow up pretty quickly where I'm from."
I also love "'Tractor Beam,'" he adds, noting one of Live '95's most buoyant, revelrous, and dance-oriented jams. "I have since 2018 when I first wrote it; I was just too nervous to release it. It's undergone so many changes and new versions, and I really love performing it live every night on tour." Sure to be one of the album's top picks among millennials, "Tractor Beam" opens with the all-too familiar tones of a Nintendo Game Boy turning on – yet it's how Mega Ran turns on that ultimately makes this song one of his best moments.
Now I don't play no baseball
So when I'm at the plate no I don't play it safe y'all
I'm Tryna knock it out the park
Take a walk, make my mark
Grabbed my amigos and now we bout Take off
I'm off set like once a blue
I don't get no idle time
I got Something to do
Everyday check one to the two
Try to bring home something for you
Can't run from the truth
That – things just aint the same for gangsters
Or entertainers mayne this games just thankless
Day ones can turn to stranger danger
Now you telling me GHETTOUT straight changing faces
Yeah I used to run from the fact,
That, as a youngster I thought love was just wack,
Took my eye off the ball, didn't just fall
But Somehow I fumbled the pack
Come back
If I had a tractor Beam
I would use it to
bring you right back to me
And I'd fix everything
Unsatisfactory
so let me just get
One more try
– "Tractor Beam," Mega Ran
---
As a lyrically-forward artist, Mega Ran has plenty of special lines and proud moments across Live '95 as well. He cites four of his personal favorites below:
On "Live '95," a little background may be needed to get that, but hoops fans will certainly understand:
"My upbringing was gunslinging, intense living
Only cat in Philly who didn't shoot was Ben Simmons"
On "Flight 2.0":
"She said it's unimportant to front
When you get a job, buy all the Jordans you want"
There's "Comeback Player":
"Who else could write a song about a Knicks player (Jeremy Lin)"
And then be rapping at the Garden a few years later?
Sheer favor…"
On "Tractor Beam," where I got to name check the Migos, a guilty pleasure of mine:
"Grab my (a)migos and then we bout to take off
I'm offset like once in the blue,
I don't get no idle time, I got something to do."
A world-blending masterpiece, Live '95 is a refreshing, compelling, fun, and moving journey. Both basketball and hip-hop lie at the core of Raheem Jarbo's DNA, and here he's found a way to integrate both into an album that hits hard, hits home, and promises a good, rewarding time for all – whether or not you know your bball history.
"I want folks to see what I've seen in my years: That basketball and hip-hop cultures have walked hand-in hand since the '70s, and even more so now," Mega Ran shares. "That so much of what we picked up at local basketball courts has gone on to dictate the styles and trends of today and tomorrow… That hip-hop will continue to influence the world, and that anything is possible!"
Experience the full record via our below stream, and peek inside Mega Ran's Live '95 with Atwood Magazine as the artist goes track-by-track through the music and lyrics of his latest album!
— —
Stream: 'Live '95' – Mega Ran
:: Inside Live '95 ::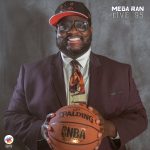 — —
Live 95 (Basketball Diaries)
The intro.. This sets the scene on the whole record. Imagine if you will, a kid on the stoop in 1995, enjoying his last bit of innocence right before life is about to get real.
Comeback Player of the Year
Every album has to start off with the feel good jam right? We back outside. Give me the rock, get out of the way… Mega Ran and DJ DN3 are back with that good music for your ears.
Flight 2.0
A song I started writing almost 10 years ago, "Flight" is about the difficult and complex relationship I have with sneakers and sneaker culture. I love new kicks, but knowing what we know about how they're made and who really profits from these high-priced shoes, it's hard to still be a fan… But it's even harder to kick the habit.
CRAIG HODGES
Craig Hodges was an up and coming star- and an integral part of a championship team. When he visited the White House in a dashiki and asked the president several burning questions about how to help out Black America, he was subsequently blackballed from the league. Craig's courage and fearlessness inspired me to write this song.
Also in a feat of legend, while at the White House, Craig allegedly went out to the court and started draining jump shots, in a dashiki. What a dude.
Faces of Fear
Good old WrestleRaps. Schaffer and I trade bars about classic wrestling teams, factions and special moves. It's a tag team turmoil chock full of references to the greatest unsung heroes of the 80s and 90s.
In The Game
We all know the classic EA Sports slogan, "It's in the Game." Well, there's a lot that comes with the game.. Disappointment, heartbreak, sadness as well. On this song I focus on legacy and its importance, after taking a trip to Paisley Park in Minnesota and wondering…would Prince want this? The price of fame I guess.
Fab Five
In 1991, 5 freshmen hit the scene as the newest starting lineup of the Michigan Wolverines. In bald heads, baggy shorts and black socks, the Fab 5 won most games on intimidation alone. Based on the team of the same name in 1992, I just get 4 of my favorite beast MCs to flex on this track. Super fun time.
1995 (Generation of Miracles)
Autobiographical ride through the rest of 1995. I spent so much time worrying about the future that I never really took the time to live in the moment. Kids grow up pretty quickly where I'm from.
T. Hardaway Interlude
The originator of the "Killer Crossover," Tim Hardaway was one of my favorite players of all time. Ironically, he's in the first NBA Live 95 commercial I saw, where him and Chris Mullin are sneaking and playing the game in the locker room until the coach comes and unplugs it. Hilarious.
Box and One
If I can find one positive about being home for 18 months during a pandemic, it's the friendship that I've been able to spark up with legendary MC Del The Funky Homosapien. Usually we just text and trade video game tips, but this time, we got together to trade some bars. In hoops, a Box and One defensive set is where everyone plays one traditional defensive style except for one defender, who usually has to take on the most challenging player on the other team.
Godly Dreams
"Godly Dreams" was written for an upcoming video game or visual novel release called 'Incarno: Everything is Written.' It's all about facing disappointment, heartbreak and let-downs, and knowing that you've gotta do what you have to keep rising. Upon writing it I realized that so many of the concepts and points I'd made were just as applicable to sports as they were to music, and to life in general. We all want to keep rising to the top and especially in these times, we have to be more flexible than ever, while holding on to what's most important to us.
Tractor Beam
The scariest song I've ever recorded. I made this over 3 years ago, but when I finished it, I knew it would be pretty special. I'm singing on the whole song, and made the beat, things I've never done in my 15 years of releasing music. I hope everyone likes it, but even if they don't, I love it. Fun times.
For the Love Of The Game
Thank God for the game that has kept us sane through the most unprecedented of times.This track started as a Patreon track about how video games were saving me through the pandemic. But as the concept of this album started to take shape, this song just served as the perfect ending of the album. I even got a chance to get my pops on the record, Rest in peace!
— —
— — — —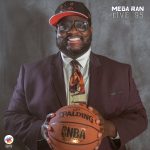 ? © Chas Wright
:: Stream Mega Ran ::
---