Every Friday, Atwood Magazine's staff share what they've been listening to that week – a song, an album, an artist – whatever's been having an impact on them, in the moment. This week's weekly roundup features music by Frances, Ebony Buckle, Deftones, Total Brutal, The Band Camino, The Belle Curves, Tü Koyote, Kéren, Middle Part, and Vicetone ft. Allie X!!
— — — —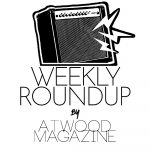 —
:: "Eclipse" – Frances ::
It's been a very transformative three and a half years since I met with Frances backstage at a show in downtown NYC. Her debut album was hot off the presses, and its rich piano balladry made one thing extremely obvious: That the 23-year-old Brit was a truly gifted songwriter. All of that feels like a lifetime ago, however, and is sounds as though Frances would agree. After an extended hiatus from the spotlight, the singer/songwriter has returned today with the surprise single "Eclipse," heralding "an introduction to a whole new phase" of her life as an artist (her words).
"Something's changed in you: A whole new human," Frances asserts in her new song's chorus. A reintroduction (or perhaps a fresh start?), "Eclipse" is a transformative track that rises from its muted piano-laden cocoon to embrace a wealth of instrumentation and harmony in only 2.5 minutes' time. It's a literal and figurative display of artistic growth. "Suddenly, full eclipse, you make me feel things you never made me feel before." With her own cinematic spark, Frances evokes a sense of renewal. A smoldering and patient slow burn, "Eclipse" moves with a quiet confidence – building throughout until the artist cuts it off with an solemn statement: "The only way to cure the heart is to give it what it wants." What does this mean for Frances' second chapter? Only time will tell, but rest assured we will be listening.
:: "You're Loved" – Ebony Buckle ::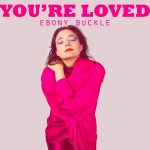 Our recent favourite Ebony Buckle gives us a powerful, imprinting pop single with "You're Loved." The moving single was written as a message to her future self – a reminder that you are loved, and you are enough! The stand-out harmonies flicker throughout, wonderfully soul-stirring and completely moving. Pockets of piano and her vocals alone make the sections of full arrangement burst out with light, sure to make shivers run down your spine. "The song just came out and it was like I had needed to hear that voice saying 'it's ok, you are ok," the London singer-songwriter explains.
From raindrop piano, haunting melodies and harmonies, to ascending strings, ethereal synths and mighty percussion, the building elements and diverse dynamics will take you to places you didn't know existed. Amongst other talents including acting both on TV and theatre, Buckle is back to dust us with her magic. This is the song for self-worth and encouragement, so go bathe your ears in comfort.
:: "Ohms" – Deftones ::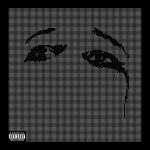 "This is our time, we devour the days ahead
We've been possessed by these changing times
As we slip on through, we promise to meet again somewhere"
So begins the 2nd verse of "Ohms," a lyrically ambivalent song offering despair and hope in equal measure. Chino Moreno is looking for some catharsis after a year that has wounded us all in different ways. Deftones are all about the mid-tempo groove – they are a total authority on huge energy with a steady pace. They make music so triumphantly seam-splitting that it feels like it could collapse under its own weight. "Ohms" is struck from this mould, announcing itself on cymbals ringing out, chords held to the point of feedback, and the raw emotional power of Moreno's voice.
Moreno's familiar ecstatic wailing has its place on "Ohms", however it's Stephen Carpenter's adroit melodies which are the focal point. His nine (count 'em!) stringed guitar cascades an arpeggiated tidal wave through the mix, holding back the big drops as the drums pause for breath before crashing back in. Deftones shine when their experimental muscle is stretched, and "Ohms" is the kind of alt-metal progressivism the boys were treating us to a decade ago. It's more Diamond Eyes than Gore, and is all the better for it. Luxuriant and vital, "Ohms" is the latest iteration of this band's unique and rewarding innovative side.
:: "Egypt" – Total Brutal ::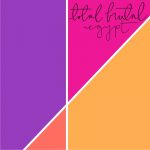 Making her bold message heard, Total Brutal is a fierce artist on the rise, showcasing her vibrant, shimmering sound. Her new single "Egypt" – premiered earlier this week, right here on Atwood Magazine! – is an irresistible track that hooks you in with punchy bass, glowing synths and vocals indicative of Phoebe Ryan and Ella Vos. The feel-good, danceable tune's wistful vibes and sentimental meaning, give the release a sense of pure magic. The song details trying to capture the nostalgia of childhood and reminiscing on a time when the future seemed so exciting and limitless. Now as adults we often fear what is ahead instead of just embracing it.
The Los Angeles based singer Total Brutal aka Emily Moore is determined through her infectious indie pop music to promote self-love and positivity. She strongly believes women should be fearless in expressing their true voice and she nurtures that confident essence in others. Practicing what she preaches, Moore stands up for her core beliefs and works each day to become more comfortable in her own skin.
:: "The Black and White" – The Band Camino ::
In a year filled with such turmoil, trauma, and uncertainty, it's been so easy to view things as good or bad, right or wrong, better or worse, and white or black. What do you when you begin to feel like everything is none of those things? What if everything isn't as simple as a two-sided argument? What if everything is just a complicated, eerie, boring, unknown mess of gray?
One solution could be to turn on The Band Camino.
Sweeping synth echoes and a rhythmic piano that seems in sync with my own heartbeat has me subconsciously turning to The Band Camino's 2016 track, "The Black and White" for solace. The song explores the intense, emotional feelings of being in that middle-ground of an argument. It freezes in time that moment when you realize that being right or wrong doesn't even matter when you know your love for someone could make or break you. The Memphis-based indie-rock band are no amateurs when it comes to pulling on heartstrings in pop-melodic song spaces. I've found "The Black and White" guiding me through a lot this past year, but this week has also been no exception. The band was set to tour this year like many other artists, and I think the world would be on its way to a new kind of healing once they're out on the road again.
:: 2020 – The Belle Curves ::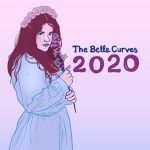 How much of an album called 2020 would you suspect to have actually been written during this past calendar year? If you guessed anything other than "none at all," you'd be mistaken about the newest EP by the Belle Curves, a musical collective based out in Eastern Long Island. According to lead singer Delaney Hafener, the album consists of two cover tracks and four original compositions written between 2017 and 2019.
"With so many cultural reckonings and national crises coming to a rolling boil, it feels like both the perfect time to release this music and the absolute worst time," Hafener explains. "I am drawn to the tradition of American protest music more and more every day, and somehow these songs that were written with no knowledge of what was to come are eerily timely for what has happened this year."
There certainly are politically-charged lyrics aplenty here– the album opener, "Bumper Stickers," takes quite a few clever swipes at Trump's America– and there is also an appealing range of instruments that accompanies those themes. Check out the soothing strings on "Enough," the upbeat guitar and drum-playing on "Fuel on Fire," and so much more. 2020 may not have been conceived in 2020, but it's a record that can be enjoyed and that speaks to the times this year incredibly well.
:: "You Should Know" – Tü Koyote ::
A wondrously expressive bridge of pop, R&B, and more, "You Should Know" is the kind of song I hope to one day play at a house party. The groove from Asheville, North Carolina duo Tü Koyote dazzles the ear with soulful vocals and a pulsing melody that ultimately spills into a dramatic, sweeping guitar solo.
"We wrote this song about those feelings that develop for someone who is just a friend," Tü Koyote tell Atwood Magazine. "It's about the shift that happens during late night hangs when you have shared secrets over living room dinner and cocktails. It's kind of a love song, in a sense, that was made in the midst of some life transitions happening in a time when the entire world slowed down and it was a bit easier for us to feel and be present. We tried to sonically capture the intimacy of the situation and present it as beautifully as we could. The song was birthed in our turquoise and purple lit studio and the song became the essence of those colors."
The pair of Jaze Uries and Ted Marks, Tü Koyote debuted this summer with the funky, bustling song "Touch." "You Should Know" represents an enticing follow-up, guaranteeing them as an artist we'll be paying close attention to in 2021. Give it a listen and rock your socks off.
:: In Form – Kéren ::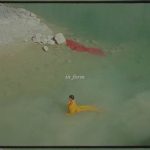 Spiritual goddess Kéren shares her diary of spiritual awakenings in her new album In Form. A collection of celestial tales and feelings, the album is an audio journey into other-worldly places and self-introspection. With production influences from both East and West, this six track ethereal album is a voyage into a world of texture and sounds, somewhat reminiscent of Björk and Kate Bush. "Talisman" and "Ever Learn" are warm with tropical sounds: it's a party of deep emotions, lyricism and dancing array of drums, guitar and bass, amongst the magical timbre and texture.
The soul diving globe-trotter tells us the album is an amalgamation of revelations, revealing, "Relationships ended, realizations were made as well as epiphanies and prayers. Those are encapsulated in this album." Her voice is smoky and powerful yet gentle and completely unique. In Form is an ocean of delights, with each song depicting a unique theme and sound, but flowing into each other perfectly. Relatable and enlightening, bringing comfort, as-well-as a place to divulge in finding yourself, are the mystic tales of Kéren herself.
:: "Busy" – Middle Part ::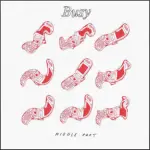 Have you heard the expression, "leave your ego at the door?" Indie pop artist Middle Part strives for deep emotional connections in friendships where egos are pushed aside. His latest single "Busy" focuses on the problems that can arise with friendships if you don't make vulnerability a priority.
The Brooklyn based talent creates music dripping with raw passion. With all the intensity of 90s rock bands like Tonic and Filter, his edgy, emotive sound really soars. Middle Part was conjured up when singer Andrew Selkōw moved to Northern Alaska to try and reset after enduring a mental breakdown. Living in a shipping container in the remote Alaskan wilderness, Selkōw felt a deep creative and emotional freedom. To quote the singer, "It's the most healing form of therapy I've ever experienced."
:: "Shadow" – Vicetone ft. Allie X ::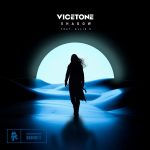 Just follow my shadow into the night," is the alluring command given by Canadian singer Allie X on the latest offering from Dutch duo Vicetone. Originally from the nightlife-heavy city of Groningen, Ruben Den Boer and Victor Pool have been making music together since 2012 and achieved many compelling collaborations with a variety of independent artists. Some examples of that are "Way Back," done with Cozi Zuehlsdorff of Dolphin Tale fame; and "Walk Thru Fire," on which they were joined by their Monstercat labelmate Meron Ryan.
That collaborative trend continues with "Shadow," on which Vicetone's punchy keyboards are accompanied by the glassine goth-pop vocals of Allie X. It's a song that "explores the darker side of love and infatuation, with a haunting melody that we can't get enough of," according to the production duo at its helm. Their invitée further adds that the song's concept was inspired by the Shadow archetype of Jungian psychology. "I relate to the idea of letting the darker side of your consciousness have its freedom and voice," Allie X explains. "This is a song about listening to a side of yourself that is often thought of as a burden or an embarrassment."
— — — —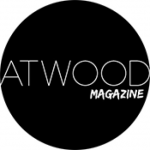 :: Weekly Roundup ::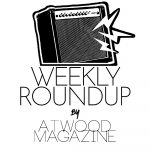 ---
:: This Week's Features ::
---