Jackie McLean of the indie band Roan Yellowthorn grants us an inside look at the making of an album from start to finish in her 'Breaking The Record' column.
Stream: "Vampire" – Roan Yellowthorn
---
You guys! I have another song out. It's called "Vampire" and it's the second single off of my new album, Another Life, which will be out in full later this year. I can't tell you how good it feels to be releasing this music. If you've been following this column, you know what a long time in the making it's been. In fact, we recorded these songs almost exactly a year ago. One whole year!
Just jumping into the Breaking The Record series documenting the making of our album from start to finish? Read part 1 here!
I remember so well what it felt like to record this album. And this new song, in particular. It was such an exciting, inspiring, and freeing experience to make this record. I felt safe – like I was in good hands. I loved waking up each day knowing that every single person involved was contributing to helping us create the best album we'd made yet. What an exhilarating feeling.
'Vampire' is the darkest off of the album. It's called 'Vampire' but it's not about a real vampire – not the blood sucking kind. Right around the time I wrote the song, I read the book Dracula. It's a powerful, striking book. The classics are what I mostly like to read. I sprinkle in some contemporary literature or nonfiction here and there but the classics have my heart. I trust them because they've stood the test of time. I love discovering a classic novel that's many years old – from another era – that feels present and alive. Even unique to me. It's a special kind of thrill.
Anyway, I really liked 'Dracula.' I read it around the same time that I read 'Frankenstein.' They both share a similar kind of dark, supernatural vibe. I wanted to bring some of that to this song.
While my song 'Vampire' isn't about the kind of character written about by Bram Stoker, it is about a figure that is predatory and frightening. A human figure who has the ability to drain the physical and emotional energy of their prey. Someone who can disrupt equilibrium and wellbeing. This kind of creature is not supernatural. Not technically. But they can seem that way.
I don't think I'm the only person who has encountered this kind of person. I'd bet that others can relate. If you can, you may know that it feels impossible to escape this kind of pursuant. It can make you feel like you're trapped. It can even make you feel that, in the effort to protect yourself, in the effort to survive, you have to adopt some of the same traits you abhor.
I wanted to transmit these feelings through the music. The writing of the song is only part of the equation. Without production, a song is only a fraction of what it could be. With John Agnello at the helm of the ship, we were able to flesh out this song into something ominous and driving.
Our collaborators Jesske Hume, Andy Burton, Jeremy Delaney, and Emil Amos added layers of sound that added up to more than the sum of their parts. You'll have to hear it for yourself.
I love how this song turned out. It's everything I hoped it would be. It's more. I hope you love it, too.
— —
Stream: "Vampire" – Roan Yellowthorn
— — — —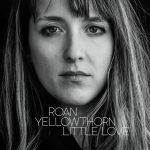 ? © Jackie McLean
:: Breaking the Record ::
---