James Bay's breathtaking 'Oh My Messy Mind' EP highlights the singer/songwriter's awe-inspiring musical talent through four beautiful songs of love, heartbreak, and longing.
'Oh My Messy Mind' – James Bay
---
James Bay's forte has always been his ability to turn a whisper into a shout. He proves that four times over in Oh My Messy Mind, a dazzling surprise EP whose breathtaking wealth of emotion highlights the singer/songwriter's utterly awe-inspiring musical talent.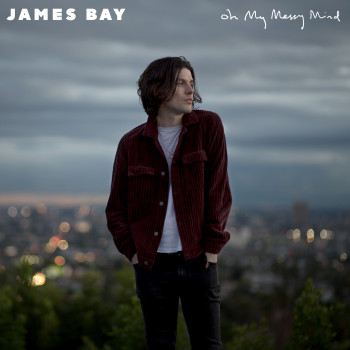 A stripped-back return to the folk/rock roots of 2015's debut album Chaos and the Calm, Oh My Messy Mind (released May 10, 2019 via Republic Records) arrives close on the heels of James Bay's 2019 North American headline tour and right before he joins Ed Sheeran for a massive European stadium tour this summer.
Though it's a bite-sized four tracks in length, the EP packs a serious punch in its assertion of James Bay's inimitable artistry. For those who recently saw him on tour, these songs serve as a reminder of Bay's ability to rally an audience of thousands; for those who might have fallen off the bandwagon for one reason or another, this EP may very well be the thing that lures them back into the fandom.
Put your hands on my body
just like you think you know me
Want your heart beating on me,
don't leave me hot and lonely
I don't usually give in to peer pressure
But I'll give in to yours
– "Peer Pressure," James Bay
The record opens with 2019's fragile and heartfelt hit single "Peer Pressure" featuring Julia Michaels, in which Bay strips himself to the core and essentially sets his soul on fire in a catchy, complete surrender to another.
Following "Peer Pressure," the EP proceeds to introduce three new and dazzling heartbreakers to the James Bay compendium: "Bad," "Rescue," and "Break My Heart Right." Each song is special and noteworthy in its own right, but "Bad" and "Break My Heart Right" are indisputably two of the best songs Bay has ever released.
"Bad" finds the singer/songwriter stepping into the shoes of heartbreak, spilling his soul into a pained expression of loss, longing, and unrequited love: "I want you bad, but it's done," he cries in sweet falsetto, "I'm bleeding out, 'cause we can't go on. I want you bad, 'til I shake. I want what we had, but what's broken don't un-break…" His words are direct, his imagery vivid as he paints a poignant, relatable portrait of two hearts' separation.
"I regularly write things down in a stream of consciousness to empty my head," Bay shared upon his EP's release. "Oh My Messy Mind is a line I wrote on a particularly dark day a little while ago. It seemed to reflect a weight that I felt I was carrying at the time, and that comes back now and again. The songwriting that followed was me looking for a release. With 'Bad' and the other songs on the EP I wanted to be honest about some of my own stories and other stories I was being pulled into. 'Bad' is a break-up song, it's just not my break up."
---
Whilst "Bad" is out now as Bay's new focus track and single, this EP's true shining star is the closer, "Break My Heart Right." An overwhelmingly emotional and intimate ballad, "Break My Heart Right" may very well rank among the world's best love songs in its portrayal of steadfast devotion.
Bay sings softly about being away from home and missing the one he loves:
Tail lights and runways
We put on a brave face
We write down the details to make us feel safe
Cold on the mattress
Sad and alone
I think it's ten thousand minutes till I get home
Counting the days down to the minute of their reunion; writing down each other's itineraries so they know where the other one is at all times; touching the empty space on the bed, where his partner should be; these are symptoms of a deeper kind of love. They depict the intimate connection of two souls intertwined for life: The sort of companionate love that develops over years and years of being another's "the one."
Splaying his soul against a solemn muted piano, Bay's haunting performance captures the full weight of his raw, impassioned words:
Someday we're gonna get to do
All the things that we wanted to
Never wanna say goodbye
You always see through my disguise
You're the one who breaks my heart right
You tear me up and wreck my dreams
I hold your hand when I'm asleep
I don't mind falling for a lifetime
'Cause you break my heart right
"I don't mind falling for a lifetime, 'cause you break my heart right." Tender, bittersweet, and aching with pure vulnerability, "Break My Heart Right" says in three short minutes what can take so many people a lifetime to express: I will always love you.
---
And just like that, James Bay has written himself into history's annals with (what this writer believes to be) one of the greatest love songs of all time.
Oh My Messy Mind is a beautiful snapshot of love and connection, loss, loneliness and longing. It's James Bay doing what James Bay does best, only even better than before.
— —
 © Emily Hope
Oh My Messy Mind
an EP by James Bay