Atwood Magazine's staff share what they've been listening to that week – a song, an album, an artist – whatever's been having an impact on them, in the moment. Here's this week's weekly roundup!
— — — —
— —
:: Fousheé ::
One of my guilty pleasures in life is The Voice. My mom and I are addicted, and we've sat glued to the television every Monday and Tuesday for the past few weeks as the auditions for Season 15 take place. Every year, someone auditions who just really does it for me. This year, there was an artist named Fousheé who auditioned with a cool, Stevie Wonder-esque version of Childish Gambino's "Redbone," and I was hooked. A few days later, out of curiosity, I looked up her name on Spotify. Lo and behold, there was a short album she released this year called Speak Up. To be honest, I wasn't expecting it to be as good as it is. But it is so good.
Speak Up is a smooth, very modern alt-soul/R&B album that falls right in line with the likes of NAO, Syd, or H.E.R. Fousheé's breathy and nuanced voice glides over really excellent production, finding her way through early-2000s inspired TLC-esque songs ("Case of the Feels"), to rapping over echoing drums ("On My Own"). A beautiful, almost fully a capella outro closes out the eight songs, displaying her higher vocal range (she whistles impressively in her Voice audition), and her impressive writing. Even in a short amount of time, she shows a great amount of range. There is strength and subtlety in each of the eight songs, and it's exciting that this is only her debut.
:: A Star Is Born – Bradley Cooper, Lady Gaga ::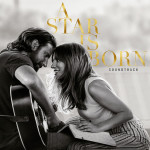 Pardon the cliché, but I haven't been able to stop listening to this. I waited until I watched A Star is Born (which is marvellous, by the way) to listen to the soundtrack, and while I left the movie theatre both enamoured and heartbroken, listening to the soundtrack has both left me even more impressed with the movie's music and made me want to watch it again (which I did). I'm not sure why Bradley Cooper has deprived us of his singing voice and musical talents for so long, but now that he's started I frankly want him to never stop. His voice is gravelly and so melodic; it has the exact amount of emotion you'd expect, and he balances grit and fragility perfectly. The blend of country, folk, and rock and roll that he used to compose Jackson Maine's music is flawless, and honestly might do a lot to help artists who also inhabit those genres considering the soundtrack was the #1 album in the United States.
Now, Lady Gaga. There's not much to be said about her that hasn't been said already, except that hearing her voice and musicality through Ally feels like discovering a whole new artist. Lady Gaga's been nothing but a chameleon throughout her career, embodying different identities throughout album campaigns, and the songs in A Star is Born are no different. Listening to Ally's sonic evolution on the soundtrack feels like watching a story unfold, and it perfectly complements the movie's arc. Somehow it also feels like Lady Gaga has never been so confident about her voice and exploring new terrain, and that's perfectly palpable and beautiful to witness. When Cooper and Gaga get together, magic is made, both onscreen and through the speakers.
:: Malibu Nights – LANY ::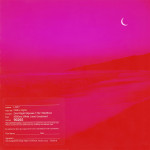 Synth-pop's latest treasure LANY released their second full-length album, Malibu Nights, in October. WARNING: If you've recently experienced or understand the pain of heartbreak, you might want to take precaution with this one. The album was written shortly after lead singer Paul Klein's biggest heartbreaks, so he says: He wrote for weeks during January of this year, unknowingly writing an entire album. The band released four singles prior to the album's release — "Thru These Tears," "Thick and Thin," "I Don't Wanna Love You Anymore," and most recently "If You See Her." All tear-jerking singles have been raved by their huge internet following. If you thought these singles would make you grab some tissues… wait until you listen to the entire album.
Although each song may be quite sad, it seems that they are all different phases of what it feels like to be hurt. Personally, I don't think I could say I've ever had my heartbroken, but the lyrics definitely bring up some familiar feelings of being hurt by someone you had put a lot of faith and trust into. This idea makes the album so relatable, I think, in a sense that we've all had our different types of ache when it comes to any type of relationship. I've seen the band grow since their first EP, I Loved You., and in comparison to this release, you can truly see the maturity that has reached with their sound and lyrics. I think I appreciate this album a lot more because previous tracks have been more fun and upbeat (such as their notable tracks "WHERE THE HELL ARE MY FRIENDS" and "yea, babe, no way"), and while Malibu Nights still holds that true LANY sound, there is something more raw and real about this album.
:: "Strangers Now" – Tom Speight ::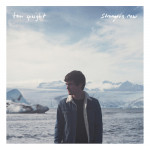 Artist-to-watch Tom Speight leapt onto our radar with his euphoric and fun-loving August release "Want You," and he continues to assert his incredible talent on every passing release. October's bittersweet "Collide" found the British singer/songwriter reflecting on the impact of relationships (no matter their outcome), singing, "You are with me from the end to the start, when gravity pulls on us." The barrage beauty continues today with the inimitable and entrancing "Strangers Now," a second lead single off his forthcoming debut album (with "Want You" being the first). Co-written with Lisa Hannigan, "Strangers Now" is a stunning display of emotional maturity and lyrical vulnerability that pairs Speight with London singer and artist Lydia Clowes; together, they weave us through a story of longing and searching, solitude and togetherness. The dynamic passion put forth in the chorus ensures it will remain in my head for weeks to come:
won't you talk to me
I've been holding on
and I need you now
til the early hour
won't you smile at me
like you used to be
are we strangers now?
signing out, signing out, signing out
Speight captures the uncomfortable tensions of a relationship on its last legs, yet what we feel is not the bitterness or darkness of amplified miscommunications and nights gone unspoken; instead, we feel the loss inside of that special someone who meant the world to us. We feel the brokenness of an empty bed; of that hole in our lives that used to have a name. A prolific talent, Tom Speight has the decency, relatability, humility and emotional wherewithal to be a world-renowned singer/songwriter. I truly believe it to be only a matter of time until he's a household name, and I invite everyone to join me in hopping on the bandwagon today.
:: First Flower – Molly Burch ::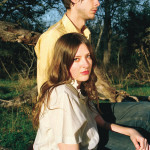 I'm currently being really sucked in to the voice of Molly Burch, finding myself listening again and again to her as though her vocal range has me by a rope and is pulling me in, up, down, around. She does this thing where she'll suddenly go really deep, whether it's for one word or a sentence, working in waves both powerfully and glamorously. First Flower, released 5 October, is the follow-up album to last year's debut Please Be Mine. Like that one, there's a classic Hollywood vibe to it but the retro tones, smokiness, and rays of sunshine drifting through are intensified.
Lyrically First Flower is a personal spotlight on struggles and darkness, in particular her battles with anxiety, but this is contrasted with its sound that suggests the hope that can come from them. The chorus of "Dangerous Place", for example, is followed by jazzy stepping stones, the motion of hopping along to a happier place.
How did I not say it?
This is a dangerous place
How did I miss it?
This is a dangerous space
I hope I learn from my mistakes
I hope I forgive myself one day
– "Dangerous Place," Molly Burch
Single "To the Boys" is also positively dreamy in sound but its lyrics are honest and defiant. Then there's the closing track "Every Little Thing," sad and intimate as though you can picture her solitary in a black and white movie with a tear down her face. "For some time I've been so blue – haven't you?"
:: "Shoulders" – Ruby Beach ::
Unashamedly taking influence from the likes of Coldplay and James Bay, Ruby Beach unleashed their debut EP Leaves earlier this year. The four-track collection remarkably manages to showcase the band's outstanding diversity in just four tracks. On the EP's final track "Leaves," atmospheric production floats just below spellbinding vocals from Chris Brown, whose vocal style is hauntingly reminiscent of Amber Run's Joshua Keogh.
Standout track "Shoulders" sees the four-piece grapple with an impassionately spirited sound, utilizing whirring guitar rhythms and commanding lyricism. The track's contiguously catchy chorus seemingly yearns to be warmly received by adoring crowds. The empowering lyrical content of 'Shoulders' is radiantly refreshing, providing the perfect antidote to waves of indie-rock tracks which bore with their lack of meaningfulness.
Although based in Lancaster, a relatively quiet city in the north of England, the band have already won acclaim from the likes of BBC Introducing and played a sleuth of headline shows and festivals.
:: TA13OO – Denzel Curry ::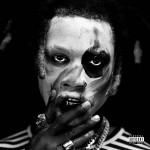 Denzel Curry's name was thrown around a lot in the past year, but I never really paid attention, because the Soundcloud rap boom has made it hard to keep up with all the different releases. TA13OO (pronounced "taboo") is everything I love about Soundcloud rap. Curry is adventurous; songs like "Black Balloons" have a distinct late-'80s, early '90s warmth to them, but then tracks like "Clout Cobain" or "Black Metal Terrorist" see him embracing more modern rap production and lyricism. He's very chorus-driven and often leans into the more abrasive sounds that are sure to rile up audiences.
:: "Blood" – Grapetooth ::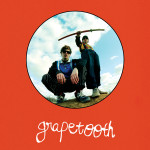 If Tears for Fears were to make a comeback, I have a feeling it'd sound not dissimilar to Grapetooth's debut album. Known to many as the more recent project of Twin Peaks frontman Clay Frankel, the Chicago duo take influences of '80s new wave and give the genre a facelift for the modern era jean-cuffers who populate DIY spaces and rowdy bar gigs today.
"Blood," the last of three singles to precede Grapetooth's self-titled album, remains a standout track to me. The song's sparkling synths, enchanting verses and proclaimational chorus have kept my repeat button on for the past month. Along with his producer partner-in-crime Chris Bailoni, Frankel proves Grapetooth isn't just a Twin Peaks spinoff — the pop-infused pair are here to stick around.
:: Constant Memory – Parkways ::
Parkways' Constant Memory has been an incredibly fun EP that's given me a ton of energy. Constant Memory has the raw grit that comes from lo-fi, but a '90s pop-punk feel reminiscent of bands like NOFX or Kerplunk-era Green Day.
---
:: "Power Over Me" – Dermot Kennedy ::
Kelsey Fitzgerald
I am constantly in awe of the raw sound of Dermot Kennedy's voice and the emotionally driven crunch of his music. His latest release, "Power Over Me," is an inspiring track in its instrumentality and also lyrically. I was sucked into this song, listening to it over 10 times before I realized honestly how great of an impact it had on me.
You've got that power over me, my my
Everything I hold dear resides in those eyes
You've got that power over me, my my
The only one I know, the only one on my mind
You've got that power over me (my my)
Got that power over me (my my)
You've got that power over me
Kennedy explains his love interest as someone that can influence him in a way that he never knew possible. Having his 'power' taken away but wanting to be with her since she's the only person he can think about. You can hear his Irish roots in this song with the basic background chords, guitar riffs, and simple but noteworthy drumming.
What I love about Kennedy is that he always seem to incorporate his acoustic roots but brings in other production that fits so well together. The additional instrumentation doesn't take away from the meaning of the song and the true sound that is meant to be portrayed. Kennedy releases music that always plays around with new sounds and ideas which makes his catalog sound different but also a cohesive body of work.
:: Semi-Permanent – Kitten Forever ::
Kitten Forever is my new favorite punk band. This all female trio uses nothing but a telephone receiver, a bass guitar, and a drum kit, yet their sound can blow out an entire stadium. Their album Semi-Permanent is cathartic, emotional, empowering, and punk rock as hell. Don't sleep on this one!
:: "In My Head" – Maisie Peters ::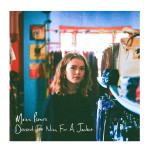 London singer/songwriter Maisie Peters is one of those writers who has the ability to put exactly how you're feeling into words you could never find yourself. She has that Ed Sheeran/Taylor Swift skill that is rare and unmatchable. Her vocals are soft and emotional, yet strong and fierce. The intangible qualities in her voice and lyrics are the makings of a new star. "In My Head" has been on repeat for me, and I'm extremely excited by her entire debut EP Dressed Too Nice for a Jacket! – Kelly M
:: Truth in Comedy – Steady Hands ::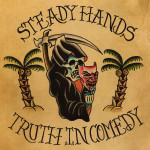 Steady Hands' proper debut Truth in Comedy released last month, and it's a wondrous work of folk-inspired punk rock. The album's first single "Indifferent Belushi" has been a hard hitter since its release. It's a rollicking chorus where Sean Huber relates to the dead comic:
I feel like an indifferent Belushi
Lost change at the end of a party
I just don't feel like myself these days,
And I don't wanna be here anymore.
The former Modern Baseball drummer shows his own depth as a songwriter throughout thoughtful numbers like "Drop D and Dance Beats" where he explores his relationship with music and "Saint Lucas" and "No More Funerals" where he waxes poetic about his Catholic upbringing.
— — — —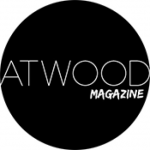 ---
:: This Week's Features ::