Every Friday, Atwood Magazine's staff share what they've been listening to that week – a song, an album, an artist – whatever's been having an impact on them, in the moment.
This week's weekly roundup features music by LANY, Alexz Johnson, Tafari Anthony, Brasstracks, and more!
— — — —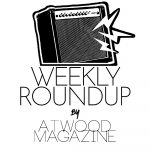 — —
:: "Change For Me (With Samm Henshaw)" – Brasstracks ::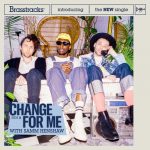 Over the past two months, I've overused the words "In a time of…" or "During this precipitous moment…" when writing about happy music. Truth be told, the first time I watched the video for Brasstracks' new single "Change For Me" a couple of weeks ago, it was with mixed emotions. The video features the duo plus featured artist Samm Henshaw wandering around a crowded, sunny New York City, dancing on the streets, handing out roses, and doing skate tricks off the public stairs. It made me nostalgic for a time that really wasn't all that long ago, but currently seems impossible. But also, it made me smile. Big time. The thing is, Brasstracks' new single and video really did lift my mood that day. The video is sweet and happy, and the song itself is the same. With a gospel feel, Samm Henshaw's warm and scratchy voice, and Brasstracks' classic horn arrangements, the song really is the perfect song for this moment. It may not feel like summer is coming, but I promise, it is. 
:: "Andrew" – Ryann ::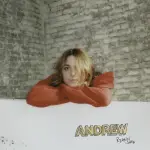 Atwood artist-to-watch Ryann has returned in style with her third original single, "Andrew" – and when we say style, we mean style: The minute I heard this, something clicked.
I've never felt more alive when hearing the words, "here comes the darkness." LA-based songwriter Ryann, who has already awed us twice before with "JFK" and her stunning (Editor's Pick) "Drive," is truly coming into her own as part of the next wave of indie pop phenomena. She's still lesser known and relatively "underground" for now, but my sense is that won't last much longer. Her music is bright – a catchy, airy gust of turbulent feeling – yet wrapped up with her emotions is this influential, inspiring energy. If you listen to the lyrics, "Andrew" is a kind of lover's lament – aching soul, broken heart, and all – but if we sink into the music, Ryann provides us with a cathartic, uplifting release of feeling. I'm dancing around the room, singing, "Andrew, what's it gonna take to forget you, drunk and afraid on the sofa if your college apartment, oh no, here comes the darkness…" – and I'm loving every moment of it.
:: "Liar" – Harina ::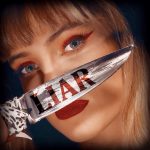 Dubbed by EARMILK as "a pop icon in the making," Harina is a German-born and London-based singer and songwriter who burst into the spotlight with trap/pop hit "Nothing" earlier this year, receiving support from Spinnup and Cloudkid among others. Her carefree attitude and fearlessness are qualities that allow her songwriting and character to stand out, which is exactly how one might describe her latest single, "Liar". Released independently, "Liar" is a short-but-sweet pop anthem, driven by interesting percussive choices and a bass-heavy instrumental. It's an empowering single and yet another testament to Harina's hard work and authentic voice. In her own words: "'Liar' is my badass anthem! It instantly makes me feel stronger, and that's what I love about the song. Haters gonna hate – we can either let the judgement and fear paralyze us, or we can use it as motivation. I want to be a role model for all young people, especially young women – we are so powerful, and no one has the right to tell us otherwise."
:: "Retrograde" – BINNY ::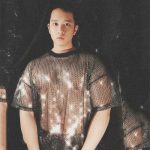 Maryland artist BINNY gifts us with the delightfully compelling debut single "Retrograde." Oozing with hypnotic R&B melodies and smoky lo-fi beats, the track depicts fighting the temptations of a toxic lover. This entirely relatable narrative acts as an anthem for our generation, reminding us that modern dating has made it far too easy to quickly fall back into the DM's of an unsavory ex. 
With intricate production, "Retrograde" glows with sultry soundscapes, highlighting BINNY's extraordinary vocal range and creating an alluring aura we want to explore further. The East Coast musician, whose name derives from his Vietnamese title, Trị Bình, hopes to be an example of the immense talent coming from the Asian American pop scene. 
:: "Costa Rica" – Loud Forest ::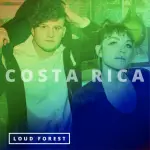 Dream team Bernard and Rachel Chadwick are the husband and wife duo that makes up Loud Forest. The pop/rock partnership possess a rich sound of vibrant arrangements and light, ethereal melodies, creating unique sonic releases. Their new single entitled "Costa Rica" is a bold explosion of sound. Highlighting passionate vocals gliding atop tantalizing, tropical instrumentation, the track seamlessly encapsulates their exceptional love story. "Costa Rica" tells the couple's tale of their enchanted jungle meeting and the immediate bond that was formed. Bernard shares, "I was in the jungle digging some stairs down to a waterfall, then up walks this cute 17-year-old girl in ripped up jeans out of nowhere. She was there to visit for a couple of days, she sang and played guitar (blackbird by The Beatles). It obviously made an impression on me." Take a listen to the bright, feel-good sounds of "Costa Rica" now.
:: "Summer Nights in Montréal" – Jill Baber feat. Yann Perreau ::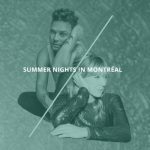 Some music just feels incredibly cheesy on first listen. It might reference a place with sing-song simplicity, highlighting the predictable or cliché, and it might be presented in a way that's overly joyous and happy-go-lucky, as though written on the spot in a whirl of excitability. That's kind of how I felt when listening to "Summer Nights in Montréal," the newest release by Jill Barber. A duet between her and Quebecois artist Yann Perreau, they sing about dancing the whole night long to the same old song while musing about things such as 'if I ever play Place des Arts/ We could meet again at the same bar' and wondering 'oooh what is this feeling/ ooooh is this believing/ wake me up if I'm dreaming'. 
I sent the song to my friend and he responded 'cheesy can be good! J'ai eu des petits goosebumps just imagining a summer night in mtl and hearing different places they talk about [crying emoji]' And it's true. Cheesy can be good. After several listens, I'm now pretty into the song- its twinkling of acoustic guitars gliding along like the fairy lights that hang down Boulevard Saint Laurent. As Montreal is Covid central, the song is a gentle reminder of the sweetness that still exists (if only in memories and associations) with the city. 
https://www.youtube.com/watch?v=_TuCzF66ezY
:: Force Majeure EP – Ten Kills the Pack ::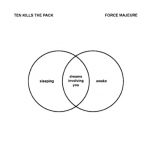 Ten Kills the Pack's debut EP is a truly beautiful introduction to a promising indie folk artist we should all have our eyes and ears on over the next decade. Released today, Force Majeure presents Ten Kills the Pack (aka Toronto's Sean Sroka) as a brilliant lyricist and an equally evocative singer. We feel life's raw push and pull throughout hisseven-track compendium; whether it's the unadulterated confession in "When I Say You Are Killing Me," or the reckoning in "Drunk All the Time," or the emotional outpouring in "You Just Want to Feel Whole Again," Ten Kills the Pack and his haunting acoustic music stun us into reflective silence again, and again, and again.
The final and shortest track on the EP, "Relaxing Apartments" offers little solace, but lots to think about and feel in its unsettling closure. In premiering its hauntingly intimate music video earlier today, I called it "a visceral portrayal of anxiety, solitude, and an unsettled adjustment to the new normal." Its raw poetry is poignant, heartfelt, nostalgic, and relatable to all as the artist puts sparse, but vivid words to a familiar struggle for satisfaction, happiness, and contentment. It's a search for purpose and identity, and one that puts us in the driver's seat of life experience:
Drug dens and parties.
Relaxing apartments.
Lows where you're drowning.
Dinners with friends.
Savings accounting.
Poor stomach lining.
Cigarettes for heartbreak.
In love and well slept.
How am I supposed to feel right now?
Tell me how am I supposed to feel right now?
Only at the very end does the artist actually insert himself into the scene, asking a seemingly innocuous, yet deeply rhetorical question: How am I supposed to feel right now?
The "Relaxing Apartments" music video is everything one could possibly want it to be. The video elevates the song to insurmountable heights, turning it into a true soundtrack to inner imbalance, turbulence, and turmoil. It's a testament to the talents of both actress Maaor Ziv and the director that this three-minute visual can pack such a powerful punch. I can't stress enough how special this song and Ten Packs the Kill's entire EP feel to me right now, in this moment.
:: "For Lise" – Matchess ::
I got to see Matchess on Halloween night a few years back at a venue called Thalia Hall in the Pilsen neighborhood of Chicago. The rest of the lineup was arguably much heavier, maybe not quite a metal show, but it wasn't a stretch at the time to think so given that the opener was a band called Bloodiest and the headliner was Baroness. Unlike these two bands, Matchess was a solo experimental and ambient act that utilized cassette tapes, drones, and a viola from time to time. It was an interesting lineup, and I've been a Matchess fan ever since. 
Fast forward a few years, and a fantastic full-length, Sacracorpa, and Matchess has released a new single entitled "For Lise." This song, which actually came out at the end of April, was released through Mexican Summer records as a part of a single series "focused on the human condition as reflected through remote connection" as stated on the label's Instagram post. "For Lise" is a hypnotic tune with repetitive bass-line synths, arpeggiating synth leads, layered and effected vocals, and what sounds like viola droning in-and-out of the background. "For Lise," like much of Matchess' work, is an effective combination of reflective composition and droning instrumentation fit for mindful, attentive listening, or, mind-wandering escapism; both of which are pretty important right now. 
:: "Live in a Dream" – Tafari Anthony ::
Earlier this year, Canadian artist Tafari Anthony dropped the sensational "Centerfold", sparking the ears of listeners and critics across the globe. Failing to disappoint, he is back with the effervescent "Live in a Dream", delivering a feel-good track to take away the lockdown blues. Taking inspiration from the UK pop scene, Anthony embellishes the uplifting song with colorful afro-beat and reggae elements. 
"Live in a Dream" details the constant need to always move on to something bigger and better and not settling for what we already have in our lives. In such a material world, we have become accustomed to a certain way of living and sometimes we need reminding to hit pause and find gratitude in what's right in front of us. Anthony shares, "We are constantly trying to strive for more, and I know personally I feel a great deal of failure or shame if I don't live upto expectations. But I had to slow down and stop worrying about what I don't have, and who I don't know and be happy to live my own personal journey." The motivating new single is another example of the signer's outstanding vocal ability, giving us Sam Smith vibes that we can't get enough of. 
:: "good guys" – LANY ::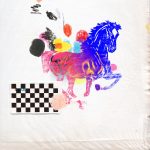 Megalithic pop band and Atwood Magazine favorite LANY never cease to impress. From their modest beginnings just five years ago, the band has since grown exponentially into one of the most recognizable modern pop bands, releasing a handful of EPs and two critically-acclaimed LPs and capturing hearts across the globe. Recently, LANY announced their forthcoming third album, Mama's Boy, and released the album's leading single, "good guys," to much fan excitement.
"good guys" beautifully showcases LANY's incomparable talent, staying true to the band's sonic roots and reminding listeners why we fell in love with them in the first place. The song croons about LANY's signature theme, heartache, and a deep yearning; despite this, however, frontman Paul Klein sings of "playing it cool." Utilizing their trademark synths, complemented by ardent drum beats, "good guys" is an eloquent pop gem that explicates LANY's symbiosis as a band with artful panache. LANY continue to show a remarkable maturity as their sound evolves, creating intelligent pop music that never denies the listener the chance to feel understood. "good guys" further pursues this ideal, fully granting them, and us, the opportunity to learn to grow.
:: "Towers" – PHNTMS ::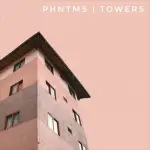 Grungy alt-rock band PHNTMS creates music that erupts with intense, soaring soundscapes and hard-hitting arrangements. Their new single "Towers" showcases vibrant vocals gliding atop pounding drums and gritty guitars.  The track's message is something many of us can connect with as we all set expectations for ourselves as we try to build the perfect life. The song is about the grand ideas we have of how our life should be and how we often are disappointed when it doesn't quite live up to those plans.
Philadelphia based band PHNTMS is comprised of Alyssa Gambino, Adam Jessamine, Mikal Smith, and Gene Murphy.  The alt rock collective have been making waves selling out shows locally and performing alongside such powerhouses as The 1975 and Kings of Leon, among others.  Hear their explosive new offering "Towers" now. 
:: Still Alive – Alexz Johnson ::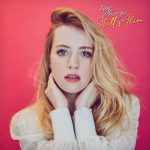 Not too many artists can truly say their new album is a decade in the making; for Alexz Johnson, her fourth studio album Still Alive arrived last Friday, over ten years too late and right on time. Perhaps it's this long-awaited, highly-anticipated resolution – baked deep into the music – that makes Still Alive resonate so powerfully. Its depth and spirituality lend it an indisputable weight that holds not only our focus, but also our emotions throughout: Many of its songs, written for a debut album that was shelved and never saw the light of day, are here re-recorded and given new life; they sit squarely alongside fresh, new compositions – and unless you're really paying close attention, it's hard to know what's "old" and what's "new." The songs all fit together neatly as explorations of the self, our relationships, and our surroundings – making for a personal, cathartic listening experience that seems to cleanse the soul while nourishing the ears.
 "We got the album out, we're still here, making music, after everything. It's full circle," Johnson told me earlier this year. Still Alive may not have been the initial plan, but its arrival couldn't be sweeter, despite the circumstances: Sonically nuanced and emotionally complex, it serves to affirm Alexz (and her brother, Brendan) Johnson's talents, while seeing them trailblaze their way into the 2020s on their own terms. Experiencing the title track with one's eyes shut brings us close to understanding exactly what this record's release means to them, but truly Alexz and Brendan (who write and record together) are the only two people on earth who will ever feel the full weight of Still Alive – after all, it's their story and their voices driving the songs, continuing on into 2020 with resilience and tenacity.
— — — —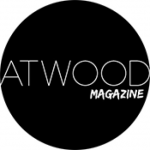 :: Weekly Roundup ::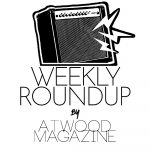 ---
:: This Week's Features ::
---