Every Friday, Atwood Magazine's staff share what they've been listening to that week – a song, an album, an artist – whatever's been having an impact on them, in the moment.
This week's weekly roundup features music by Rihanna, chrysalis, Vukovar, Teenage Priest, PREP, NewJeans, Wellingta, Rachel Baiman & Anthony da Costa, Rebounder, Luna CLIPSE, M. Byrd, The Great Indoors, & Mel 4Ever!
•• •• •• ••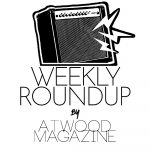 :: "Lift Me Up" – Rihanna ::
Half her life ago, in 2005, seventeen-year-old Rihanna first entered the scene with her dancefloor-ready debut single, "Pon de Replay." Over the decade that followed, it seemed like there was nary a moment in which RiRi didn't have one hit single or another on the radio– especially since a staggering 14 of them went to #1 and 31 of them made it to the Top 10. At no point in that period of dominance would we have ever thought we'd be where we are now– with Rihanna six years removed from her last album and five years removed from her last big solo single ("Love on the Brain"). Yet sadly, her paucity of new material since 2016's ANTI has indeed left Rihanna in such a state, one that would have been inconceivable while she was in her prime.
With "Lift Me Up," the Barbadian star is set to make her comeback on an exceptionally grand scale: on the soundtrack to Black Panther: Wakanda Forever. It's the sequel to a movie that grossed $1.4 billion worldwide and was nominated for seven Oscars, so it's perfectly reasonable to expect that "Lift Me Up" will be reaching a considerable audience once the film hits theaters later this month. On top of all that, it definitely helps that this song is elegantly sung, layered with absorbing production, and buoyed by moving lyrics about reconnecting with lost loved ones. As both a return to form for Rihanna, and a tribute to deceased Black Panther star Chadwick Boseman, "Lift Me Up" achieves considerable weight.
:: "Handprints" – chrysalis ::
Caught in a stage of everlasting transformation, Boston-based singer/songwriter chrysalis' newest single "handprints" is a poignant lesson on growing, living and letting go.
Released on Oct. 21, 2022, this dreamy acoustic ballad whisks listeners away into a perpetual state of longing for someone who they have already lost. So far, the musician's discography has been marked by an overarching sense of melancholy layered over the peaceful plucking of their guitar strings. This remains true within the context of "handprints," as the buoyant swells of chrysalis' acoustic guitar slides intertwine with their bright vocals as they almost ashamedly admit: "You're in every dream / I feel most awake when I am / Deep into sleep / That's when you kiss me / Then reality hits / I'm going cold turkey but I / Can't seem to quit / Give me just one hit."
Driven by raw emotion, chrysalis fights against the various 'what-if moments' that their mind creates, desperately trying to erase the memory of this person that they once loved so dearly. The song almost reads as a diary entry, a cathartic upheaval of the words that they so badly wanted to say to their ex-lover's face, but perhaps never had the opportunity to express. And thus, they instead plead with the universe for closure, begging: "I wanna forget your name / Let every part of you fade / Don't wanna recall your face / So if I see you with her I won't ache / Let me have my way / My way."
chrysalis will continue to go through metamorphosis after metamorphosis with every song that they put out into the world. Their journey is far from over; and while they certainly hope to one day gain their wings, they are perfectly content embracing change as it comes in the present moment, healing a little more as each day passes.
:: "Place to Rest" – Vukovar ::
Much of Vukovar's music can be described as "beautiful post-punk reckonings with grief and loss," and the glistening, gut-wrenching "Place to Rest" is no exception. "It's all in your mind," the British experimental band sing in their new album's lead single. "To the pure, all things are pure; it's all in the eyes. One last glance and then there is nothing more, it's all in your mind." Dwelling in deep emotional caverns, the radiant, synth-soaked and cinematic "Place to Rest" vacillates between accepting death's finality – and the nihilism that accompanies such a mindset – and cherishing the life we have, while we have it.
The beating heart of Vukovar's recently released new album The Body Abdicator (out June 25, 2022 via Other Voices Records), "Place to Rest" aches with the release of a profound, deep pain.
It's all in the mind
To the pure all things are pure
It's all in the eyes
One last glance and then there is nothing more
All the numbers i hallucinate
All the coordinates I dream
There's nothing to suggest they're wrong
There must be somewhere that they lead
Death becomes the absence of The Self
"Although we don't like to share the way we work, for our own reasons, we will say about 'Place To Rest' that the song itself is a great emotional anchor to us, as is the whole of the 'Eternity Ends Here' triptych, which this album finishes off," Vukovar tell Atwood Magazine. "The suicide of dear/dead-friend Simon Morris was devastating and his ghost has graced everything we have done since then."
"With this song and video – which was filmed at the river where his body was recovered – we can now be free of his weight and move on in certain ways. We know these words will fail to get across what it all means to us, but as long as the direction can be understood and the song can be enjoyed."
A five-piece band from Todmorden, UK (which they readily refer to as "a crumbling placefiller of a town"), Vukovar is a five-piece band making sometimes wondrous synth pop, and sometimes caustic, churning industrial noise. They describe "Place to Rest" as "death-pop;" musically, the song recalls a cross of The Smiths and LCD Soundsystem, whilst the lyrics ruminate on the untimely 2019 death of close friend and sometimes band member Simon Morris, described in one obituary as "the driving force" behind Blackpool DIY avant punk band Ceramic Hobs. Vukovar's past three albums – 2020's The Colossalist, 2021's The Great Immurement, and 2022's The Body Abdicator – have all centered around Morris' life and his death, and now with "Place to Rest," the band say a powerful, poignant goodbye to their loved one.
All who have felt death's impact are sure to resonate with Vukovar's bittersweet death-pop poetry.
It's all in the mind
To the pure all things are pure
It's all in the eyes
One last glance and then there is nothing more
All this time I've been unthinking
Every moment I spend unaware
All this leave of absence I've been taking
All I want is my own nowhere
Nowhere, nowhere, nowhere…
Death becomes the absence of The Self
It's all in the mind
To the pure all things are pure
It's all in the eyes
One last glance and then there is nothing more
Death becomes the absence of the self
:: New Jeans – NewJeans ::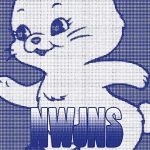 It seems like hundreds of new K-pop groups debut every week, so keeping up with them recently has been a struggle. I was a huge fan of LOONA when they were starting to get big, I still tune into everything Red Velvet does, and am anxiously awaiting YUKIKA's comeback, but it feels rare that I listen to a new K-pop single that excites.
All this changed with NewJeans, a newly formed group whose 4-track EP New Jeans is infectious and innovative all at once. Combining the grooves of R&B with exquisite and new production, the 5-member group glides over the silky pop perfection of "Attention" and "Hype Boy," the ballad of "Hurt", and the playfulness of "Cookie." Innovation is literally baked into their name (it's a play on 'new genes'), and this debut EP offers something listeners likely haven't heard of before.
If Lorde's success at 16 wasn't enough to humble you, NewJeans' average group age is 16.6 – with the youngest being just 16. And with each group member being heavily involved in the writing process, it seems like all are talented in their own right. With their second EP release slated for December, NewJeans seem poised to take over the world.
:: "As It Was" – PREP ::
I'll never claim to be a Harry Styles stan. As much as I can enjoy and appreciate his music for being quality pop, can assess his work and iconography with an understanding for why his popularity is as it is, he's just not at the top of my favorite artist list. PREP's cover of Styles' "As It Was," however, demonstrates the superb roots that his discography is grounded in and makes an already catchy song catchy in a different way,
When endeavoring to cover any song, especially one as critically and culturally acclaimed as "As It Was," the question must be raised of "why is this cover necessary, how does it take the original song and do something new with it?" PREP's cover is one which strips away a lot of the surrounding noise of the original, revealing and pressing on its nerves. They maintain the groove of the song, keep that dancey funk, but they slim it down, emphasizing its rhythm. It feels as if they took an icepick to the glacier that is the original and carved a sculpture. To me, this is exactly what a cover should do- take the original, keep it recognizable, but make it sound like the group that's covering it. PREP does exactly that, weaving the funky electronic grooviness that the band's known for into Styles' song. They marry the song with their individual style that suits the track and elevates its bones. So if you're ever looking for a tutorial on how to cover a song right, it's this right here.
:: "No Goodbyes" – Wellingta ::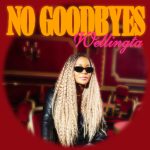 Wellingta is back with her soulful new offering "No Goodbyes." Amongst her cascading melodies and euphoric rhythms, she blends R&B with dancehall beats to create a sound that is truly her own. Fuelling her repertoire with the nostalgia of the late '90s, her vibes and vision come to life in sync to create an extraordinary new tune.
In an observational ode to life itself, "No Goodbyes" encases Wellingta's humbling authenticity into an addictive R&B anthem. She explains, "This time I went to the studio and told my producer that I really want to do a song for God. I had just finished listening to Mary Mary's song "Walking" and thought WOW that's it! I wanna do a dope, danceable song like this for God."
Enriching vocal energy and soaring melodies lend themselves to Wellingta's vast musical influences. Proving that there are truly no boundaries when it comes to her creativity, "No Goodbyes" soars with euphony. As joy, hope and love infiltrate every second, we can't help but feel uplifted by Wellingta's new offering. What a wonderful new single!
:: "Election Night" – Rachel Baiman & Anthony da Costa ::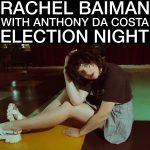 Any song with the word "election" in it is sure to be triggering in early November – I find myself returning to Brian Dunne's superb 2020 ballad, "Getting Wrecked on Election Day" more and more ths time of year – and Rachel Baiman's heated new song is no exception. "And like the last folks on the Titanic, the band was playin' as the ship went down," the Chicago-born, Nashville-based singer/songwriter croons from the eye of the storm. "I sprang to my feet and my body started moving across that dance floor on the outskirts of town." It's hard to ignore the fear and trepidation looming overhead, and yet on "Election Night," Baiman and Anthony da Costa so effortlessly sweep away the dread and drum up a dreamy reverie. It's a temporary haven, and in three minutes we'll be back to the same old finger-biting, but this achingly raw folk song reminds us not just to live, but to bask in the moment – because truly, it's all we have.
I was high as a kite, it was election night
I found myself at Dee's Cocktail Lounge
There were too many people moving to and fro
But I was just addicted to the sound
And like the last folks on the Titanic
The band was playin' as the ship went down
I sprang to my feet and my body started moving
Across that dance floor on the outskirts of town
"This song embodies the feeling of letting go in the face of uncertainty," Rachel Baiman tells Atwood Magazine. "Written about the eve of the last presidential election, when it felt like so much was at stake and yet I was completely helpless, I found solace in losing myself and dancing to my friend's band at our local bar. Anthony was the perfect collaborator for this one, with grungy guitar vibes for days. His vocals really nail the feeling as well, and I can't wait to sing this live with him at Dee's on this upcoming election night!"
This Election Day, please remember to vote, and then come Election Night, do something nice for yourself. Beyond being a tender, smoldering singalong, "Election Night" comes with an important message. Fate is coming for us whether or not we spend all our time worrying, so live your life well, play as the ship sinks, and dance – even if the world is burning.
There were gold tinsel curtains, and a jukebox full of locals
Velvet armchairs and darts
Beat up pool tables and memories of lovers
Wedding nights and broken hearts
And like the last folks on the Titanic
The band was playin' as the ship went down
I sprang to my feet and my body started moving
Across that dance floor on the outskirts of town
:: "Joker" – Luna CLIPSE ::
We've seen all sorts of portrayals of the Joker over the years– some comical, some sinister, and some a little of both. But as best I can tell– and I'm a big Batman fan– we've never seen the Joker rapping before. Enter Luna CLIPSE, a New York-based rapper who brings that nifty concept to life in his new music video, featuring himself decked in Joker makeup and guest singer Tiffani LeBlanc donning the Harley Quinn look.
On top of all this visual appeal, "Joker" has meaningful lyrics inspired by the author's struggles with mental illness, and a solid beat achieved by experienced hip-hop producer Jerry Wonda. For those looking to extend the Halloween-themed fun past October 31st, a solid solution may just have arisen.
:: "Victory Lap" – Teenage Priest ::
It's rare that I find a song on my Discover Weekly that I become obsessed with on my first listen, and it's even rarer that that song happens to be from an artist local to me. Teenage Priest pleasantly surprised me in both aspects this week with his most recent single, "Victory Lap," a midtempo, synth-driven indie pop track with just the right amount of lo-fi sprinkled in.
When he is not making music under the Teenage Priest moniker, Taylor Van Ginkel can be found playing guitar for Bishop Briggs, a stark contrast to the mellow, '80s-influenced tracks he self-produces. Hailing from Orange County, Ginkel draws inspiration from and infuses bright California essence into dreamy, almost shoegaze-like bedroom pop (as seen most clearly in "Buena Park," both sonically and in terms of its name). The combination is weirdly hypnotic, and it's a running theme throughout the rest of his discography– Teenage Priest has developed a sound that is enigmatic and mysterious, at the same time as it's feelgood and groovy.
Released October 26th, "Victory Lap" is the perfect soundtrack to both lazy weekend afternoons at home and late-night drives down the beach. Hopefully, we'll be granted the privilege of hearing a full-length album from him in the near future!
:: "Flood" – M. Byrd ::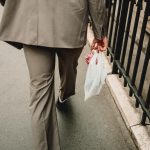 Emerging indie-rock sensation M. Byrd has returned with his latest offering, "Flood." Having recently signed to Nettwerk Music Group, the Germany-based singer/songwriter continues to encase his passion for people and purpose into a completely dynamic catalogue.
His latest endeavor proves that at his core, M. Byrd is a remarkable storyteller. As he explores the turbulence of life, his fables turn to family. He reveals, "My partner's family is in Denmark. My family is somewhere at the French border. My friends are everywhere. I'm trying to make sense of letting go and still being firm with myself and the people I love."
As M. Byrd explores what home really means to him, he encases delicate narration in sublime indie-inspired rhythms, distinct beats and echoic vocal energy. "Flood" truly takes listeners on a ride, and that momentum seeps into every second of this new offering. Needless to say, M. Byrd is set on a trajectory that will see him soar. His humbling resonance and indie rock leanings set him apart.
:: "I HATE U" – Mel 4Ever ::
Some say hate is a strong word, but sometimes you cannot help but be drawn to rage. Hate is a strong word because it is associated with a powerful sensation. When you feel your blood boiling and the intense anger start to set in, it can be hard to stop it. Mel 4Ever recently released her mesmerizing, mechanical single "I HATE U." The track details the enormous hatred you feel towards someone who has cut you deep. With pounding, static arrangements and thrashing, prickly vocals, that disdain pierces through.
Mel 4Ever melds hyper-punk and pop to create a style all her own. She is a self-titled "tranny pop-star" and her tunes are soaked in sharp synths and fuzzy landscapes. Mel's debut EP Tranic Attack touches on transitioning, sobriety and sexual abuse. There is so much raw passion put into that offering and this new song portrays that same penetrating emotion.
:: "Her" – The Great Indoors ::
They don't call 'em vices for nothing. "I'm trying to make it easy, I'll come knocking at your door," The Great Indoors' Jared Stilley sings in his band's second single. "So walk on in your gilded shoes and leave them wanting more." Released in mid-September via SevenOhSeven Records, "Her" is a groovy, smoldering reckoning with the short-term pleasures that make for long-term lows. Jazz tinged guitar work and suave indie pop melodies, combined with smooth, soulful singing, recall Steely Dan and The Long Run-era The Eagles as The Great Indoors lull us into a sweetly seductive hypnosis:
Her mind isn't like mine
But desire is insistent
Her mouth seems to speak without saying anything and I converse
She's here, like an angel, and they can't touch her, she keeps it all aside to think
Rug burnt hands and knees, it's simple, i'm taking up the ground we keep
I could be sayin' far too much
But now i'm past the point of keeping up
I breathe it in as she breathes it out
Far too enamored to be content now
"The song is a metaphor for recognizing things within your own life, whether it be the internet, drugs, procrastination, anything, that are at the expense of your own long term happiness," the band explain. "It's a reflection on finding individuality, particularly during the period of life where societal influences are synthesizing with the apocalyptic feelings of youth. The song's lyrics use the rom-com-esque cliché of someone not being true to themselves in a relationship, as a metaphor for one's own relationship to existential influence. The irony of the rhythmic, easy-to-dance-to instrumentation and smooth vocals serve to the purpose of the songs message, that outside perception should not negatively effect what comes naturally to you, and what feels best is being yourself."
Comprised of singer/songwriters Jared Stilley and Mason Marcantel, bassist Carter Rucker, and drummer Christian Verardi, The Great Indoors are truly brand new. having only debuted their first single, the radiant and churning indie rock song "Roses," in mid-August. Between "Roses" and "Her," the band have displayed not only a considerable sonic breadth, but also the impressive vocal range to match; that smoky chorus in "Her" is hot enough to melt the iciest ears.
I'm trying to make it easy
I'll come knocking at your door
If I don't take a backseat
I won't be left alone and bored
So walk on in your gilded shoes
And leave them wanting more
Whether or not you too are "trying to make it easy" in some other ways, listening to The Great Indoors is a no-brainer.
:: "Factoury Girl" – Rebounder ::
Songs like Dolly Parton's "9 to 5" and Loverboy's "Working for the Weekend" express the stresses of the everyday work grind. Think of those people that work beyond the regular hours. They work tirelessly day in and day out to support their deepest passions. Rebounder's new single "Factoury Girl" is about just that. Member Dylan was inspired by a friend who works a full time job while also pursuing acting. It takes a lot of time and dedication to take on multiple jobs. This wistful, indie, chilled-out single pays homage to that diligence. The laid-back sonics contrast the track's meaningful message of an exhaustive workflow. The video features New York actress Annie Hamilton while she waits tables and you can visually sense her stress as chaos ensues.
The band is made up of writer/producer Dylan Chenfeld along with his brother Noah Chenfeld as well as Cobey Arner and Zack Kantor. Together they have concocted a sound that truly delights our ears with a lush, longing quality. Through that soothing style they have gained a loyal fan base. Now rebounder prepares to set sail on their sold out tour with Sun Room showing just how far they have come.
— — — —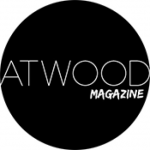 :: Weekly Roundup ::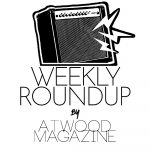 ---
:: This Week's Features ::
---